ANTICORRUPTION VICTOR
SAYING 'NO' TO CORRUPTION       
Rajika Jayatilake reports that Slovakia's first woman president is a newcomer to politics who was elected on an anticorruption ticket
People tolerate corrupt politicians until they resort to unacceptably outrageous actions like killing journalists who uncover corruption. This happened in Slovakia and the people had enough; they elected a leader who promises to stop corruption – which is how Zuzana Čaputová became the first woman President of Slovakia recently.
A 45-year-old lawyer and anticorruption campaigner with virtually no political experience, Čaputová rose to astounding popularity. She won 58.4 percent of the vote in the second round of polling and defeated European Commission Vice President Maroš Šefčovič with only a few months of campaigning that focussed on a struggle for justice.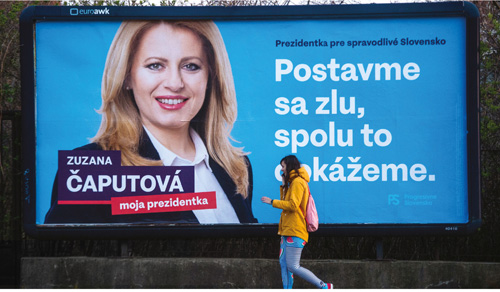 In a country of 5.4 million people, the role of the president is mostly ceremonial and the prime minister is responsible for steering the government. Martin Dubéci from Progressive Slovakia, which backed Čaputová's campaign, said: "For me, the main takeaway is that justice is such an important issue for the Slovak people and Čaputová was able to build a coalition around her values, which was unlike anything we have seen before in Slovakia."
And the former Slovak diplomat Ján Orlovský observed: "The vote was really a protest against corruption and so it was a great moment for the country."
The vote to fight corruption isn't entirely unexpected and the reason for the people's rejection of the existing setup goes back to early last year – and Ján Kuciak, a courageous investigative journalist who stood up and reported on tax evasion and fraud among Slovakian business tycoons and people connected to Smer, which is Slovakia's ruling party.
He and his fiancée were shot to death at their village home in February 2018, four months after the gruesome killing of Maltese journalist Daphne Caruana Galizia. She was killed by a car bomb following her investigative reporting on government corruption, nepotism, patronage and money laundering among other shady activities.
Kuciak was murdered – allegedly by Marián Kočner – while writing a story on Slovakia's political connections with an Italian organised crime syndicate. He had previously investigated a series of shadowy financial crimes linked to Kočner – a prominent businessman who has been charged with ordering the killings and is currently in jail.
While emphasising Slovakia's inability to fight corruption, the assassination of Kuciak is a symbol of the dangers that await those who seek to make the powerful accountable for their deeds. This is a paradoxical situation within the EU, which functions on a set of core principles that include a vigorous commitment to the rule of law. His murder led to a surge of protests on streets across Slovakia. "People were genuinely shocked and outraged by the murders – really, it was a turning point," the European Media Director of Human Rights Watch Andrew Stroehlein remarks.
As the protests turned louder and more aggressive, Prime Minister Robert Fico – who had been in power for almost 10 years – was forced to resign shortly after the assassination. But Fico remains the chairman of the ruling party Smer and is controlling government policy from behind the scenes.
Smer party ally Peter Pellegrini then took over as prime minister. Fico has a law degree and was Slovakia's representative in the European Court of Human Rights for six years from 1994; he has now been nominated to become a constitutional court judge.
When Čaputová takes office on 15 June, she will be the commander in chief of the armed forces, and have important veto powers and the authority to appoint senior judges. Therefore, Fico is bracing for obstacles to his personal ambitions when she's installed as president.
At a macro level, the Čaputová victory is seen as a rejection of the toxic and collaborative relationship of corruption between politically powerful figures and the oligarchy, which benefits from and bestows that power.
In fact, corruption is a gaudy thread woven into the political fabric not only of Slovakia but also neighbouring countries like Hungary, Croatia, Greece, Romania, Bulgaria and Moldova. Transparency International (TI) has placed Slovakia 57thin this year's Corruption Perceptions Index (CPI). It is Slovakia's worst ranking since 2013.
Slovakia's branch of TI stated that the number of people sentenced for corruption declined in the past two years and 94 percent of successful cases involved lower rankers who received only conditional sentences.
"There is, across the region, an affinity between nationalist/populist politicians or illiberal authoritarians and corruption," observed Michael Carpenter, Senior Director of the Penn Biden Center for Diplomacy and Global Engagement. When such politicians are elected to office, they use corruption to consolidate their power and as Carpenter said, "stack the system against those who would challenge them."
Politicians famously do this by destroying the independence of the judiciary, wielding their clout on law enforcement appointments and bribing media organisations. Though Slovakia's economy is booming, many Slovaks are discontented despite the dramatic economic gains.