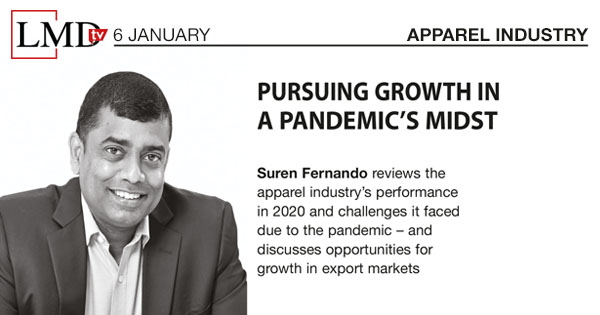 The impact of COVID-19 was felt across the global apparel industry in 2020, as MAS Holdings' CEO Suren Fernando affirmed on a recent edition of LMDtv.
"Lockdown measures saw stores closing, discretionary spending fall and major disruptions to supply chains," he elaborated, adding: "A major share of the global population literally had to become accustomed to working from home (WFH) overnight, and this restricted mobility and reduced the need to spend."
When it comes to Sri Lanka, Fernando noted that the pandemic affected both the supply chain and export orders, as logistics was disrupted and shipments of finished goods were impeded due to restrictions on the movement of people and items.
"As some stability was achieved, we witnessed demand in the marketplace – much lower than what was recorded before COVID-19, of course," he noted.
While consumers' shift towards omni-channel purchases and digital platforms was encouraging, the outbreak of the second wave in Sri Lanka led to additional supply chain challenges.
However, this led to additional challenges as Fernando revealed: "The apparel industry also faced some [degree of] stigmatisation and even discrimination against factory workers following the second wave especially at the shop floor level – despite their significant contributions to the industry and economy of the country."
As apparel continues to be labour-intensive and reliant on large groups of people physically working together, he believes that ensuring the health and safety of employees is among the most critical factors for the industry.
Fernando's perspective is that industry players worked together to weather the storm of the pandemic: "The Joint Apparel Association Forum Sri Lanka (JAAFSL) has played a critical role in ensuring that they become strong and there is one voice that speaks on behalf of the industry."
The industry has faced challenges long before the emergence of the pandemic in the form of sourcing its workforce. According to Fernando, the scenario has not changed much and he stressed the importance of retention over attracting new talent.
Discussing the composition of Sri Lanka's export market, he noted that the US accounts for almost 40 percent of the apparel industry's exports while Europe is the second largest market.
"As a country, it's important to continuously seek access to new markets – as well as to grow and diversify, and manage our markets better," he opined, adding: "At the national level, the country is also exploring opportunities to open trade dialogues with existing and even emerging markets."
In his opinion, overdependence on Western markets has left Sri Lanka "somewhat vulnerable" as witnessed during the pandemic. To this end, Fernando recommends exploring opportunities in markets that are growing apace – including China, India and Brazil – which could be a game changer for the apparel industry.
He stated: "There are challenges in working with these countries due to various protections that exist; but these are attractive markets in terms of size and scale."
In his concluding remarks, Fernando expressed his opinion on the apparel industry's performance in the future, explaining that the impact of COVID-19 is likely to weigh on it until about 2022.
"In my view, 2021 will be important as the crisis may even intensify the main consumer trends that we have been observing," he elaborated, citing examples such as the acceleration of online sales, more purchases on digital platforms and the growth in e-commerce.
With the industry not expected to recover to 2019 levels for two years, Fernando considers this year to be a bridge between pre-pandemic levels and reality with a potentially protracted recovery period for fashion in the 'next normal.'
"Strategically, there will be an imperative to manage commercial opportunities actively in 2021 and be accurate in picking those winning segments, which will be critical," he concluded.