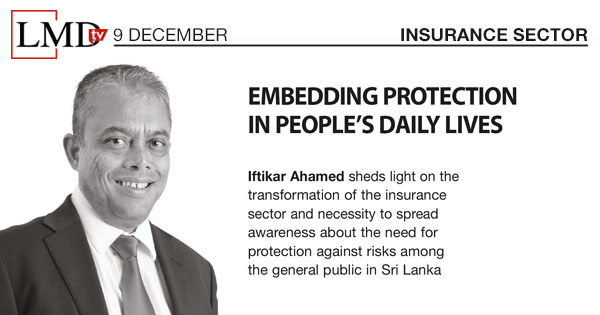 The Managing Director of Softlogic Life Iftikar Ahamed believes the local insurance sector had a take on what to expect prior to the breakout of the pandemic in Sri Lanka following its emergence in China during the fourth quarter of 2019.
"Having said that, no one expected the crisis to be as bad as it has been in terms of the inconvenience and the hardships caused," he maintained.
In response to this, some insurers took steps to protect their customers by covering expenses related to COVID-19, which he views positively as a share of the sector's risk is compensated by reinsurance companies, which do not cover pandemics.
As a result of the pandemic, a number of industries embarked on digital transformation journeys to ensure business continuity with Ahamed noting that digitalisation has been fast tracked. This has impacted insurers as well with digital technology being used to service customer needs through contactless services.
"Challenges will remain in terms of the sales process as customers must be contacted through traditional means if there is a need to explain policies, details or engage in sales," he asserted, adding that such activities can be carried out while following precautions such as wearing masks and maintaining physical distance.
But there are other means to tackle these challenges. He elaborated: "For example, insurers could use digital platforms and I believe the sector is stepping up when it comes to providing policyholders with contactless solutions."
According to Ahamed, the limited insurance penetration in the island has always been a hot topic in insurance circles: "People need to be made aware of how insurance works and its benefits. But more importantly, insurance must be delivered through a mechanism that is convenient for policyholders to purchase while being relevant to their needs."
"What we need as a sector is to diversity and establish different channels – including digital channels – through which insurance can be purchased from other financial institutions such as banks," he opined, elaborating that "if an insurance product is bundled with banking products, it becomes much more accessible."
As such, he believes that while raising awareness is important, ensuring that insurance products are relevant to customer needs and easy purchase options are areas that also require focus.
Insurance penetration in the rural sector is particularly limited and Ahamed considers this segment to be in need of protection more than any other: "It is important to provide these products in a way that is affordable, and they should be accessible in terms of location and manner to enable people to subscribe to them. Secondly, people should be able to pay for these products relatively easily."
"I consider these to be the main aspects of selling insurance to this segment rather than the product itself," he averred.
Expanding on this, he suggests leveraging the penetration of mobile phones – which exceeds 100 percent – to reach everyone and enable them to purchase insurance in a convenient manner.
In addition to affordability, Ahamed also explained that insurance could have an element of flexibility while commenting on farming communities and those who may be unable to afford monthly insurance premiums.
For instance, it could be possible to break up payments on insurance premiums into amounts that would be affordable for such communities – these could be as low as Rs. 50 a month. Moreover, as witnessed last year, measures to waive or defer payments could be implemented by the regulator or insurers during difficult periods.
As for the insurance sector's coverage of the country and ability to offer protection in any scenario, he had this to say: "I believe there is scope to have insurance embedded in our daily lives so that no matter what we do, if there is a particular risk associated with it, insurance will take care of it."