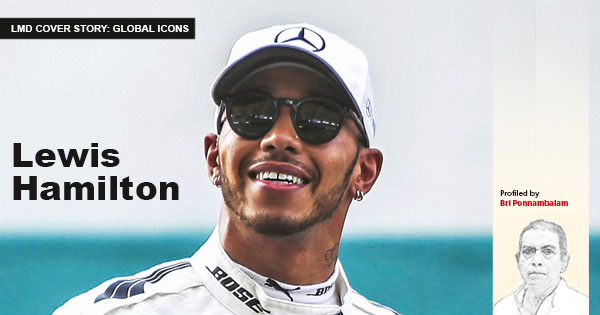 Lewis Hamilton envisions that "positive change will come" from the renewed push to stamp out racism across the world – he is himself a trailblazer on the racing circuit as a person of colour who has taken on the perceived double standards in the world of professional motor racing. Widely regarded as one of the greatest drivers in the history of the sport, Hamilton's public image goes beyond Formula One (F1) – and his exploits as a six time world champion – to encompass philanthropic endeavours that have garnered a wider audience the world over.
BACKGROUND
DATE OF BIRTH
7 January 1985
BIRTHPLACE
Stevenage (UK)
SPONSORS
Bose
L'Oréal
Mercedes-Benz
Monster Energy
Police
Puma
Sony
Tommy Hilfiger
Vodafone
HIGHLIGHTS
The best paid F1 driver today
First and only black driver to race in F1
He is the most marketable driver in the sport
Among the world's highest paid athletes
QUOTE
You can knock me down but I get up twice as strong
Lewis Hamilton 
Q: What makes Lewis Hamilton the king of the F1 track today?
A: Hamilton credits his successful racing career to his father who, despite their modest finances, encouraged go-karting at a young age and was his manager for 18 years.
Young Hamilton was a risk taker, and this resulted in him being unable to win races due to his rash decisions and driving. However, learning from his mistakes, he grew to become a matured driver.
Q: And what lessons can we learn from his life?
A: While COVID-19 disrupted lives, F1 organisers were preoccupied with finances and racing.
I admire Hamilton for being one of the first people to boldly speak out against racing in Malaysia during the pandemic, declaring that health and safety must be prioritised over racing. This was at the cost of his own anticipation of equalling Michael Schumacher's record of seven world titles this season.
His humility, willingness to learn, courage and good principles are often missed by the public, but they have contributed to making Hamilton the winner he is today both on and off the track.
Q: How can Sri Lanka reach the next level in motor racing?
A: Many have raced and brought go-karts to Sri Lanka, built karting tracks, donated go-karts and helped purchase race cars, and encouraged young ones with the art of racing confidently while staying in control – these endeavours have been fairly successful.
The governing body overseeing racing must comprise people of a certain standing who are genuinely vested in the sport – preferably former racers who understand the disadvantages and advantages of the sport, and are not personally affiliated with present racing drivers so as to discourage bias or favouritism.
Moreover, racers and authorities should be disciplined individuals. Punctuality is a key discipline that must be inculcated from the beginning if one desires to succeed and improve the state of motor racing in Sri Lanka.
Furthermore, a proper motor racing foundation must be established for aspiring drivers, taking them from the basics of go-karting to F1 racing.
Bri Ponnambalam
Classic car collector and enthusiast
Former professional race car driver