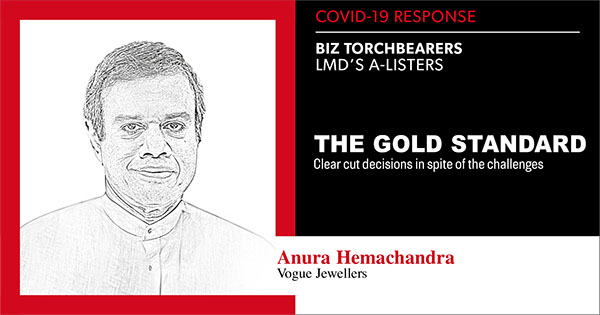 Q: How is your organisation taken steps to help staff overcome the fallout from the extended curfew?
During lockdown, there was widespread uncertainty regarding job security so it was the role of management to assure staff they weren't alone.
We assured staff that they wouldn't be terminated. Vogue Jewellers is a family owned company, which does not have support from any other organisation – and as such, revenue streams are critical to pay salaries. However, during lockdown, staff retained their confidence in the management as salaries were paid and no one was laid off.
After opening, we permitted staff to rotate and work in other departments. While this helped curtail any spread of the virus, it also enabled staff to learn new skills and interact with people they wouldn't usually engage with.
Further, realising that there would be an impact on sales volumes immediately after the curfew was relaxed, the management revised existing incentive schemes – and this motivated staff.
Q: In what ways has your organisation played a part in mitigating the impact of the COVID-19 crisis?
COVID-19 challenged established lifestyles and thinking. Like all other businesses, we had to face the reality that doing business was going to be an uphill task. However, we realised that reducing staff is not the way forward.
Who do we keep? Who do we retrench? This was not an option.
We faced the situation with a realistic view on what was taking place; and with this in mind, we considered our staff first. We explained that things would change and that we'd collectively face the challenges as we have done in the past.
Our staff has always been our strength. They returned after the curfew with new ideas, hoping to make the best of the situation because we didn't let them down.
We also made changes by giving them an opportunity to improve themselves in different areas within the organisation during lockdown. Due to this, the staff stayed motivated and focussed on what needed to be done.
Many customers had planned their weddings with orders placed for collection in April. Our staff reported to work even during the curfew to meet the needs of the customers, exemplifying Vogue's dedication and service.
Throughout, health and safety was of utmost importance, and all precautionary measures were implemented.
Q: Has your organisation participated in any community assistance endeavours – and if so, could you outline them? 
Vogue has always reached out in difficult times. This is in line with the values established by our late founder and chairman. The management donated dry rations and household items for 250 needy families in two villages.
This was attended by the Maha Sangha with blessings invoked on the villagers who received the items and those who donated them. Our chairperson, despite her age and the risks involved, insisted on participating.
As part of the staff contribution, protective wear for front liners was donated to the National Institute of Infectious Diseases (IDH). Although this wasn't announced, our staff reached out to those who were unable to access supplies.
Once the curfew was lifted, we felt that something had to be done for the front liners who had sacrificed their families' safety to safeguard the nation. As such, we offered them concessionary prices at our shops.