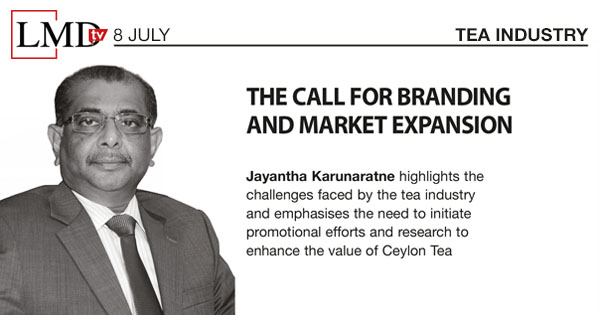 The tea industry has faced a variety of issues with the Colombo Tea Traders' Association Chairman Jayantha Karunaratne highlighting the inability to host the Colombo Tea Auction as being the most significant.
"This challenge was faced by all from producers to plantation companies, and brokers to exporters," he affirmed.
Exacerbating this was the fact that international buyers also requested that Sri Lankan exporters refrain from fulfilling orders due to import restrictions as well as challenges with paying for products on time.
However, the industry took steps to tackle these obstacles by launching a digital tea auction. Karunaratne explained that the platform was launched on 4 April following discussions with brokers and since then, several auctions have been held.
"There is no reason as to why this should not continue in the future as the world is moving in this direction," he maintained, noting that an additional benefit of the digital auction was the attention garnered for Ceylon Tea.
Karunaratne stressed the need for the industry to maintain the quality of Ceylon Tea to enhance its attractiveness: "Our tea is known for its quality, character, strength and flavour in some markets but not all. Maintaining this quality is not an easy task as producers face a number of challenges such as the weather."
"We must also do more in terms of promotional marketing because in addition to maintaining our existing market share, new markets to sell to should be identified," he urged, adding that "Sri Lanka enjoys some of the highest prices for its tea because of the quality that producers maintain."
Furthermore, he highlighted the need to invest in cleaner teas by avoiding unnecessary chemicals with organic fertilisers. Additionally, Karunaratne cited the importance of being innovative to enhance the value of Ceylon Tea.
"We should not be bulk exporters as this results in our tea being blended with others to make the final product. Despite being marketed as pure Ceylon Tea, there are brands that are merely mixes of various teas," he explained.
Given the earnings of the industry – which could be between US$ 1.3 billion and 1.5 billion dollars – this is an initiative that could be launched without external aid.
"Presently, more than 60 percent of our tea is exported in bulk form, which means consumers certainly do not consume Ceylon Tea; so we need more of our own brands," he declared.
As for the country's ability to increase its output of tea, Karunaratne noted that the industry has produced around 340 million kilogrammes in recent years although this amount has reduced due to various challenges. "We possess the land needed for this but there is a need for innovation," he stressed, pointing out that much of the industry continues to operate in traditional ways with manual plucking. "We must introduce new systems to reduce costs and increase productivity because failing to adapt could lead to pricing ourselves out of the market," he cautioned.
However, the tea industry has failed to engage with Sri Lanka's higher education institutes to produce homegrown innovations.
Karunaratne pointed out that efforts to launch an institute focussed on tea research have been unsuccessful due to a lack of capital. In his view, the result of this lack of innovation has seen the industry continuing to employ traditional methods.
According to him, among the major challenges faced by stakeholders are a lack of liquidity and the high cost of borrowing: "With exporters not being paid on time because of the pandemic as well as other issues such as sanctions against certain countries, there are delays in receiving earnings."
Given these difficulties, Karunaratne believes exporters should be offered concessionary lending rates or rebates as in the case of Indian exporters. He emphasised that "there is a need for a long-term plan because the tea industry serves as a major asset to the country."