INSTITUTIONALISED GRAFT
WORSE THAN PROSTITUTION
Rajika Jayatilake assesses the damage greed and graft inflict on a nation and its people
Corruption is a global plague with tentacles in every continent. And every time corruption is exposed, there is a connection to politicians, political parties and ambitious businesspeople. As Austrian satirical writer Karl Kraus says, "corruption is worse than prostitution. The latter might endanger the morals of an individual; the former invariably endangers the morals of the entire country."
In recent times, Spain has been in the spotlight and the scandal culminated in Prime Minister Mariano Rajoy of the conservative Popular Party (PP) being ousted from power. His ousting was the result of the motion of no confidence brought by the leader of the opposition Socialist Workers' Party (PSOE) Pedro Sánchez. Subsequently, Rajoy also resigned as leader of PP, which he had headed for 14 years.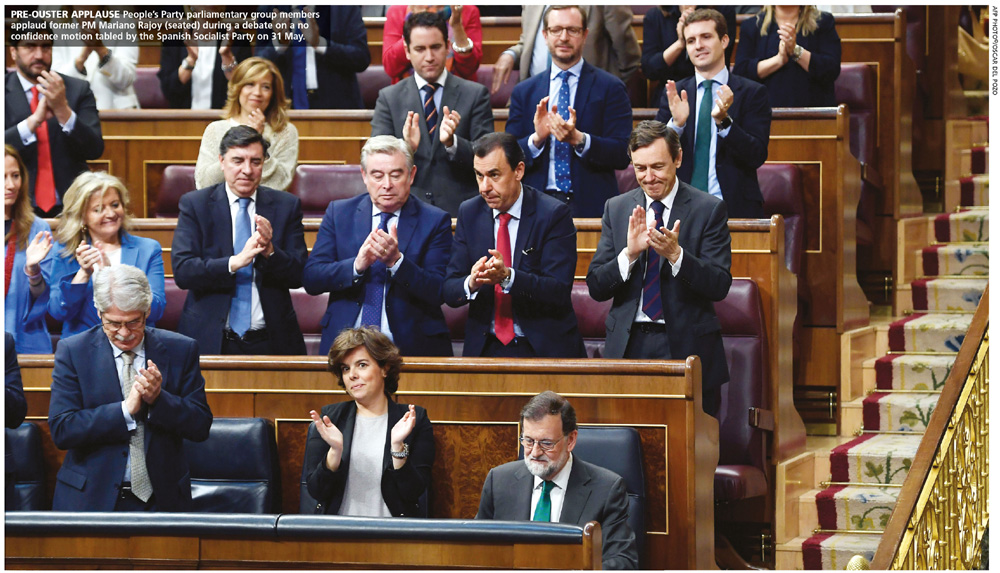 From a total of 350 MPs, 180 voted to oust Rajoy while 85 percent of Spanish voters said he should hand the party leadership to someone else. The people were enraged with the government for the austerity programmes it had imposed while its senior politicians were allegedly enriching themselves with illicit money.
What's more, 62 percent of people who once believed in Rajoy and voted for him deemed that his time was over. The 62-year-old Rajoy boasted a four decade long political career and was the most senior political leader in Spain.
As the revolt against him gathered momentum, Rajoy publicly released his tax returns – the first time a Spanish prime minister was compelled to do so. He also called for a thorough internal audit of party finances but it appeared to be too little too late. The no confidence motion against Rajoy came on the heels of the court sentencing his party's former treasurer Luis Bárcenas to a 33 year prison term with a fine of US$ 51.3 million for profiting from a 'kickbacks for contracts' scheme. It was revealed in court that Bárcenas had deposited 29 million dollars in Swiss bank accounts in the names of shell companies.
Although Rajoy denied any knowledge of the slush funds of his party and maintained that he hadn't ever taken illicit payments, he was held responsible for corruption within his party and his lack of response to the allegations.
PP members are accused of accumulating wealth that could not be explained with their official remuneration. The accusations included the acceptance of large cash donations from construction companies, luxury watches, Caribbean vacations and birthday parties.
They had reciprocated by awarding no bid contracts and development rights. The courts sentenced 28 businessmen and politicians to over 300 years in combined prison sentences, and imposed a fine of US$ 288,892. The PP is the first Spanish political entity to be convicted of operating a slush fund.
For the past six years, Spain's judiciary has been involved in an intense battle against corruption backed by a rising demand for government accountability. Hundreds of politicians were indicted for bribery and a member of the royal family was convicted of embezzlement. A senior anticorruption prosecutor resigned last year when connections to an offshore tax haven became public.
Between July 2015 and December 2016, close upon 1,500 people were tried for corruption and around 70 percent of them were found guilty. The judiciary is said to have indicted hundreds of cases of political corruption since 2012 – that was when Spain was bailed out by European banks, following the house and property bubble bursting. The bailout brought to light the extent to which the building mania relied on illegally approved and financed projects.
The corruption charges began as a low-level case but the scandal reached the highest echelons of power leading to Rajoy's fall from grace.
Like in Greece and Italy, the economic downturn in Spain exposed the traditions of institutionalised graft. It also showed how political parties chummed up with affluent businesspeople forming alliances and choking off healthy competition, which in turn undermines the welfare of the middle and lower classes.
With Rajoy's unexpected exit from power, Pedro Sánchez became the Prime Minister of Spain. However, it is not expected to be a smooth term of office since many voters resent his party, which had introduced austerity measures under the former PM, changed the constitution, and strictly enforced budget control with job and salary cuts.
The decline in the standard of living makes Spain the most unequal of Europe's large countries. However, Sánchez's priority now is not to call for elections but repair the social and institutional damage caused by Rajoy's party. Political analysts are looking to Sánchez to create a climate of political and economic stability before citizens are asked to go to the polls.
In the words of India's ex-president Pratibha Patil, "corruption is the enemy of development and of good governance. It must be got rid of. Both the government and the people at large must come together to achieve this national objective."