COVER STORY
 LMD EXCLUSIVE 
Why human capital and AI led technology are the needs of the hour
Dhammika Perera emphasises the need to build human capital and embrace AI led technology
The founding Chairman and Managing Director of Vallibel One group – a holding company with investments in financial services, manufacturing and the leisure sector in particular – Dhammika Perera holds several other positions in both the private and public sectors. And notably, he was reported to have been Sri Lanka's wealthiest individual back in 2013 with a net worth of over Rs. 70 billion at the time.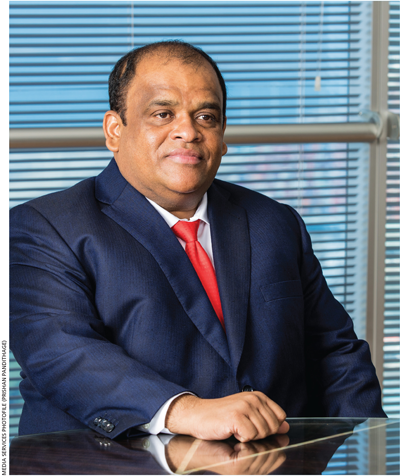 He is viewed by many as a visionary, and renowned for his business acumen and foresight. His three decades or so of being in the business of building formidable corporations undoubtedly holds him in good stead.
Perera is also an outspoken proponent of harnessing the power of developments in the field of technology, most prominently the use of AI, to help transform the national economy.
At a recent forum, the business tycoon outlined his national strategy for embracing artificial intelligence, commenting on the subject while drawing on his experience of working with data scientists.
In this exclusive interview with LMD, he elaborates on the potential for leveraging AI and technology in general, observing that "with the use of AI, you can clearly map out virtually every aspect from job transfers, healthcare and education, to agriculture and poverty reduction – and many major problems facing the country can be resolved."
– LMD
---
Q: On behalf of the business community in this country, what is on your wish list for 2019?
A: I have a clear idea of what 2019 may bring and it seems that all businesses will have to focus on reducing costs in the absence of which it would be very difficult to survive.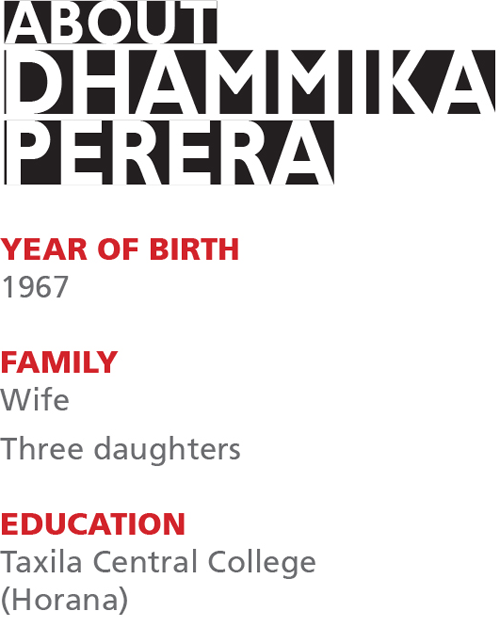 This trend was true of 2017 and 2018 as well, which is why our group launched a cost reduction programme in 2017. As a result, I believe that our companies will be prepared to face any challenge. I'm aware of how much of a cost reduction is needed within the group; similarly, other companies will also have to be mindful of their costs.
There are many aspects for organisations to consider. For example, when one analyses the productivity of office staff, some employees (for instance, the accounts department) complete three to five daily processing transactions whereas they may be able to accomplish more (say 20 or 25). This raises the need for amalgamating work and even restructuring certain processes.
Studies have indicated that there's an excess of 30 percent staff workers in offices today. We have conducted an analysis of how to utilise the additional 30 percent by allocating work to people in a more efficient manner and into different areas while seeking to reduce costs in the process.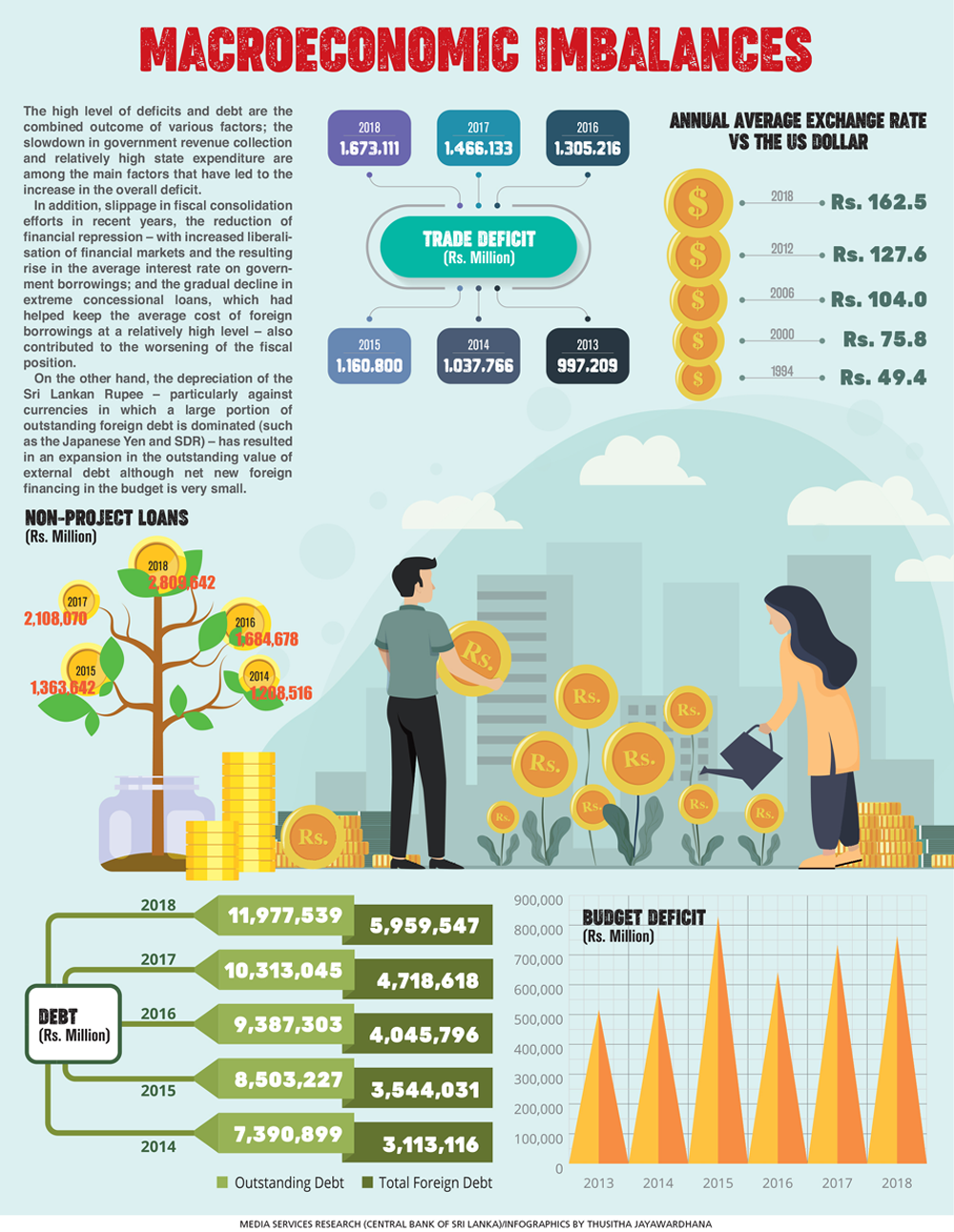 Q: The stock market fell to a five year low not long ago – in your assessment, what were the main reasons for this? And where do you see the market heading in this year – or what are the sensitivities?
A: One of the key issues is the increase in taxes – for instance, capital gains tax and especially dividend tax. The rate of tax applicable to dividends has been increased from 10 percent to 14 percent.
Corporate earnings have reduced due to subdued economic activity; and therefore, dividend payments are also lower, resulting in a decline of shareholder returns. The other aspect is that shares are trading below their net asset value.
For instance, taxes on banks increased from 47 percent to 57 percent, which impedes their ability to retain profits. With low profit generation, the return on equity was less than the Treasury bill rate. As a result, banks are trading below their net asset values.
The outlook will mainly depend on government policy. The environment in which businesses operate is determined by the actions taken by the government. This is not a complaint but rather, recognition of the fact that we have to make certain adjustments and adapt in line with what the government has planned for the economy. 
Q:  Are your plans in line with Budget 2019?
A: In response to your question on the budget, I always offer support and forward proposals because our main goal is the development of the country. Today, Sri Lanka's per capita GDP is US$ 4,000 but the developed country benchmark is 12,640 dollars – achieving this level of per capita GDP should be the aim of any budget.
Q: Your take on the value of the Sri Lankan Rupee is…?
A: The country's current account balance is minus US$ 2.3 billion so the question is how are we going to meet that shortfall? If any action is taken with regards to increasing tourist arrivals and developing the tourism industry, or providing support to the IT industry or the export sector, then we will have a clearer picture of how the country can generate an additional 2.3 billion dollars in revenue. Otherwise, the currency may depreciate even further in the next year or so.

Q: What more must be done to increase the inflow of foreign direct investments (FDI) to this country? And has the Board of Investment (BOI) fulfilled its role as a one stop shop, in your view?
A: The country did not attract as many new FDIs as we would have wished. This is because we did not have the required investment framework in comparison with the countries in the region to attract such investments.
To establish a one stop shop, there have to be investors; but today, there are no major investors. The current investment package offered by Sri Lanka is not regionally competitive – as a result, there is hardly any foreign investment coming through the BOI.
A country has to better appeal to foreign investors and offer tax concessions (for instance, 70% of income is tax exempted in Malaysia) so as to be competitive with others in the region. Otherwise, investments will not flow in, new jobs will not be created and young people will not have opportunities for new jobs. 
Q: Sri Lanka has been compelled to borrow extensively to fund its development programme but the mounting debt portfolio is causing stress as the nation prepares to repay large chunks of what it has borrowed… How would you balance this – or is there 'another way' so to speak?
A: Every country has debt; what you need is a repayment plan whether it's for 40 years or 10 years – otherwise, there is no problem as such in paying off debt.
The problem is not the amount of debt; it's the planning that's important. Due to the practice of borrowing short term, we are compelled to make large capital debt repayments every year. Therefore, there's a need for restructuring, meaning you have to obtain long-term borrowings from elsewhere.
When we talk about debt, it is important to recognise three variables: the interest rate, tenure and currency in which you borrow. In the last four years, because the rupee depreciated against the dollar by 50 rupees, there was an increase in debt purely because of the exchange rate.
So what is needed is for the government to develop an aggressive plan as to how to attract an additional two to three billion dollars to the country. There has to be an action plan because otherwise, the issue of currency depreciation and its impact on debt will continue this year as well.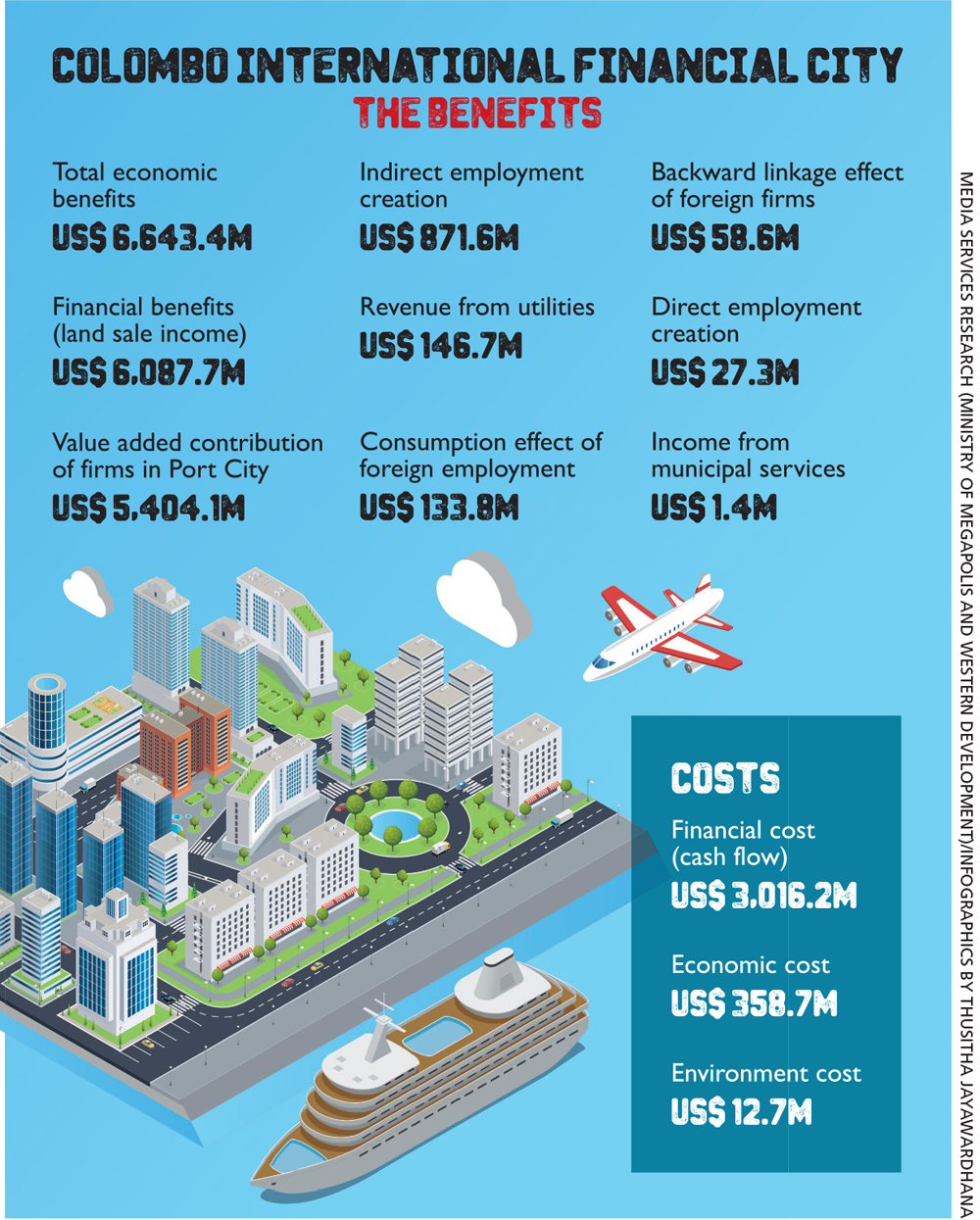 Q: How do you view Sri Lanka's tourism promotion campaign and the 'So Sri Lanka' tag line? Your target tourist arrivals and spend for 2020 would be…?
A: While there are ambitious plans, there is inadequate action. As a result, I don't think there will be a significant increase in tourist numbers. Implementation is weak and as a result, I cannot predict where the tourism industry is headed.
There are 90,000 rooms in operation while 20,000 are under construction. But I'm uncertain as to what the government's agenda is. At times, the government appears to lack clarity on a definite plan to attract tourists. The government needs to address critical issues such as immigration procedures and airport infrastructure, and introduce efficient, formal branded airport taxi services.
Ultimately, the success of the campaign will depend on government policy and effective implementation.
Q: The IMF's 'end-of-mission' press release in late September states that "the authorities should push ahead with their Vision 2025 to support Sri Lanka's rapid and inclusive growth, through sustained efforts to promote trade openness and investment, fight corruption, enhance social protection and encourage female labour force participation." What are the key takes from this statement?
A: In my opinion, priority should be given to formulate a plan for creating jobs on a districtwide basis. This is if the government intends to create one million jobs (i.e. rural youth job initiatives).
But at the moment, the government does not seem to have a districtwide or even sector-wise plan. If you were to ask the private sector, it too does not seem to have a plan. 

Q: The Colombo International Financial City (a.k.a. Port City) is taking shape – how do you view its potential, what are the key sensitivities, and what pros and cons are there?
A: There is huge potential and interest in the Port City project; but in the absence of an attractive investment package, no one is going to venture towards it.
For instance, if an investment package simi­lar to that which Shangri-La and Waterfront receive under the Strategic Development Projects Act can be offered to investors, then many investors would channel funds into the Port City; but otherwise, it may not be possible to find investors even in the next 10 years.
Sri Lanka's corporate tax rate stands at 28 percent and there's a 14 percent dividend tax, which is quite high compared to the region. Therefore, it becomes challenging to attract investors to this relatively small island that has a population of 21 million and a GDP of US$ 80 billion.
Q: You have said humans should not fear the ever accelerating pace of developments in the IT field and even the advent of robotics… Could you elaborate on this?
A: The agriculture and education sectors can be transformed through AI, and poverty reduction will also ensue. Meanwhile, in the public sector AI can be used to facilitate more effective government sector transfers – for the army, navy, healthcare services and teachers.
To illustrate this point, let us consider the 1.4 million families in the country that are Samurdhi beneficiaries of which 575,000 have four or more family members. If you geotag these families and extract relevant data to an AI system – based on demographics such as age, educational qualifications and skill levels – you can derive information on which individuals can be raised above the poverty line over the next five years.
In the case of families that cannot be brought out of poverty, we need to have a different plan to look into this.
There are 5.5 million families in the country. With the use of AI, you can clearly map out virtually every aspect from job transfers, healthcare and education, to agriculture and poverty reduction – many major problems facing the country can be resolved.
The reason I'm taking this message to the public and talking about AI is because it is a very easy and low-cost operation. And it is something that the government can introduce within the next two years.
Sri Lanka has so many IT companies; they have to come forward, and address the subject in terms of how they're going to facilitate the development of agriculture and education, precision poverty alleviation and enable government transfers among other issues. They need to take the lead in this endeavour.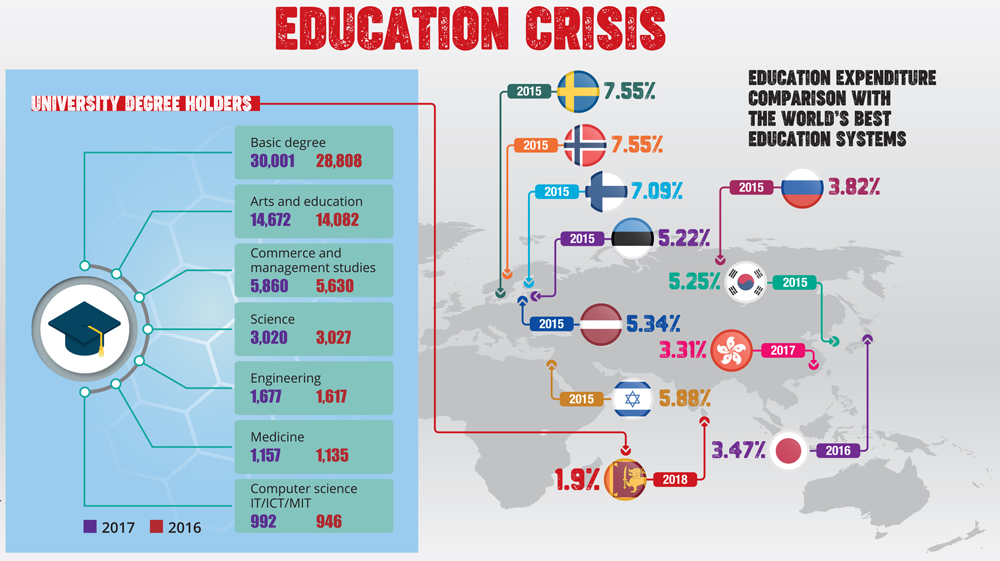 Q: Why is it that corporate leaders such as yourself don't speak out about corruption in both business and politics in this country?
A: In my opinion, there isn't a huge problem in this respect. What is of concern is that although Sri Lanka takes pride in having a high literacy rate, it has been unable to provide high quality educational services and will need to focus on improving the quality of education.
Today, the world is focussing on 'functional literacy,' which often tends to be confused with conventional literacy rates.
In Sri Lanka, university education is only at seven percent compared to 50 percent in developed countries so the main goal should be education – and the government must make proposals to improve the above-mentioned seven percent to 50 percent over the next five years, which will make it easier to achieve developed country status with a GDP per capita of US$ 12,640.
For instance, if the government were to offer students one million rupees in coupons to obtain an education at private universities, in 10 years' time, these students would contribute by way of PAYE tax to the government. So it is a 10 year cycle, in which they have to invest in developing human capital.
Without a good education system, the government is unable to uplift the people. My vision too is solely focussed on education. Lee Kuan Yew nurtured the quality of Singapore's human capital – which in turn led to the development of other aspects.
Q: How about the future – including the impact of global trade, geopolitical disruptions, climate change, the digital revolution, generations Y and Z, brain drain and so on?
A: I do not worry about negative situations and always remain positive. Should a problem arise, I will address it rather than trying to predict future challenges since there's a lot of work to be done even today.
I cannot predict when problems may occur so I'm not too concerned with future trends.
Q: And finally, how do you view the so-called 'work-life balance' in the context of the local business landscape?
A: You have to balance your life; otherwise, it could create difficult situations and you could be under severe stress.
In the present day, it's necessary to work at least eight hours a day to earn a good income.
When you work such long hours, what is important is that you are happy at work; then you'll be happy at home – a good husband and father. And if you are happy at home, you'll be a better employer or employee and a better colleague.
– Interviewed by Zulfath Saheed