WASTE DISPOSAL
DIRTY TALK: TRASH WOES PERSIST 
Zulfath Saheed laments ongoing concerns relating to waste management in Sri Lanka
Well over two years ago, a massive solid waste dump collapsed on some 40 homes in Meethotamulla, resulting in the death of more than 30 people and directly affecting the lives of some 1,700 others who once lived under the shadow of this garbage mountain in a suburb of metropolitan Colombo. In the wake of this cataclysmic landslide and the ensuing uproar among citizens, the relevant officials pledged to stop dumping garbage at the site and transfer waste matter from homes and offices to other locations.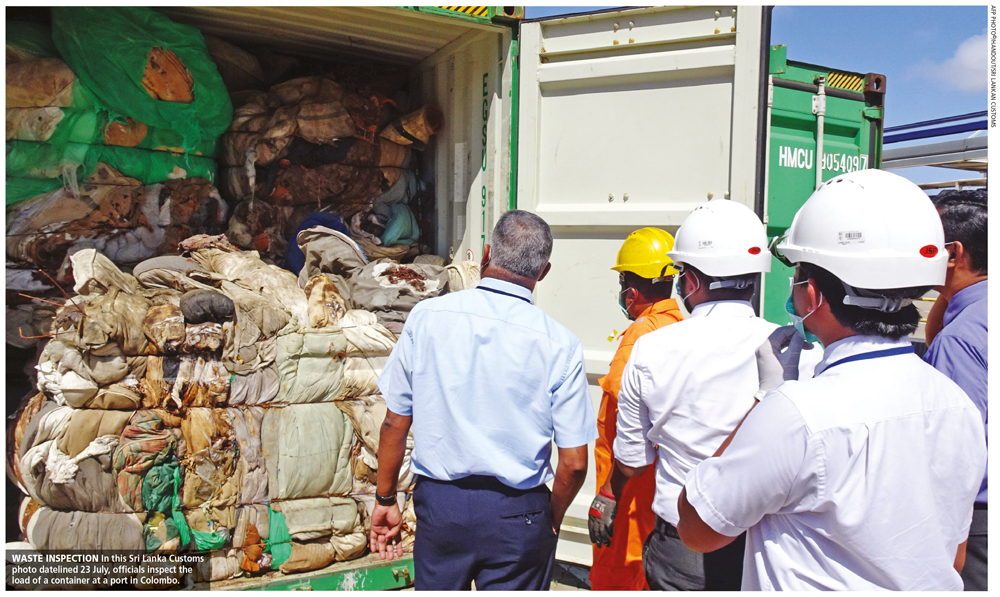 The Aruwakkalu waste management plan seems to have been born out of a need to resolve this issue – it is scheduled for completion by March next year. However, the project has hit snags on many occasions, on top of which garbage started to pile up in the commercial capital in recent times due to less than ideal measures implemented by the authorities.
CRUX OF THE MATTER In early August, the collection of solid waste in the municipality of Colombo came to a standstill following the Ministry of Megapolis and Western Development's decision to halt the disposal of the commercial capital's garbage at an allocated area in Kerawalapitiya.
It is reported that the solid waste management facility in Kerawalapitiya had exceeded its capacity and the ministry took a decision to transfer the garbage to Aruwakkalu, which is located in the Puttalam District. But delays in executing this plan meant that garbage disposal in the island's largest city has been adversely impacted.
By the first week of September, reports citing the Ministry of Megapolis and Western Development pointed to 5,000 metric tons of garbage being transported from Colombo to Aruwakkalu.
However, there were incidents where trucks carrying waste came under attack even with a tightening of security en route to the destination, highlighting the potential for further tensions between citizens and authorities in the future.

SHARED RESPONSIBILITY Amidst the shortcomings with respect to waste management in Sri Lanka, there's also the thinking that it ought to represent a shared responsibility – and not be the duty of local bodies alone.
To this end, corporates would need to play their part in – among other things – providing consumers with less packaging and nonbiodegradable disposables, options for recycling or upcycling consumer items and educating customers on the 'end of life' scenarios as they relate to purchased products.

Of course, it isn't all doom and gloom with a recent example coming from the local fashion industry. It seeks to "raise awareness, build knowledge and stimulate dialogue within the context of a circular economy – one that designs out waste and pollution, keeps products and materials in use, and regenerates natural systems," the Sunday Times reported recently.
Similarly, there have been corporate endeavours to recycle plastic primarily of the polyethylene terephthalate (PET) variety, which is a promising sign for the future. It goes without saying however, that more of the same – and on a much larger scale – may be required to change the very dimensions of waste produced in Sri Lanka.
IMPORTED GARBAGE Not long ago, local corporates were embroiled in a controversy with the revelation that container loads of waste were found at the Colombo International Container Terminal and Katunayake Free Trade Zone – apparently imported with the intention of reexport.
Officials claim that the consignments even contained clinical and human waste, which in turn led to pollution of the surrounding environment. While investigations into the matter are ongoing, it begs the question whether such an avenue was being considered by the relevant parties.
In contrast, countries like China have implemented a ban on foreign garbage in recent times. According to its official state run press agency, "the country's solid waste import reached 7.286 million tonnes in the first half, down 28.1 percent year on year."
It elaborates: "China issued a plan in 2017 to phase out [the] import of solid waste capable of being replaced by domestic resources by the end of 2019. Regulations will be stepped up on illegal imports of foreign waste with targeted programmes to crack down on smuggling of such trash… About 1.55 million tonnes of smuggled foreign waste was seized by the country's customs authorities last year."
UNCERTAINTIES The measures taken to resolve issues pertaining to garbage disposal in Sri Lanka appear to be stopgap at best given that the relevant environmental concerns have not been adequately addressed by those concerned.
Whereas global citizens are waking up to the reality of a circular economy and the steps that need to be taken to turn it into a reality, the people of Sri Lanka continue to lag behind when it comes to matters that warrant immediate attention – and indeed, action.
Talking garbage isn't the answer!