YOUTH FORUM
Compiled by Savithri Rodrigo
VISION FOR A GOLDEN ERA
Dianne Fernando banks on a collective will to engender future prosperity
Q: What changes do you observe in education and women's empowerment?
A: While our literacy rate is higher than other Asian countries, extreme competition in examinations has created a massive tuition class sector. And more students are seeking higher education overseas than previously.
Women now pursue much higher levels of education given their greater focus on careers with more females holding senior positions.
While migrant workers primarily comprise women who have become breadwinners, females are also now in typically male bastions such as pilots, and heavy vehicle and three-wheeler drivers. In addition, there are many successful women entrepreneurs and innovators these days.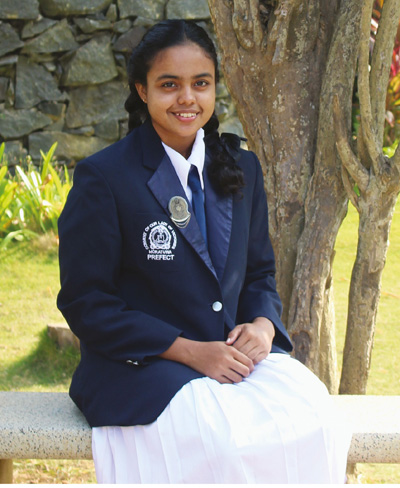 Q: How can Sri Lanka retain the talent it has?
A: Most students are compelled to spend millions to get their degrees and will obviously seek high salaries to recover these costs. Research in any field especially science and technology is minimal in Sri Lanka because the country cannot afford the resources or funding to pursue R&D.
Therefore, many opt to venture overseas to fulfil their career aspirations, obtain reasonable remuneration, enjoy a higher standard of living and offer their children a better education.
To curtail a brain drain, professionals should be able to obtain employment commensurate with their qualifications, and gain recognition and appreciation.
Q: What opportunities do you see for young Sri Lankans such as yourself?
A: They include Model UN societies established to acquire diplomatic skills, participation in international competitions, opportunities to express ideas in the media – such as in LMD – establishing student and youth parliaments, and encouraging participation in extracurricular activities.
Compared to the international opportunities there are, few exist in Sri Lanka. A lack of appreciation and motivation from adults discourage youth, making them apathetic and reluctant to pursue their ideas.

Q: Do we have young leaders who can take the country forward?
A: Yes we do. Young leaders must be compassionate and participate in social service, and be honest, dedicated and committed.
Future leaders should not follow trends in today's politics such as bribery and corruption. They must turn over a new leaf, make use of advanced technological skills for the country's development, move away from conventional frameworks and innovatively develop the economy.
The younger generation has the energy to work hard. They must maintain high moral standards, be diplomatic and foster racial harmony for cohesive nation building.
Q: Where do you see Sri Lanka in 10 years' time?
A: If our leaders continue to work in this corrupt environment, the future will be worse than it is today. There will also be more pollution and sea erosion, signalling acute shortages of food and water.
Therefore, we must utilise our resources without causing harm or wastage, educate leaders to gain and impart good values, empower entrepreneurs and innovators, and inspire Sri Lankans to be united. If we collectively build our country, the future will be a golden era.
Q: What are your expectations of the world and its people?
A: I would like to see a peaceful world where people live in harmony and share available resources mindfully while safeguarding them for future generations. People should be considerate and mindful of their actions, and be prepared to face the consequences of environmental pollution.
Given the population's diversity, there will always be deviations from the ideal. But we need systems to help people comply with global norms, which should be inculcated in children to help them grow up as responsible citizens.

Q: How do you view global poverty and gender equality?
A: Poverty is most commonly defined by economic standards based on income levels and access to basic necessities, some of which are beyond the control of countries battling climate change and natural disasters.
Nations must work towards fewer imports and more exports by using resources astutely to strengthen industry, and thereby reduce poverty to some degree.
Gender equality requires eliminating harmful practices against women and girls – including trafficking, domestic violence and 'femicides.' While there's been progress on gender equality in the education system, less headway has been made in politics and employment opportunities.
Q: How do you view the growing importance of social media today?
A: Social media has transformed the world into a global village. However, there are negatives. The younger generation is addicted to it – so they neglect their studies, family bonds aren't as solid as they once were and unhealthy relationships are formed. It also impacts their health. So it is important to strike a healthy balance.