US PRESIDENTIAL ELECTION

TRUMP'S FOLLOWING TRUMPED AT THE POLL
Why the US presidential election result isn't the surprise that it is being made out to be
BY Amantha Perera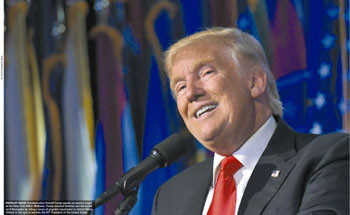 It was the perfect political sleaze story with all the right ingredients. A young, good looking, politically ambitious woman (in fact, two ambitious women), a sleaze-job of a husband (perhaps two), cyber espionage, national security and an all-important election.
THE 'MOTHER LODE' It was the story that any campaign would want to avoid, when a mere two weeks before the American presidential election the FBI announced that it had found 650,000 emails from Huma Abedin in a laptop that was used by her estranged husband – former Congressman Anthony Weiner. It had sex, sleaze, politics and national security written all over it. Abedin has been a close aide of Hillary Clinton for many years.
The Trump camp, which had been trailing in the polls at the time, jumped at the story by calling it the 'mother lode.'
Weiner is a notorious name – a name that has been dragged through many a scandal. He had been declared persona non grata a long time ago by the Clinton camp. This was despite his wife being an indispensable aide to Hillary from when she was America's first lady. Hillary Clinton has gone as far as to call Abedin a second daughter.
Following his marriage to Abedin, Weiner – who was a rising star in Congress – landed in a sexting scandal in March 2011, which was cleared up thanks to some nifty PR engagements, to set him on track for the race for Mayor of New York. But mid-stream in the campaign, another sexting scandal broke, resulting in him losing the mayoral race as early as in the primaries. In a subsequent investigation on whether Weiner had sexted with a minor, his electronic devices were taken over by the FBI.
THE EMAIL STORY Emails have been one of Clinton's main faux pas. There have been leaked emails of her campaign staff as well as an investigation into her use of a private server for official mails. As with the Weiner case, the email scandal was all about naivety on cyber security.
Here's how the Washington Post described it: "Hillary Clinton's email problems began in her first days as secretary of state. She insisted on using her personal BlackBerry for all her email communications, but wasn't allowed to take the device into her seventh-floor suite of offices, a secure space known as Mahogany Row."
"For Clinton, this was frustrating. As a political heavyweight and chief of the nation's diplomatic corps, she needed to manage a torrent of emails to stay connected to colleagues, friends and supporters. She hated having to put her BlackBerry into a lockbox before going into her own office," it added.
The Washington Post also noted that "her aides and senior officials pushed to find a way to enable her to use the device in the secure area. But their efforts unsettled the diplomatic security bureau, which was worried that foreign intelligence services could hack her BlackBerry and transform it into a listening device. Clinton used her BlackBerry as the group continued looking for a solution. But unknown to diplomatic security and technology officials at the department, there was another looming communications vulnerability."
According to documents and interviews, "Clinton's BlackBerry was digitally tethered to a private email server in the basement of her family home, some 260 miles to the north in Chappaqua, New York," it stated, adding that "the officials took no steps to protect the server against intruders and spies because they apparently were not told about it."
The first email scandal was based on Clinton's insistence on the dire need of her BlackBerry. This saw the National Security Agency having to go so far as to seek a 'mitigation option' to allow her to use the mobile phone without compromising national security.
However, last year's investigation into her use of a private email for government engagements resulted in the FBI recommending that no charges be filed against her, as it was a case of Clinton having been 'extremely careless' in handling her email system.
In October, the FBI announced it had found emails from Weiner's estranged wife Abedin that it thought may be potentially relevant to the earlier Clinton server investigation.
Yet, on 6 November, a mere two days before the presidential election, the FBI concluded the investigation and declared that it had not changed the conclusion it reached in July.
This second email bombshell – termed the 'October surprise' – was the scandal that many said could undermine the Clinton campaign. A month and a half before the elections, a foreign correspondent based in Delhi warned US diplomats that both candidates had stacks of skeletons in the cupboard.
POLL RESULTS By the time the FBI announced its investigation into Weiner's computer, Donald Trump too had been stalked by one skeleton after another. Most of these were of his own making and had alienated one vote block after another, with even the 'mother lode' appearing not to get him back on track.
There was a definite impact from the announcement of the investigation, with Trump gaining ground on Clinton in six states that were expected to be a tight contest. But with the FBI's announcement that it was not pursuing an investigation, Clinton led Trump by four percent in a national poll conducted by NBC News/Wall Street Journal.
The New York Times had the race tighter, with Clinton's 45.3 percent only marginally ahead of Trump's 43 percent. And of the 10 national polls it cited, Trump led in only one.
D-DAY ELECTION Forty-eight hours later, all the pre-election polls looked a farce as Trump swept through in state after state. During his final speech, Trump had said that they were going to 'Brexit the vote' – and that was precisely what happened. As the world's financial markets stumbled and Clinton's celeb supporters panicked on social media, America voted with its pockets.
Early analyses of voting patterns suggested that Americans had three things on their mind – immigration, terrorism and the economy – much like in the Brexit vote. On all three counts, Trump was seen as the better bet.
Clinton also came with her own political baggage; that of her husband Bill, from her tenure as Secretary of State and more recent issues. This was an election where America had to choose between whom they disliked least. And at the end, the array of niche votes – women, blacks, Hispanics and the young, who were to propel the former first lady to presidency – didn't gain traction.
Like the Guardian said following the release of results, Trump's "was an appeal to the heart, not the head, in a country where patriotism should never be underestimated."
Clinton was not the novelty factor, nor was she the Obama of 2008. She was and is the entrenched establishment candidate. Trump was the outsider – the guy who was ruffling the feathers.
TRUMP'S TRIUMPH The chief strategist of Obama's presidential election victories David Axelrod clearly analysed this dynamic when he wrote in The New York Times, in January, that "open-seat presidential elections are shaped by perceptions of the style and personality of the outgoing incumbent. Voters rarely seek the replica of what they have. They almost always seek the remedy, the candidate who has the personal qualities the public finds lacking in the departing executive."
And for a decade, Trump had cultivated a mass following with his reality show. While Clinton relied on celebrity endorsements, Trump was a celebrity himself.
In America, pop culture is a powerful tool. It has elected a Hollywood actor as a two-term president and an immigrant to replace a sitting governor in California. Trump in the White House was not at all an aberration, though not many wanted to acknowledge that.
TRUMP AS PRESIDENT What does the oncoming Trump presidency mean for this part of the world and specifically to Sri Lanka? The best place to gather any sense of this was in New Delhi.
As I wrote in the November edition of LMD, the vibes were that a Trump presidency would mean an overhaul of the personnel of the State Department.
He is less likely to be engaged in regional politics and other issues, unless they have a direct impact on trade. So his presidency would offer more space for our President and Prime Minister (both of whom were quick to welcome Trump) to combine to act on reconciliation pledges.
What would be interesting however, is how President-elect Donald J. Trump deals with two equally hard-nosed leaders – India's Narendra Modi and China's Xi Jinping.