RETAIL IS KING
Compiled by Yamini Sequeira
TRANSCENDING THE TECH CURVE
Asoka Pieris observes that millennials are driving the retail sector's tech focus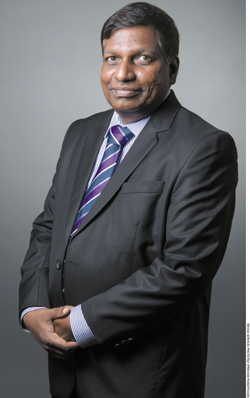 Sri Lanka's retail sector is enjoying rapid growth. While the food services sector – which consists of restaurants, hotels and supermarkets – remains the largest retail segment, the consumer durables category too has witnessed strident expansion.
T. Kearney's 2016 Global Retail Development Index (GRDI) places Sri Lanka in the No. 12 spot. GRDI ranks the top 30 developing countries for retail investment, based on all relevant macroeconomic and retail-specific variables. It identifies not only the markets that are most attractive today, but also those that exhibit future potential.
PURCHASING POWER The past year in particular has seen greater disposable incomes in the hands of consumers, thanks to salary hikes granted to public sector employees, and lower fuel prices and interest rates.
Sri Lanka is a lower-middle-income country with a population of around 21 million people and a per capita income of US$ 3,924 last year. The services sector accounted for 62 percent of GDP during the year, followed by manufacturing (29%) and agriculture (nearly 9%).
"As per capita income rises, the amounts that consumers spend on consumer durables will increase by greater proportions," notes Asoka Pieris, Chief Executive Officer of the Singer Group of Companies in Sri Lanka.
He continues: "There is no doubt that the middle class in Sri Lanka is expanding and that they will be the prime target of retailers as their disposable incomes expand. The Central Bank of Sri Lanka is evincing confidence in its short to medium-term economic forecasts, which augurs well for the retail sector."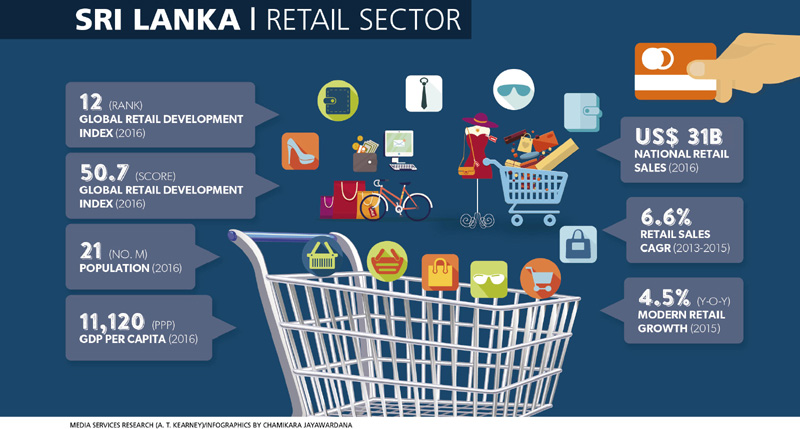 ROOM FOR GROWTH There is a concerted move towards adopting lifestyle-oriented products, and the consumer durables segment has positioned itself to cater to this trend. Sri Lanka now showcases some of the globally reputed top-end products and brands, enabling people to shop locally, instead of having to venture abroad on shopping sprees. But as yet, only 30 percent of consumers are willing to pay the price for upper-end products and brands.
"The retail sector in Sri Lanka may be growing, but household penetration of durables continues to remain fairly low, providing ample opportunity for retailers to market their products. Only 60 percent of households in the country have a refrigerator, and less than five percent own an air conditioner. On the other hand, about 90 percent of households own TVs. These statistics indicate that there is adequate room for growth," Pieris points out.
Television viewing is a family event and even a community activity, because of which owning a TV is seen as an uncompromising expenditure.

TECH ADOPTION Sri Lankan consumers have almost always been ahead of the curve in the region when it comes to technology adoption. And today, the market features advanced technology in all segments of appliances. Retailers in turn have realised that easy instalment schemes to purchase durables are attracting consumers.
They vie with each other to offer attractive personal and corporate schemes to net a wider customer base, in the hope of increasing ownership of electronic goods among consumers. Retail companies are also establishing plush large-format showrooms to reel in customers who seek a sophisticated shopping experience.
Pieris observes that "very often, it is the millennial generation that encourages parents to upgrade to more advanced technology. Retailers will need to match the technology adoption of millennials, to keep them engaged as future customers."
Gaming devices, dishwashers and clothes dryers are perhaps the only durables that are still not freely available due to the low demand. But this might change, with the onset of a high-earning millennial generation. This lifestyle trend is also spreading to small cities and towns within and outside the Western Province.
THE CHALLENGES The proliferation of appliance usage has given rise to the need for urgent attention to the safe disposal of electronic waste – or e-waste – such as electronic devices and appliances.
"Sri Lanka has taken early steps in this regard, and the Central Environment Authority (CEA) has released a list of authorised companies that recycle e-waste in an environmentally friendly manner. But going forward, even households need to be geared to direct their e-waste to approved recyclers, to ensure that the environment is not polluted," Pieris emphasises.
However, Sri Lanka does not have the 'use and throw' habit of many developed countries, which means that warranties and aftersales service are highly valued by consumers in this country. Consumer durables are sometimes retained for generations, and undergo several services and repairs over the years!
HUMAN CAPITAL Another challenge for the sector is the sourcing of human resources, with Pieris explaining that "there is a shortage of staff in the retail sector and unfortunately, youth in Sri Lanka are underemployed – they drive three-wheelers for a few hours a day, with others opting for a desk job instead of having to be on their feet most of the time."
He also notes that in terms of soft skills, there is room for improvement. Multilingual human resources are a valuable asset in the retail sector, Pieris posits.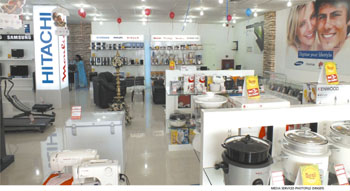 BRIGHT FUTURE Asked to comment on the burgeoning retail spaces that are currently under construction, Pieris responds that while the increasing retail space will help bolster sales, the expanding popularity of e-commerce platforms would be the game-changer in the future, considering that there are over five million active internet users in Sri Lanka.
Although the country has yet to gear itself to become a shopping hub, it displays the potential of positioning itself as one for South Asian tourists. But extensive marketing and sales promotions will need to be undertaken in regional countries, to make the shopping hub concept a reality.

In its latest Global Economic Prospects report, the World Bank predicts that Sri Lanka's economic growth will accelerate by 5.3 percent this year, and onwards in 2017 and 2018. This is despite monetary and fiscal tightening, which should bring good tidings to the retail sector.
The interviewee is the Chief Executive Officer of the Singer Group of Companies in Sri Lanka