URBAN ECOSYSTEMS
THE TREES OF CITY LIFE
Akila Wijerathna endorses urban forestry to empower city dwellers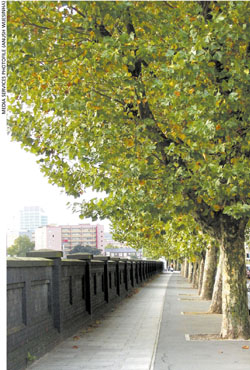 The history of nations includes the emergence of cities that have been centres of commerce, politics and the arts. But most are also known for the appeal of their forests and parks. Such cities continue to be revered as places of great civic beauty and quality of life.
With the urbanisation of the global population, a growing number of people value the quality of the urban environment today.
Trees in cities provide a wealth of benefits. Called ecosystem services, they build resilience to climate change by mitigating its effects, filtering stormwater, conserving energy, sequestering and storing carbon, creating aesthetic value, and improving physical and psychological human health.
There are public misconceptions that trees are merely for 'beautification' or that 'trees can take care of themselves.' Yet, they experience many stressors in cities with resources being needed to grow and steward the urban forest.
To some, urban forests are the aggregation of woody parts – a collection of isolated trees within the urban landscape. Others may view urban forests as an ecosystem that includes not only trees but also their dynamic relationships and interactions with factors that are biotic and abiotic.
Urban forests may also be seen as a critical piece of the larger urban infrastructure. Urban forestry is defined as 'the art, science and technology of managing trees and natural systems, in and around urban areas for the health and wellbeing of communities.' Practitioners combine strategic planning and best management practices with environmental stewardship education to create sustainable and cost-effective solutions for our cities and towns.
Besides their aesthetic appeal, trees in urban areas provide a number of tangible environmental benefits to the public that often go unrecognised. But urban trees are threatened by a lack of access to water, pollution, pests and diseases, soil compaction, shade from buildings and removal.
Trees provide economic and community benefits in addition to mitigating the impact of air and water pollution. They function as invaluable environmental assets providing a range of social, environmental and economic benefits that enrich the quality of urban life.
And trees help improve air quality by mitigating pollution and greenhouse gases. Most trees use photosynthesis to convert carbon dioxide (CO2) into nutrients, reducing a greenhouse gas that would otherwise contribute to smog and unhealthy living conditions.
But the ability of trees to improve air quality depends on many factors like species, location and the number planted.
Given the diverse benefits provided by trees and urban forests, it is little wonder that urban forestry is increasingly recognised as a vital component of sustainable communities.
Sustainability officers are now in a position to influence policy, planning and perceptions on how to better utilise our collaborative partnership with nature. The management of city street trees, parklands and forests is an integral and active part of urban planning, to ensure vibrant green spaces, ecosystem services and resilience.
For designers, the forest has served as an inspiration, a model and a tool. Architects are incorporating increasing expanses of vegetation into buildings, and tapping into the urban forest vocabulary as a means of exploring adaptive and reactive living systems.
Scientific evidence confirms that human health and wellbeing is improved if people in cities have contact with little bits of 'nearby nature,' as well as larger green spaces. Experiences of nature are associated with enhanced worker productivity, traffic stress reduction, closer recovery in hospitals and rehabilitation centres, emotional stress mitigation, restoration of mental capacities that are needed for basic human functioning and productivity, and revitalisation of business districts.
Citizen involvement in urban forestry projects has a positive effect on local community building and group empowerment. Habitats created by urban forests create educational opportunities for people: urban forests provide opportunities for environmental educational programmes for both children and adults. Many schools now have 'outdoor classrooms' with curricula designed for the natural sciences.
While often perceived as a simple matter, the effective establishment and management of trees in cities require a sustained commitment of financial support and diverse scientific knowledge. Compared to wild land, forest reserves or national parks, a unique aspect of urban and community forestry is the extensive involvement of local people in tree planting and decision-making.
Enumeration of the benefits can raise citizen awareness about the value of urban trees on publicly-owned land. Which is why the community forestry movement is an essential force in creating healthy and vibrant cities.