UNORTHODOX LEADER
Hemaka Amarasuriya
Singer (Sri Lanka)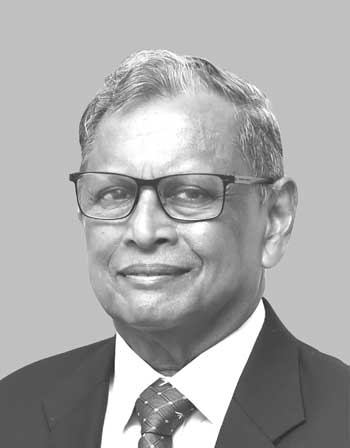 For almost three decades, Singer (Sri Lanka) and Hemaka Amarasuriya were mentioned in the same breath – for this was his corporate alma mater, which nurtured the fruition of his talent.
From Amarasuriya's appointment as Chief Accountant of Singer Industries in 1973 to his rise to the position of Singapore Country Manager, then to a Regional Manager for Singer Worldwide and as a Corporate Vice President of Singer International, his career has been both impressive and illustrious.
A career he himself crafted with his own hands with ability and hard work, and by honing his skills and talents. A career he embellished and aggregated over the years so that Amarasuriya's accomplishments reflect not only his qualities of leadership but varied interests and aptitudes too.
Qualifying first as a chartered accountant, Amarasuriya expanded his skills into marketing and earned a reputation as a 'revolutionary nonconformist marketing accountant' – a wonderfully revealing descriptor.
It's a combination of talents that imbued his unique sales and marketing techniques, examples of which are frequently used as case studies by leading marketers.
It is widely acknowledged that his innovative ideas and approach – an unorthodox management style along with nonconformist and often revolutionary leadership tactics – built brands, teams and portfolios destined for success.
Amarasuriya transformed corporate Sri Lanka with his flair for business and a characteristic quiet firmness. Some have hailed him as the nation's 'intrapreneurship' pioneer for rousing demand for a simple sewing machine and its brand, to the heights and horizons of a consumer durables giant.
His quiet and gentle personality belies this zest for business and success he's achieved in his professional life, and its myriad accomplishments. And he has translated his talents into other spheres of interest and passion too.
Amarasuriya's enduring and great passion for sport led to some very considerable contributions to the development of national sportsmen and women, on account of both his corporate and personal efforts. It follows that his labours have made an indelible mark on Sri Lanka's cricket, rugby, hockey and motorsports, and earned him the gratitude of a nation.
There is no doubt that in the annals of time, Amarasuriya will be remembered for all that he has brought to corporate tables – and sports fields; but perhaps what he will most be commended for is the transformation he brought to the marketing of a rather mundane piece of equipment and the fortunes of Singer (Sri Lanka).
Hemaka Amarasuriya: transforming talent  into inspiration.