HIGH COMMISSION OF CANADA
University of Calgary partners with two Sri Lankan leading universities
Colombo, August 9, 2018 – The University of Calgary in Canada today signed agreements with two of Sri Lanka's top universities to collaborate on educational and research activities and exchanges of students, faculty and staff, with the next planned step of exploring a PhD Cotutelle program (dual degree program) between University of Calgary and the two Sri Lankan universities.
University of Calgary Vice-Provost (International) Professor Janaka Ruwanpura, travelled to Colombo, Sri Lanka to sign an agreement with University of Moratuwa Vice Chancellor Professor K.K.C.K. Perera, as well as an agreement with two representatives of the University of Sri Jayewardenepura – Vice Chancellor Professor Sampath Amarathunga and Dean, Faculty of Graduate Studies, Professor Hemanthi Ranasinghe.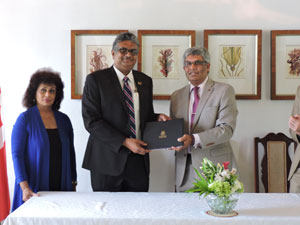 "These agreements show our commitment to a unique collaboration that supports high-achieving students to conduct study and research at both partner universities," says Professor Ruwanpura. "It also demonstrates the University of Calgary's long-term commitment to enable our students and scholars to internationalize their experience and strengthen their leadership and cross-cultural skills through diverse programs, including the Canadian Queen Elizabeth II Diamond Jubilee Scholarships (QES) program." (please see link below – https://www.queenelizabethscholars.ca/ )
Representatives from Sri Lanka's ministry of higher education and government, the University Grants Commission, distinguished Canadian alumni in Sri Lanka attended the signing ceremony.
At the event, the High Commissioner for Canada in Sri Lanka, David McKinnon, stated that "This agreement builds on the deep and longstanding educational links between Canada and Sri Lanka to provide global opportunities for a new generation of innovators."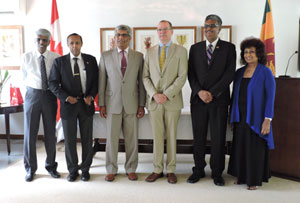 PhD Cotutelle program
The PhD Cotutelle program offers research students an unparalleled international experience, working alongside world-class researchers across two Universities.
A PhD candidate is jointly supervised by academic staff members at each university and upon successful completion of the program, a candidate graduates from both universities with a Doctor of Philosophy. As an outcome, the PhD Cotutelle graduates gain unique exposure to different cultural and scientific environments and substantially increase their employability after graduation.
PhD Cotutelle agreements also provide a unique opportunity for two faculty researchers to engage in collaborative research projects.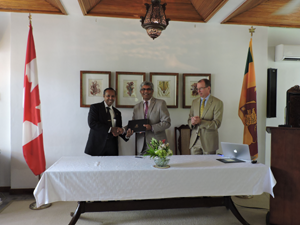 Sri Lankan and Canadian students benefitted from partnership launched in 2015.
In 2015, The University of Calgary signed an agreement with the Universities of Moratuwa as part of the Canadian Queen Elizabeth II Diamond Jubilee Scholarships (QES) program. This agreement enabled four Canadian engineering students and two Sri Lankan students to participate in internships and internationalize their education and research.
"It was a great experience, a pleasure and an honour to be nominated as a scholar in the Queen Elizabeth II Diamond Jubilee Scholarships program," says Asiri Senasinghe, who completed his MSc. degree in Civil Engineering at the Schulich School of Engineering at the University of Calgary.  As a result of this scholarship, Asiri was able to complete his master's degree and enter a PhD program at UCalgary.
About the University of Calgary
The University of Calgary is a global intellectual hub located in Canada's most enterprising city. In a spirited, high-quality learning environment, students thrive in programs made rich by research, hands-on experiences and entrepreneurial thinking. One of the key priorities identified as vital to the university's future success is internationalization. The world's top universities are all international in orientation with well–developed global webs of interaction that help them to create, disseminate and apply knowledge.
The University of Calgary will continue to work toward strengthening the bonds that tie Canada and Sri Lanka together so that both of our communities reap the rewards.