SINGER
Thulitha Mendis and Jagath Perera appointed Key Managers at Singer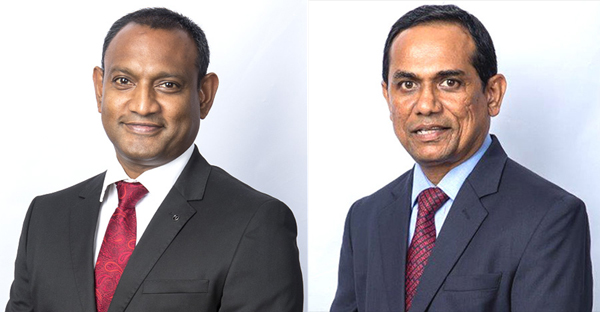 Singer (Sri Lanka) announced the appointment of two new Key Management positions from 1st July.   Thulitha Mendis as Director – Commercial and Jagath Perera as Director – Digital Media.
Thulitha joined Singer 20 years ago as a Trainee District Manager, having worked at several overseas and local banks.  He was promoted to a senior management position in 2007 and was appointed Head of Procurement in 2013 and three years later became the Deputy Director – Commercial. In 2006/2007, he won the prestigious President Club Member Award presented for outstanding performance at Singer.
Thulitha currently serves as the Senior Vice President of Sri Lanka – China Business Council of The Ceylon Chamber of Commerce.
Jagath Perera joined Singer in 1995 as a Sales Representative in the Wholesale Channel and was appointed Area Manager in 2006 and Senior Area Manager in 2011.
Jagath was appointed Deputy Sales Manager – Digital Media in 2012 to head the newly formed Digital Media channel with a distinctly different business model to market mobile phones which successfully spearheaded Singer's entry and success in this area.   He was promoted to Senior Management Grade in early 2014 and was appointed Deputy Director – Operations in July last year.
Jagath was selected as the Best Executive of the Year in the Singer Group in 2015 and was winner of the prestigious President Club Member Award for 2010/2011 demonstrating his commitment for achieving outstanding performance. At Ananda College Jagath captained the Hockey team and went on to represent the Sri Lanka Schools Hockey Team.
Congratulating both Thulitha and Jagath, Singer's Group Chairman Mohan Pandithage and Group CEO Asoka Pieris both commented "Singer Sri Lanka takes great pride in seeing two long standing personnel  Thulitha and Jagath who have steadily climbed up the corporate ladder reaching the top management of Singer.  Their success is achieving outstanding results through dedication and commitment".