UNIQUELY DESIGNED ENTRYWAYS
Greet your visitors in style with a uniquely designed entryway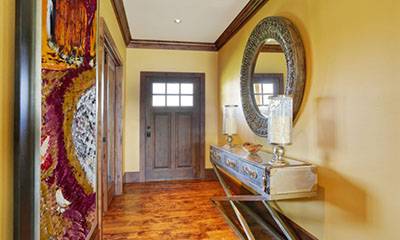 Whether it is your porch area or the foyer of your office, creating a well-defined entryway is important. However, unfortunately, not all entryways receive the kind of attention they truly deserve, mainly because it is so frequently used.  As a result, people often forget the perks of having a functional entryway. In addition to exuding a positive and a pleasant vibe when visitors enter, a clean and well-designed entryway gives the home a fresh vibe for those who live in it.
Your foyer says a lot about you and your space. It sets the tone to the entire house, providing a sneak peek into the rest of the home.  It also settles the mind when walking indoors from the busy outside world.
Design your entryway
Designing the perfect entryway can be quite stressful if you have not yet decided how you want it to look. Your decision may depend on various factors like the specific purpose the space serves, the size of the area, the theme of your current home design etc. So before you begin, we would always advice you to have a clear vision of the desired entryway in your mind. Consider making a list of 'must haves'.
When selecting furniture
Start by investing in a console table. This can be used to place your keys, display a few decorative items, art pieces, and pictures. However, be selective and try not to make it too cluttered. Consider opting for a vintage table, a classic piece that portrays elegance. Before you make a purchase, do some research into the quality of the item.
Pay attention to entryway lighting
Mornings can be quite hectic, especially if you are in charge of taking kids to school or if you are a last minute person running late to work. Installing wall lamps or bright table lamps in this space can make finding keys and other objects easier when you are just about to leave the house for a busy day. Hanging a large chandelier above this space would not be a wise idea for practical purposes and design purposes.  When it comes to table lamps, make sure you balance the space by placing two table lamps on either side. Statement lamps could add to the design of this area so don't be afraid to investigate more interesting designs.
Other décor items
Once you have sorted the main elements for the space, it's time to add personality and make it your own. Since your entryway is the first area that meets the eyes of visitors, make it a place that reflects your personal taste.
Start off by placing an area rug on the ground to add color and detail. Area rugs protect the floor from wear-and-tear and scratches from shoes. Pick out colours and little details from your current home design to pick the most suitable rug for your entryway.
Mounted mirrors are great statement pieces that give the illusion of a larger space. So even if your entryway is small in size, you can always install a large mirror to make it look twice its actual size. As decorative pieces, mirrors instantly add glamour and a sense of luxury to a space. They are also handy when you need to check your outfit before running out of the door.
Opt for flowers and natural elements to give the space a sense of relaxation and comfort. Colorful flower arrangements are great elements that fill the space with a fresh and positive ambience making it a pleasant experience for your visitors.
Finally, style the space with items such as books, antiques, vintage décor items to add a final touch to the overall space. Remember there are no text book rules when it comes to styling your own space. Therefore think creatively and escape mediocrity to create an entryway that is truly yours.