PRODUCTION INDEX
China factory activity picks up but analysts warn on growth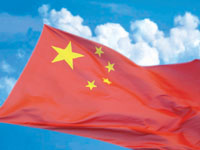 Beijing, China | AFP | Friday 6/30/2017 – An indicator of Chinese manufacturing activity beat forecasts in June but analysts warned that Friday's surprising result belied a slowdown in the world's second-largest economy.
The reading comes as the country loses momentum with policy makers putting the brakes on lending following years of debt-fuelled investment that has raised fears of a financial crisis that could blow out globally.
The purchasing managers' index (PMI), a gauge of factory conditions, came in at 51.7 percent, the National Bureau of Statistics said, beating estimates on a Bloomberg News survey of 51. Anything above 50 is considered growth while a figure below points to contraction.
It was also higher than the previous month's 51.2 and marked the eleventh straight month of expansion – but ANZ Research warned the acceleration was not broad-based.
It "was mainly due to higher production and the new order sub-indices, which disguised an imbalanced recovery across sectors," ANZ Research said in a note.
"Even with higher-than-expected PMIs in June, the moderation in second-quarter GDP growth is inevitable, in our view."
In the first three months of the year, China's economy expanded by a better-than-expected 6.9 percent but ANZ expects growth to slow to 6.7 percent in April-June.
The slowdown is part of a longer-term trend as China transitions from an investment and export-driven economic model to one more reliant on consumer spending.
But the retooling has been complicated as Beijing wrestles with huge debt and excess capacity left over from massive government-backed infrastructure spending at the height of the global financial crisis.