UN ASSURES SUPPORT TO SRI LANKA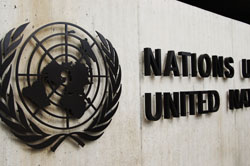 United Nations (UN) Under-Secretary-General for Political Affairs Jeffrey Feltman reportedly stated that the UN would continue to extend its fullest support to Sri Lanka's development process and reconciliation. He mentioned this when he called on President Maithripala Sirisena at the president's official residence in Colombo.
The UN official also expressed appreciation for the progress made by Sri Lanka in many areas despite the challenges of natural calamities, adverse weather conditions, and groups of political hardliners in the north and south.