TRI-ZEN
TRI-ZEN construction shifts into high gear with accelerated MEP and finishing work
TRI-ZEN completion scheduled for end 2023
Project construction currently in penultimate phase
TRI-ZEN 74% sold
Structural work on all three towers complete
Colombo, Sri Lanka, November 2022 – TRI-ZEN, the smart residences by John Keells Properties, located at coveted Union Place, Colombo 2, announced the accelerated flow of MEP and finishing work across all three [03] towers even amidst the challenging macro environment.
As the project begins commencement of the final phases of construction, the teams as part of the joint venture between Indra Traders (Pvt) Ltd, and John Keells Properties, as well as TRI-ZEN's contractor and global leader in construction – China State Construction Engineering Corporation Ltd  (CSCEC), are diligently working towards the completion of the project, as scheduled for end 2023.
Speaking with Head of Engineering, John Keells Property Group – Lumbini Pathirage, on the continued progress and phase completion of construction stated: "I am pleased to announce the continued progress and completion of phase 3, as we gear up to handover the apartments to its many residents next year (2023). It is a testament to the desire and sheer willpower of the project teams at TRI-ZEN who forge forward during this challenging period."
On completion TRI-ZEN will comprise a trio of residential towers, yielding a total of 891 apartments; each of which will include a mix of 1, 2 and 3-bedroom units. Each unit will be outfitted with a suite of world-class smart home technology and design features, allowing for residents to enjoy a convenient and contemporary lifestyle.
Commenting on the progress of the project, Project Manager, China State Construction Engineering Corporation Ltd – Jordon Li stated: "As the lead contractor for TRI-ZEN our objective is to ensure the continued construction with minimal delays. CSCEC is known globally for its expertise and innovation in construction, particularly where tech-driven, smart projects are concerned. TRI-ZEN is expected to be a jewel in not just the Colombo Skyline, but also one in our portfolio and we are pleased to be a part of the project."
Considered an urban escape TRI-ZEN will consist of a suite of residential amenities, green spaces, a jogging track, swimming pools, fitness and wellness studios, and a games room, among many others.
What makes the apartment complex most attractive to potential homeowners is its location – situated just a few steps or a short drive away from Colombo's main public transport terminals, business hubs, schools, hospitals, attractions and entertainment venues.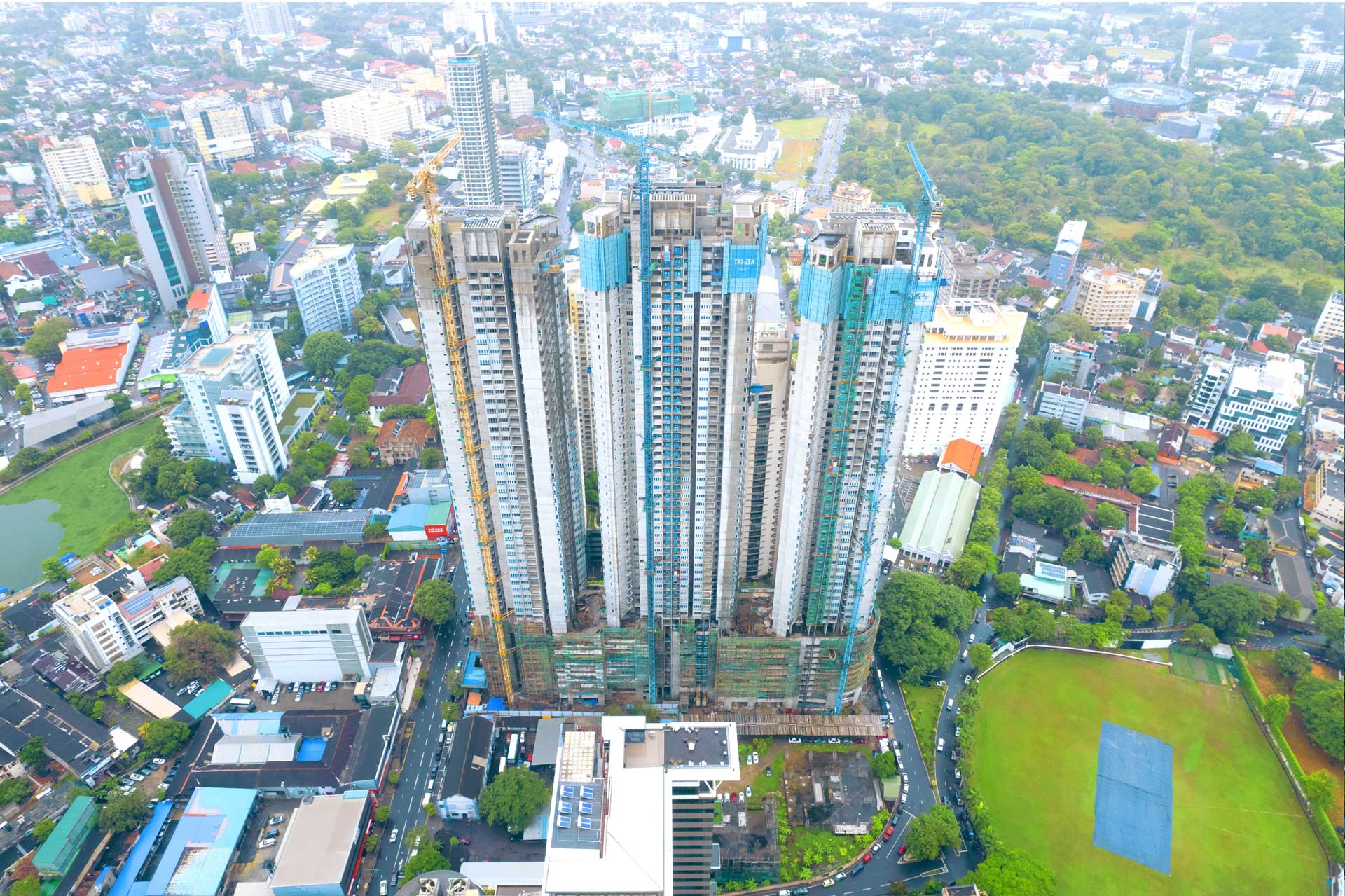 TRI-ZEN construction in progress