TOURISM INDUSTRY
SHORT TAKES
Compiled by Savithri Rodrigo

Q: What have been the main takeaways from tourism in the postwar era?
Suranjith De Fonseka (SDF): Tourism in Sri Lanka has amazing potential with very few destinations offering such diversity. It's as if the diversity of Asia has been packed into one exotic island. But we are still scratching the surface of what we can achieve.
Sunimal Senanayake (SS): The massive increase in tourist arrivals – quadrupling since the end of the conflict – and revenue generated as a result, increased hotel room capacity that includes notable growth in informal accommodation and investments by international hospitality brands.
Q: So has our tourism industry performed to expectations?
SDF  There has been exponential growth due to pent-up demand and great PR from some of the best media houses around the world. But growth has slowed in recent years and we should be doing more to sustain demand.
SS  We have experienced steady growth in tourist arrivals during the last few years although it's marginally lower than originally planned. There is definite potential to achieve higher annual growth through strategic promotional actions.
Q: What are the priority areas to boost and sustain tourism growth?
SDF  Adding two million tourists to a population of 20-odd million is already placing stress on our tourist sites. As a country, we cannot handle 10 million tourists so we should be focussing on driving earnings from tourism rather than higher arrivals. I'm not advoca­ting that we become a niche luxury destination but the country needs to be mindful that increasing tourist arrivals isn't the best fit for us.
SS  Sri Lanka must adopt a dual marketing strategy to maintain market share in traditional European source destinations and grow Asian markets. This will provide an ideal opportunity to enjoy healthy year-round occupancy. New experiences such as adventure and nature based options must also be added to cater to the growing millennial traveller segment.
Q: And what are the key economic outcomes of such ventures?
SDF  Sustainable revenue growth while preserving our tourism resources.
SS  Growth in arrivals, increased room capacity, and greater direct and indirect employment.
Q: What are the main challenges facing the tourism industry today?
SDF  The cost of construction makes investments in hotels and other tourism projects unfeasible while the lack of regulation results in substandard accommodation, which takes a toll on the visitor experience and government revenue streams.
SS  Internal challenges include natural and man-made disasters such as dengue, and finding trained human resources to deliver expected levels of service. Externally, competing with similar destinations that have garnered higher visibility through strategic and aggressive marketing is also a factor.
Q: How can Sri Lanka develop its tourism offering?
SDF  There's been no differentiation in our tourism offerings for 30 years. We can develop adventure tourism and market our biodiversity to attract special interest travellers. Developing Sri Lanka as an education hub for offshore campuses of reputed inter­national universities will also attract students from the region.
SS  Create a destination brand, regulate and professionally manage tourist attractions, improve facilities and infrastructure in major tourism zones, and encourage more integrated development projects that offer recreation facilities. 
Q: And which markets should the tourism industry target?
SDF  Targeting should be based on the typology of guests rather than geo­graphic regions. Once key typologies have been identified, factors such as proximity, flight connectivity, growth in overall outbound travel, spending and seasonality should be identified. We should then reach out to typologies within those geographic regions.
SS  The highest potential for growth is in the Indian and Chinese markets, which can generate about a million visitors each annually. But we should also continue to focus on the tradi­tional European markets as there's room to grow these numbers.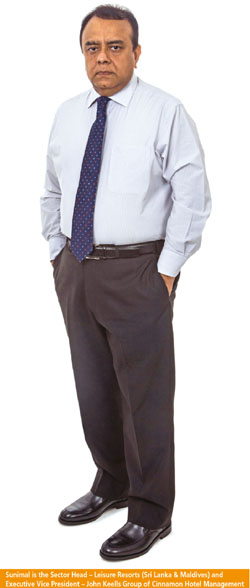 Q: Is tourism growth leading to the degradation of the natural environment?
SDF  The natural environment is our key resource. But growth in arrivals has led to unauthorised construction heralding coastal erosion, the over visitation of sites, poor waste disposal and pollution. If we don't introduce appropriate legislation and enforce existing laws, the primary motivation for tourists to visit Sri Lanka could be undermined.
SS  Increasingly, industry stakeholders are adopting good sustainability practices. Negativities could be avoided by introducing proper regulations and further educating stakeholders on the importance of protecting the environment.
Q: How can the industry attract more large-scale investments?
SDF  The ease of doing business must be ramped up. More regulation is needed in the construction industry to reduce initial capital outlays. High levels of taxation on the formal sector makes it impossible tocompete with the informal sector – taxation in other destinations isn't as high as here in Sri Lanka.
SS  By significantly expanding the current base and continuous destination promotion campaigns that are well-designed, in addition to investor friendly policies. Moreover, Sri Lankan companies could offer opportunities through joint ventures to attract foreign investors.
 Q: Is Sri Lanka closer to identifying its target tourism market to find its niche?
SDF  Not at all; we haven't done much to identify key customer typologies or create differentiated product offerings.
SS  Our diverse product offerings can attract different market segments. Current developments like the Colombo International Financial Centre (the Port City) will also turn Colombo into a major tourist destination. The Indian traveller has been identified in the Tourism Vision 2025 strategy as a target for tourism and a significant source market of the future.
 Q: What more is required of the workforce in terms of skills and talent?
SDF  Just one thing: thinking outside the box. We need to understand that times have changed, and customers and what they are seeking have evolved.
SS  We're now competing at a global level. So we need to work towards improving professionalism and certain competencies that are needed to deliver a world-class service.
 Q: And lastly, what global travel trends should the industry take cognisance of?
SDF  People are travelling more today than ever before. Travellers are seeking authentic experiences that offer a 'real glimpse' of a destination. Hotels and destination management companies must take note of this.
SS  While we continue to receive a high percentage of travellers from European markets, this will change on the basis of global trends. As an industry, we need to gear ourselves to cater to emerging markets such as India, China and the Middle East.