TOURISM IN 2022

EVOLVING
TRAVEL

PARADIGMS
The post-pandemic tourism industry is redefining itself – Taamara de Silva elaborates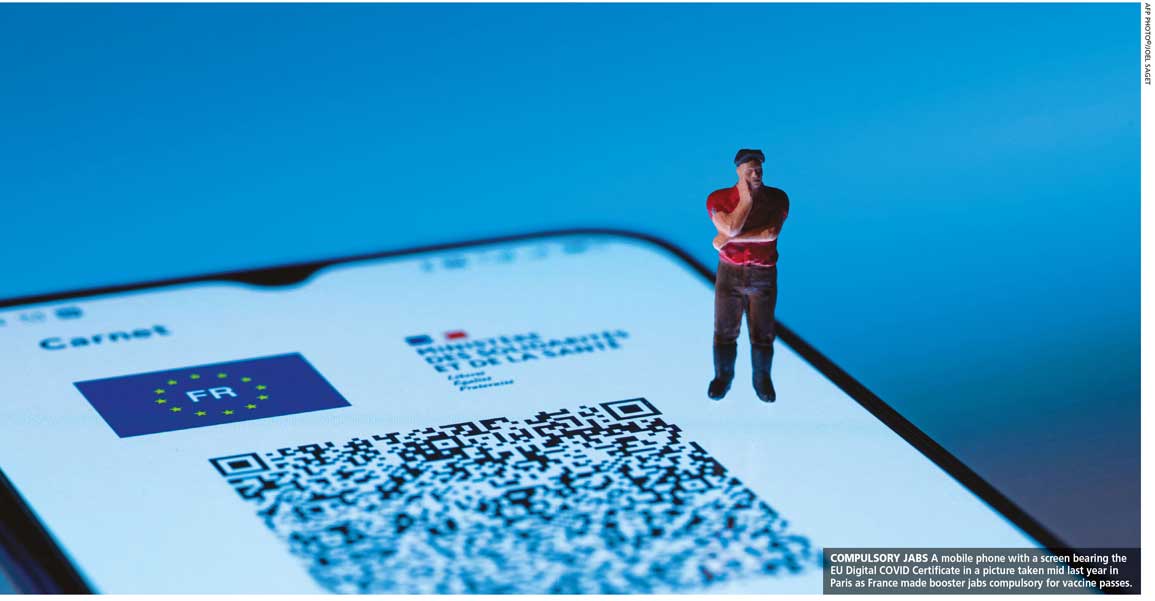 The COVID-19 pandemic has been a stark awakening for the nine trillion dollar travel sector that had envisaged eternal blue skies, open borders and a high demand for tourism. Bailouts, stimulus packages and subsidies continue to be distributed across the airline and hospitality sectors; but massive restructuring, layoffs and overall appeal have seen workers leave, and seek alternative employment opportunities.
Before the pandemic, the tourism industry's travel arm represented approximately 10 percent of global GDP, accounting for around 320 million jobs worldwide, making it one of the most important components of the world economy.
Despite travel coming to an abrupt halt with mobility restrictions imposed in and across nations, there are indications that it will rebound in 2022, amid increasing vaccination rates and many countries tentatively reopening their borders.
According to World Tourism Organization (UNWTO) data, airline reservations between January and October 2021 languished at 86 percent lower than the same period in 2019. Meanwhile, some 62 million jobs were lost in 2020, representing a drop of nearly 19 percent. This was amid domestic and international visitor spending declining by unprecedented levels, and squeezing the sector even further.
Acceleration in remote work and increased uncertainty have also disrupted the sector, creating multiple opportunities for those with an entrepreneurial mindset. As a result of these new trends, existing business models are gradually becom-ing redundant. Today's travellers are seemingly willing to pay a premium for cancellation options, extended insurance cover and hygiene measures.
Surveys have indicated that contactless check-ins and payments, as well as digital room keys and messaging services, are top priorities for travellers. Meanwhile, hotels and guesthouses are having to adopt some of these crucial practices.
From a sustainability standpoint, the travel sector – and the tourism industry in general – has a major stake in decarbonisation because a destroyed planet serves no one's purpose, according to UNEP Executive Director Inger Andersen.
Transitioning from the current pathway to net zero emissions will require substantial investments and significant innovation by tourism stakeholders – as highlighted in the Glasgow Declaration on Climate Action in Tourism launched during the recent 2021 United Nations Climate Change Conference (COP26).
Carbon labelling is the new metric for comparing the eco-credentials of flights and vacations. In fact, carbon counting will be the new calorie count with individuals being very much aware of their personal allowances and how they spend it.
The customer experience is being shaped from end-to-end, from travel bookings to returning home. Reassurance too is closely associated with travel as travellers look to the sector for guidance on where they can go and where it is safe.
A demand for increased flexibility with the adaptation of remote work environments and more fluid travel policies has changed how travellers plan their trips. There is a growing trend of travelling out of the main cities for vacations – so villa resorts and different types of accommodation outside urban areas are expected to flourish on the road ahead.
Domestic travel is expected to rebound faster and this will provide temporary stability. However, lavish spending by high net worth individuals, which usually complements profit margins, may not be expected until international travel normalises.
Travel bubbles have had only limited success so far as the effort and cost to maintain a restricted environment can at times prove excessive and dilute the travel experience, according to sources in the know.
The challenge for many organisations across the travel supply chain is bringing back capacity – or at least, ensuring they're able to do so. Many contract and temporary workers who were laid off during the pandemic have found alternative employment and are reluctant to return to their former jobs, resulting in a labour crunch.
Pricing too has moved beyond the competitive cost of a ticket, level of service or type of hotel room. It must now reflect the customer's circumstances, and overall digitisation and personalisation. Whether the systems, processes and infrastructure are aligned to support these models is the question.
While streamlining processes and personalising customer experiences are important, investing in digital analytics will enable businesses to identify opportunities to differentiate their services and adopt innovative practices that are aligned with these expectations.
Overall, travel will rebound slowly but surely as it's in human nature to adapt and people's tendency is to connect. However, it's imperative that the various components of the tourism industry work together to usher in the safe return of travel, and seek collaborative opportunities in an equitable and sustainable manner.