TITLED TITAN
Deshamanya Mano Selvanathan
Carson Cumberbatch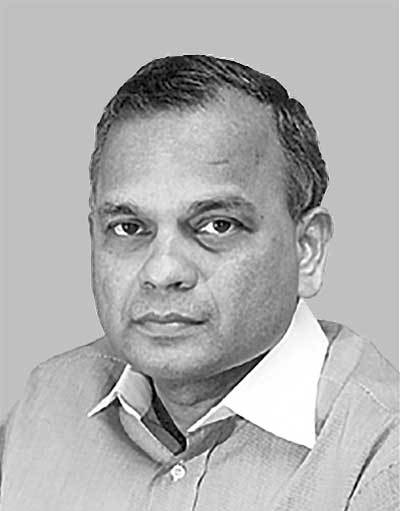 Carson Cumberbatch (Carsons) was founded when two companies founded by R. B. Carson and Henry Cumberbatch merged in 1947. The union proved fortuitous and the company grew into a considerable concern encompassing oil palm cultivations in Malaysia, real estate investments and leisure properties.
In 1988, the controlling interest in Carsons was acquired by the Sri Krishna Corporation, a 75-year-old company, which is a leading manufacturing and exporting house founded by the Selvanathan family.
Deshamanya Mano Selvanathan's grandfather, S. Kanapathy Chetty, settled in Colombo in the 1920s and operated a petrol service station. By the mid-1930s, Chetty had expanded into coconut products and an oil mill. These were the birth throes of the Sri Krishna Corporation Group.
Substantial growth was first generated by Chetty's son K. Selvanathan and today, the third generation – the brothers Mano and Hari Selvanathan – head one of the largest conglomerates in the island with the former functioning as the Chairperson of Sri Krishna Corporation.
Selvanathan, rumoured to be the fourth richest Sri Lankan, has a keen interest in fostering Indo-Lanka relations. As Chairman of the Indian Heritage Foundation, he was instrumental in the 2003 publication of a pictorial record titled The Indo-Lankans – Their 200-year Saga. The work chronicles the migration of Indians to South and Southeast Asia in the late 18th to the early 20th centuries.
The book is a seminal accomplishment, for it recounts the little known sacrifice of over a million Indians mainly from what is Tamil Nadu today, who died in their effort to reach 'Kandy Seemai' from the 1790s till the mid-19th century.
Over a million of their brothers and sisters survived the migration, and it is their toil that helped build the Colombo Harbour, the networks of railways and roads, and the island's plantation economy.
In 2011, he was the first Sri Lankan to be honoured by India at the valedictory session of the 9th Pravasi Bharatiya Divas (Non-resident Indian Day) Convention at Vigyan Bhawan, New Delhi, for his efforts that have benefitted local communities and helped forge stronger ties with India, with the Pravasi Bharatiya Samman award – the country's highest recognition for people of Indian origin.
The award presented to him by the then Indian president Smt. Pratibha Devisingh Patil placed him in an extraordinary group of eminent global citizens of Indian ancestry. And in 2005, he was conferred the title Deshamanya for his services to Sri Lanka.
Mano Selvanathan: contributed to a wealth of goodwill.