THE THINK TANK
N. G. (Tanky) Wickremeratne
Hayleys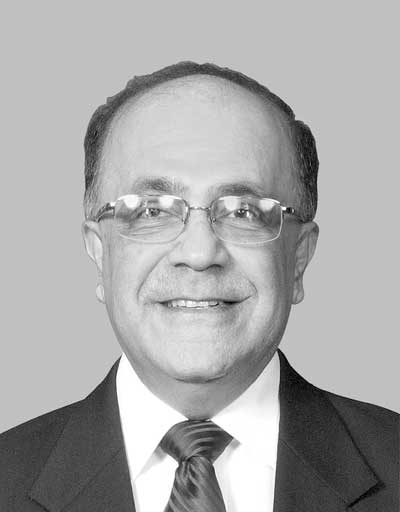 The Hayleys Group is one of Sri Lanka's largest conglomerates and Nirmala Gihan (Tanky) Wickremeratne joined the operation in 1971, at the beginning of his working career. He was appointed to the board in 1986, was the Chief Executive of Dipped Products (DPL) – a subsidiary of the conglomerate – and held overall responsibility for Hayleys Group's Hand Protection sector since its inception.
In his 38 years of service, Wickremeratne has seen the modern stages of the evolution of an entity that Charles Pickering Hayley founded in 1878 in the Galle Fort. Its original export-import business – which involved local products such as coir, cinnamon and citronella oil; and imported goods such as British claret – has expanded beyond its founder's wildest dreams.
Wickremeratne had witnessed expansion into local and international businesses, which include operations in fibre, hand protection, purification products, agri products and inputs, plantations, transportation, resorts, consumer products, and power and energy.
In 2007, he was named the conglomerate's chairman and helmed the organisation until his retirement in 2009. He had been responsible for the pioneering development of some of the core value added businesses that propelled the Hayleys Group into being one of the preeminent corporate entities in Sri Lanka.
During his career, Wickremeratne has countenanced change and adversity, and we would do well to heed what he said in an interview in 2008. Sadly, his words are even more ominous today than they were then and we should take note lest we continue in the prevailing economic morass for much longer.
He warned: "It's bad news for everyone if inflation goes up. What has been there and what has been feeding into our cost structure cannot be reversed." And he went on to caution that "if the exchange rate is kept down, you are killing us softly."
In more strangely prescient words, Wickremeratne also spoke out against oil and energy subsidies, and foresaw that energy prices would rise. He called for reforms in the local energy generation and petroleum sectors.
As the nation moves forward and faces the tumult of socioeconomic challenges, we should perhaps revisit some of the innate wisdom of the island's older establishments. These giants have prevailed and endured because of the collective wisdom of their leadership, and so much of this corporate and executive experience remains both relevant and directional.
N. G. (Tanky) Wickremeratne: a worldly wisdom and words to heed.