THE PERFECTIONIST
Deshamanya A. S. Jayawardena
Central Bank of Sri Lanka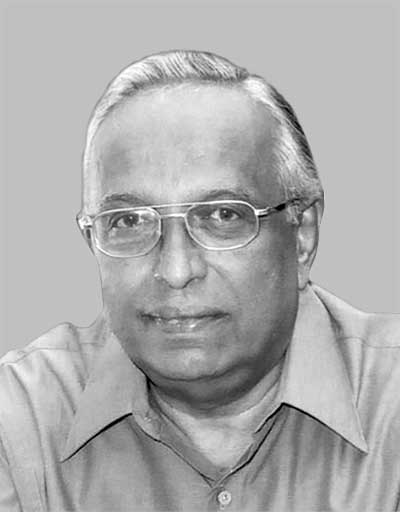 Aformer deputy governor of the Central Bank of Sri Lanka writes revealingly about his erstwhile superior as a "perfectionist to a fault." He elaborates: "Whatever he did and whatever he wanted others to do – no matter whether it was economic policy or the central bank building or cooking soup at the bank's cafeteria – he wanted nothing but perfection."
Deshamanya Amarananda Somasiri Jayawardena was more than qualified to demand perfection. It was all he frequently demanded of himself too, and thought it perfectly reasonable that others should aspire to it as well.
In 1957, after completing his undergraduate education, he went on to study for an MSc in economics, specialising in public sector economics from the London School of Economics (LSE).
Convinced that he required even further honing of his knowledge and skills, Jayawardena proceeded to obtain a Master's Degree in public administration, specialising in public finance from Harvard University where he was an Edward Mason Fellow.
While demanding perfection, he was willing to also invest time and energy to set colleagues and juniors on the right track. He would sit with young officers for hours, making sure that their drafts were in order – and at the same time, imparting his knowledge and wisdom.
Jayawardena rose admirably to the challenges at a crucial time in the monetary authority's history when the Central Bank's main building was all but destroyed in the devastating bomb attack by the LTTE in January 1996. He demonstrated his grit and determination by addressing and reassuring the nation – and the governor had operations up and running the very next day.
He had a talent – among his other abilities – to countenance adversity with courage and imagination. 'AS,' as he was known in banking circles, was the 10th Governor of The Central Bank of Sri Lanka, and led the institution for nine years from 1995 through some of its darkest hours.
The governor quite literally resurrected the bank from the ashes, renewed as a phoenix. From a 'temporary field office' at its Staff Training College in Rajagiriya, he promptly embarked on restoration and modernisation.
The focus was not merely on the structure but infrastructure as well – and technology, the legal framework and human resources were all scrutinised, and thoroughly revamped.
In recognition of his service to the financial services industry and the nation, he was conferred the title Deshamanya in 2005 by the Government of Sri Lanka.
A. S. Jayawardena: undaunted and unperturbed by adversity.