YOU CAB
The Key to Revolutionary Solutions – Launch of YOUCAB and SYTRANS for Superior Transport Services
Colombo, Tuesday 12th March 2019 – Partnering with two of Sri Lanka's cricketing legends, Mahela Jayawardena and Kumar Sangakkara, VirTrans Capital today launched YOUCAB and SYTRANS, the latest player in the Island's e-Transport hailing game. The soft launch of the product was held at the beginning of this year amidst a gathering of media and well-wishers. Today's event also saw the participation of a large cross-section of Colombo's elite, media personnel and the company's top brass.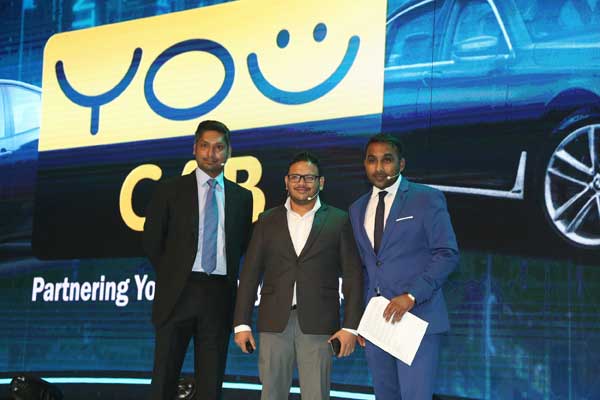 Since the soft launch, YOUCAB and SYTRANS has been in the process of identifying drivers who fit in with the ethos of the company, while also providing road network, driving methods and soft skills training to new recruits. The company has invested heavily on the training and development aspect of the business recognizing a need for superior customer service in the transport sector.
"Our aim is not to simply be a transport solution provider but also someone that people can trust and rely on. As a brand we want to be identified with the same values of humility, trust and reliability that is personified by our two strategic partners Kumar Sangakkara and Mahela Jayawardene", said Thushan Jayaratne, the Chief Operating Officer of YOUCAB.
YOUCAB is the latest addition to the Island's e-Taxi hailing mobile application market. Customers will be able to book a taxi, ranging from Three-wheelers to Luxury sedans and Vans using the YOUCAB mobile app or by calling the 24/7 hotline. As an intermediary online platform, YOUCAB will connect passengers in search of affordable and reliable transportation, with service partners registered across multiple vehicle categories, providing travel solutions on a real time basis.
The company which has extensive experience in freight-forwarding and logistics management also launched SYTRANS, an innovative software platform that facilitates transactions between customers and trucking companies. The platform will help to achieve greater productivity, safer working conditions, transparency and flexibility which has not been seen in the industry over the years, this technological breakthrough will go beyond the boundaries of Sri Lanka to other overseas markets as a proud tech-innovation of Sri Lanka.
For more information, please call on 0115 634 634 / 0117 89 89 89 / 0117 89 89 99 or email info@virtranscapital.com