VISION CARE
Vision Care opens its most recent outlet in Matale 
22nd May 2019 Colombo: Vision Care inaugurated its 53rd outlet in Matale recently, in the presence of, Dr.R.D.K Rajapaksha – Consultant Eye surgeon, Dr.A.B. Kiridana – Consultant E.N.T surgeon and Dr.Asela Dissanayake – Regional Director of Health Services, along with the Vision Care management, effectively strengthening its footprint in key cities and towns in Sri Lanka. Vision Care will be showcasing a stunning range of designer brands at the Matale branch including Ray Ban, Vogue, Emperor Armani, Seventh Street, Polaroid, Manchester, Che, Vintage, Polarsun, Pierre Cardin, Carrera, Alain Delon, Bonia and SB Polo. The new Vision care branch also features top brands from the Milan-based Luxottica Group, the largest eyewear company in the world, having a brand portfolio that counts many proprietary and prestigious licensed brands.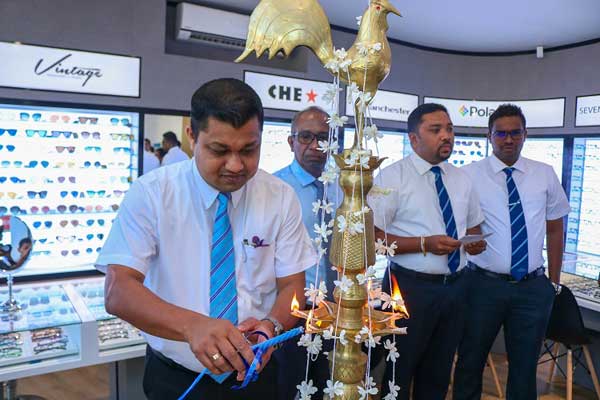 Commenting on the occasion, General Manager of Vision Care, Harsha Maduranga, said, "We are delighted to welcome the residents of Matale into our fold of valued stakeholders, as we believe the new Vision Care branch is the first of its kind in the town to offer a wide range of eye wear for every occasion. From sleek designer sunglasses to precision contact lenses, optical and ophthalmic products – the new branch at Matale has it all. Vision Care offers spectacles & sunglasses across the entire price spectrum – from low to high prices – which makes it eminently affordable for all budgets! Our professionally trained staff looks forward eagerly to serving the residents of this vibrant town."
Vision Care remains the foremost eye wear brand because it has kept a step ahead of evolving trends. Cognizant of the fact that shoppers select eye wear based on their personal preferences and moods, Vision Care maintains a vast array of designer and top brands representing different styles and colours, backed by the expertise of its highly trained staff. The new Vision Care branch is located at 87/A, Kandy Road, Matale. Customers can call the Matale branch on 0662223002 for further information.
With 27 years of service excellence, Vision Care's curated range of high quality branded sunglasses and frames offer a host of attractive designs to suit every requirement, and preference. Vision Care also offers the service of experienced eye care professionals to examine your eyes, incorporating state-of- the-art equipment to diagnose the vision problem with high precision. In addition, they are also able to provide sunglasses with prescribed lenses after eye testing has been conducted.