THE ROVING DIPLOMAT
TRIBUTE SERIES
APRIL 2001
TENSIONS SCALE NEW HEIGHTS
An epidemic of simmering tensions could possibly be waiting to boil over
The international scene is currently experiencing an escalation of tension, not only in traditionally tense parts of the world but others too – and this amounts to a veritable epidemic. There is no general explanation for this and it may be a coincidence where simmering tensions are boiling over at the same time.
Heading the list is the long-suffering Middle East peace process, which is facing yet another ordeal with the election of Ariel Sharon as Israel's prime minister; resignation of Ehud Barak due to a crisis in the Labor Party; and resultant failure of his proposed coalition with Sharon.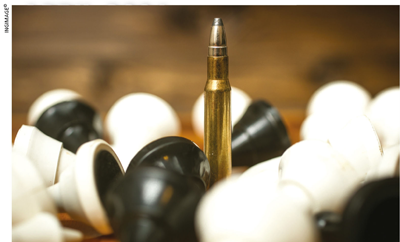 This leaves the Palestinians regarding the turn of events as a deathblow to their hopes of a settlement.
Sharon had sounded conciliatory in a letter to the President of the Palestinian National Authority Yasser Arafat. He pledged to find a solution in accordance with the relevant UN resolutions on the clear understanding that the Palestinians would renounce violence, which is the crucial issue at the moment that the future depends on.
The Israeli prime minister had made three demands from Arafat – viz. a public statement by him calling unequivocally for an end to violence, that the Palestinian Authority must act to stop incitement and a renewal of security coordination. This was accompanied by the imposition of a blockade by Israel in the West Bank and Gaza, which has been described by the Palestinians as 'collective punishment.'
There's yet another explosive situation in the Middle East with the furore created by the Anglo-US bombing of Iraq in February 2001, which was ostensibly directed at Iraqi radar systems. Apart from the storm of protests this raised in the Arab world following the appeal by the Iraqi parliament to the Arab community, these raids have also caused a split in NATO with several EU countries – notably France – condemning these raids.
Turning to Asia, there's a looming crisis in Indo-Pakistan relations, which is currently in a paradoxical situation. India declared a unilateral ceasefire last November and extended it for a further three months from 23 February 2001. However, its credibility is being questioned because of continuing violence on the part of Islamic militants, which has resulted in the deaths of 242 civilians and 187 guerrillas.
The position of the militants is their insistence on talks between the two countries on Kashmir with a view to a settlement. This position has been officially endorsed in a recent statement by Pakistan's foreign secretary: "If the Kashmir issue is settled according to the wishes of the Kashmiri people, and if a strategic regime on nuclear and conventional matters is in place, both countries can work together to develop bilateral economic cooperation."
US President George W. Bush had expressed a similar sentiment in a letter to General Pervez Musharraf wherein he emphasised that dialogue is vital for resolving differences between them. India's position is that it's up to Pakistan to control the separatists as terrorism and dialogue can't go hand in hand.
Meanwhile, India is embarking on measures that are designed to strengthen its military and defence capacities. These initiatives include the import of nuclear fuel from Russia for its atomic power station; the recent purchase of 300 tanks from Russia; and its naval carnival in Mumbai where 25 warships from 19 countries and 95 Indian destroyers participated.
Apart from being an impressive display of Indian naval might, it also opened the door to naval cooperation between India and other countries in the region, in matters such as shipbuilding and manpower training.
Bangladesh and Nepal are also facing unrest. The former has been virtually paralysed by a series of strikes organised by the four opposition parties, which demanded the resignation of Prime Minister Sheikh Hasina Wazed.
This is part of a relentless campaign waged against her by the opposition parties, which has resulted in 80 days of national strikes. The objective is to overthrow the government, which has been branded as corrupt, inefficient and repressive. But the PM is adamant in her decision not to quit but hold elections after 13 July.
Nepal is facing an insurgent movement by so-called Maoist guerrillas, which has made considerable headway in the country. The insurgents are suspected of planting the booby-trap bomb that blew up a vehicle in central Nepal.
There is concern over the apparent inability of the government to overcome this threat to its security so far and speculation as to whether a foreign hand is behind it.
BY  The late Deshamanya  Dr. Vernon L. B. Mendis