TELECOM INDUSTRY
Kiththi Perera
RESHAPING THE TELCO ARENA
Making way for the emerging generation of tech savvy telco consumers
The telecommunications industry today in a sentence
The key platform to driving a country's digital transformation.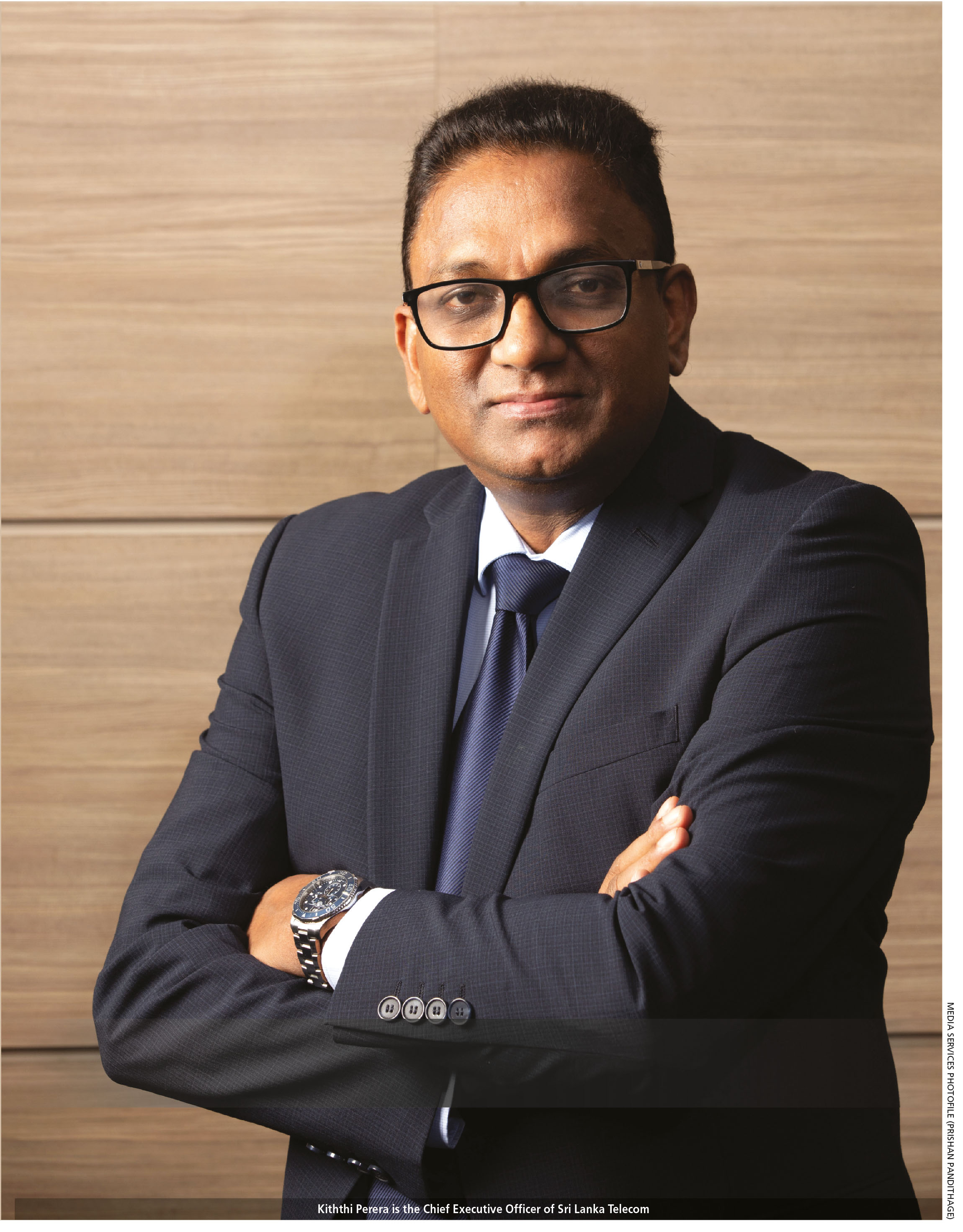 Three strengths of the telecommunications industry
Cutting-edge technology, healthy competition and a competent workforce.
Three weaknesses of the telco industry
Poor rural penetration, low ROI due to the short life cycle of technology and the brain drain.
Three new prospective customer segments
Youth, SMEs and the global customer segment.
Three evolving consumer trends or behaviours
Adoption of digital lifestyles, sharing economy and diverse requirements leading to tailor-made services. 
Three barriers to the industry's growth in Sri Lanka
Poor rural penetration due to costly network developments, lack of governance framework for the nation's digitalisation and difficulty retaining technocrats in the country.
Local telecommunications industry talent
Highly qualified and skilled talent that should be encouraged more – and facilitated towards impressive innovations.
Gender balance in the telecom industry
Needs improvement – however, this is progressing with an increasing number of qualified females.
Women in telecommunications management
Promising individuals and it's amazing to see how they manage their work-life balance.
Main impact of COVID-19 on telecommunications
Financial impact in the short run although this has created more opportunities to grow and innovate in multiple ways for the future.
Three initiatives to develop the industry post-COVID
Aggressive awareness campaigns to promote rapid technology adoption in every segment, creating an environment for innovation, and disrupting unhealthy business models and practices.
Scope of the telecommunications industry in Sri Lanka
Leading the change in people's lifestyles and economy with the use of modern, robust and disruptive technology, thereby promoting a high level of equality among citizens.
The regional telecom industry in a nutshell
Fast-growing, and offers convenience to individuals, businesses and governments.
Local vs regional telecommunications industry
Though small in market size in the region, Sri Lanka has been a frontrunner in introducing the latest technology while obtaining relatively higher penetration and network coverage. 
Telecommunications for millennials and gen Z in a sentence
Millennials and gen Z are the most dominant force in the telecommunications industry thereby reshaping
telco services.
Impact of influencers on the telecommunications industry
It is significant as digital platforms such as social media are more important than ever.
Sri Lanka's competitiveness in a few words
It is encouraging as the telco services that are on offer locally are affordable and on a par with global standards.
Pace of technology adoption in Sri Lanka
Fast – provided that coverage is available and it influences customer lifestyles.
Impact of social media on the world at large
The world is thoroughly connected due to social media and information is merely a couple of clicks away.
Productivity is affecting industrial and economic growth
Yes – productivity delivers more with less, and demonstrable convenience and value for money, which results in higher satisfaction among stakeholders.
Corruption is affecting industrial and economic growth
Yes – corruption prevents the functioning of natural laws of the economy.
Competition drives innovation
Yes – competition drives the need for change from prevailing norms and models.
The telecommunications industry in five years' time
It will be well connected not only among people but with all devices – e.g. IoT.
The future of IT led telecom
People will be empowered to access anything with a click and experience different dimensions with a connected world.
Best out of the box telecom personality
Steve Jobs certainly tops my list because of his relentless search for new innovations and transformations. 
Your mantra for success
Disrupt yourself before someone disrupts the industry!
– Compiled by Lashani Ramanayake