TEA REPLANTING PROJECT LAUNCH
An official at the Sri Lanka Tea Board (SLTB) reported that a tea infilling and replanting programme would commence with nurseries being laid this year.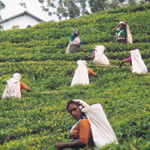 According to Chairman of the SLTB Lucille Wijewardena, the absence of replanting would result in a decline in crop, a reduction in leaf quality and difficulties in plucking. He added that replanting had been carried out in only one percent of the total crop and a coverage of only 2,000 to 3,000 bushes a hectare was reported.
Ideally, at least two to three percent of the total crop would need to be refilled and replanted, working out to a coverage of nearly 5,000 bushes a hectare.
Furthermore, Wijewardena outlined steps taken to promote Sri Lankan tea, referring to the global tea promotional campaign of the SLTB scheduled to commence in August that targets 12 markets including Russia, Ukraine, China and Japan.