STATE OF THE NATION

WHEN OUR PEOPLE
VOTED WITH THEIR FEET!   
Wijith DeChickera wonders if flag-waving legions of citizens loyal to the idea of a truly sovereign nation have to take to the streets again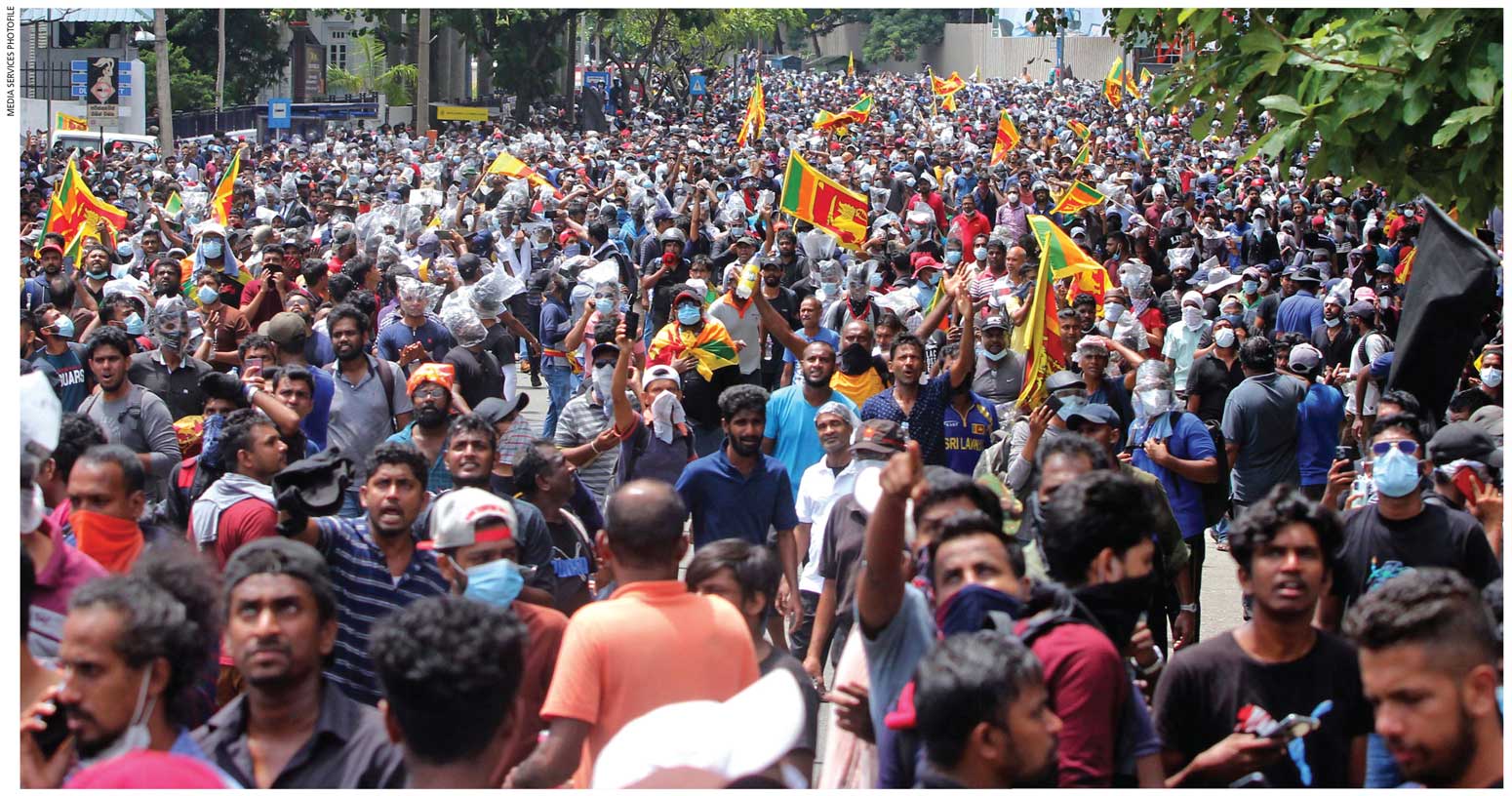 It was the best and worst of times. On the one hand, a sovereign nation defaulting on its external debt for the first time, misled by morally bankrupt governors; and long-suffering people facing severe hardships – to the extent that the elderly died waiting in never-ending fuel queues...
On the other, a largely peaceful and ostensibly apolitical people's movement seizing the moment one fine day under a benevolent sun to send clear, strong messages to a chief executive on the run!
That never again would canny politicians and their cynical patrons abuse clichés such as 'servants of the people' without recalling the true meaning of 'people power.'
After 9 July, 'people power' in our isle would mean a million or more citizens on the move... voting with their feet to storm and occupy President's House, the President's Office and the Prime Minister's official residence. To assert their independent thinking and affirm a shared understanding that when absolute power corrupts absolutely, it is subject to abolition by the people who invested it.
The red-letter day – like 9 May before it when the homes of MPs et al. were torched in the aftermath of the then PM's resignation following state sanctioned thuggery – was marred by military retaliation.
Two citizens were shot dead and scores of marching protestors admitted to hospital after being roughhoused by the police. There was also an unjustifiable act of arson and the brutal beating up of journalists on duty...
So it behoves the 'justice with peace' loving public of a resurgent democracy to interrogate itself on what still ails their republic – despite or perhaps even because of the unprecedented aragalaya.
It's the least we can do to be honest with ourselves; in the same spirit that when the euphoria of 'storming the presidential palace' is done, we must dust off the dirt...
FORMS The march on Colombo to do more than 'Occupy Galle Face' culminated months of mostly peaceful agitation by an aggrieved populace.
There had been panoplies of protests islandwide ever since the general population realised their suffering was caused by poor policy making at best and rank corruption in 'government by gazette' at worst.
This phenomenon was compounded by political opposition of various dispensations weaponising parts of the protestto serve their ends...
No such slur could be attached to the massive crowds that thronged the environs of Galle Face's iconic 'Struggle HQ.'
Not only were these citizens on the march peaceful in the main but behaved well enough – bar a few excesses after breaching the executive's precincts – and many model citizens showed up the morning after to clean up the mess...
It redounds to the credit of creative, conscientious protestors who literally walked leagues to get to the protest site, wangled a lift in a country wracked by crippling fuel shortages and somehow wound up wrapped in national flags (as never before and rarely elsewhere other than demonstrably at cricket matches) to make the point: 'enough is enough!'
FUNCTIONS The clearest message was given to administrators who had for too long taken for granted the mandates to govern they had previously received – but squandered in the interim.
In a polity where 'mistakes made' are covered up by the powerful and forgotten soon enough even by others suffering as a result, the presence in Colombo of angry people from all parts of the electorate was the closest experience we've had with 'right of recall.'
Other important causes served by the aragalaya on that epic day are: asserting our constitutionally guaranteed right to freedom of lawful assembly and peaceful expression of dissent; uniting people across the spectrum of ethno-religious and socioeconomic divides in a singular cause – although admittedly, it was arguably 'too little, too late' for other demographics that had been persecuted by our governments before; and holding out new hope...
FUNDAMENTALS Never again – not in our lifetime, for certain! Nor in that of the next generation, one might hope? – will the people have to usurp the role of the political opposition they elect to check sitting governments.
People power was proven to be the most powerful weapon against governors who not only made mistakes that led to mass suffering but refused to recant and learn from them... or resign and let others lead recovery!
The unprecedented show of sovereign strength proves simply that the people will tolerate only so much.
But the disgraceful horse trading in the legislature that followed – and compounded by unmitigated hunger for power from those who aspire to executive laurels whilst being tone-deaf to the clarion call of 'all to go' – underlines how much both 'house' and 'palace' have expired mandates.
One can sense a storming of parliament too soon... if political opportunists of all shades don't read the room...
The writing is on the wall... an expedited election to cleanse the Augean stables and usher in sociopolitical and economic stability is imperative.
Therefore, unabated civil society pressure – if a caretaker government doesn't reassure a baleful public that parliament will be dissolved after securing a putative IMF bailout – could lead to the type of anarchy that will make the aragalaya seem like a stroll at Galle Face...