STATE BORROWINGS
Sri Lanka stuck in 'gigantic debt trap': government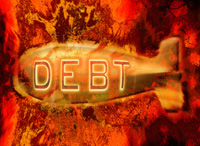 Colombo, Sri Lanka | AFP | Thursday 1/26/2017 – Sri Lanka Thursday said it was stuck in a "gigantic debt trap" and that paying off foreign loans would hit a record US$ 2.4 billion this year, up from US$ 1.8 billion last year.
The Finance Ministry said the cash-strapped country's debt servicing cost this year was estimated at about half of its foreign currency reserves, while repayments were expected to worsen to US$ 4 billion in two years.
The main reason was loans taken by the previous administration for white elephant projects such as an airport and a deep sea port, Finance Minister Ravi Karunanayake said in a statement, with both continuing to incur heavy losses.
"Sri Lanka is embroiled in a gigantic debt trap," he said.
"The infrastructure development (of the former government) has not brought any returns on its investments."
Earlier this month, the government announced it would raise US$ 1.5 billion through a domestic bond sale to rebuild its foreign exchange reserves.
The move to borrow locally came weeks after the International Monetary Fund (IMF) warned the country's foreign reserves were "below comfortable levels."
Last June, the government, which came to power in January 2015, received a US$ 1.5 billion IMF bailout after facing a balance of payments crisis.
The total foreign currency reserves at the end of December were US$ 5.1 billion, up from US$ 4.7 billion a month earlier, according to government data.
Sri Lanka is also selling part of a loss-making US$ 1.4 billion harbour to a Chinese company to help repay crippling debts.