STATE ACQUIRES TEACHING HOSPITAL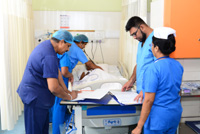 The Government of Sri Lanka took over the Neville Fernando Hospital in Malabe with an agreement in this regard signed between Chairman of the hospital Dr. Neville Fernando and the Secretary to the Ministry of Health, Nutrition and Indigenous Medicine Janaka Sugathadasa, in the presence of President Maithripala Sirisena.
Accordingly, the Neville Fernando Hospital will be operated as a state hospital with effect from August. The hospital, which is worth Rs. 3.5 billion, is equipped with all required facilities for a teaching hospital. It has been built on a land of 180,600 square feet in accordance with green concepts, and consists of one four-storeyed building and two eight-storeyed buildings.