SOUTH KOREAN SIEGE
FALL OF A PRESIDENT
Rajika Jayatilake writes that South Korea's quest for integrity resulted in the removal of a president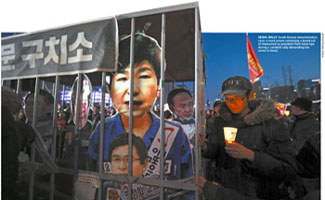 Politicians ascend positions of leadership and often forget their raison d'être, behaving as if they're not accountable to anyone. Thought leader Katherine Bryant once said that "as a leader, your every action has a consequence. Make sure it is one you intend."
South Korea's first female head of state 65-year-old Park Geun-hye recently became the country's first president to be impeached. South Korea's National Assembly stripped Park of her executive powers, charging her for having abused her authority. She was ousted from office when the Constitutional Court upheld the National Assembly's decision. A presidential election is now to be held on 9 May.
This was a singularly mind-numbing downfall for a woman who had touched the hearts of her nation with an aura of tragic royalty crushed by intolerable sorrow of losing both parents to violent deaths. At 22, Park had to step into her slain mother's role as South Korea's First Lady.
Her father Park Chung-hee was the President of South Korea from 1963 to 1979. He was assassinated by his own intelligence chief. During the difficult time of her mother's death, Park was consoled by Choi Tae-min – a religious cult leader whose daughter Choi Soon-sil became Park's close friend. The friendship ultimately cost Park the most powerful job in the country.
Park remained single and sometime following her father's death, campaigned for the presidency as a person who could not be corrupted because she didn't have children and was alienated from her siblings. So there was no one for whom to collect bribes.
"Park Geun-hye campaigned for office saying she was a person of principle and trust," a senior public servant Lee Dong-Kwan notes. But as it played out, Park's administration was allegedly corrupt and the people felt betrayed.
While Park had remained unapproachable even to her senior aides, Choi was at her side for everything. Yet, Choi had no official position in the government and nor did she possess security clearance to have such a close relationship with the president. Park is accused of abuse of power, coercing donations and sharing state secrets with her.
According to the Hankyoreh newspaper, the aides of the president "were just mice to Choi's cat." There were also allegations of Choi Soon-sil establishing a secret group called 'the eight fairies' to advise the president in private. A growing list of corruption charges includes US$ 70 million that Choi had allegedly received from big businesses for her foundation.
The Park administration enacted a powerful anti-corruption law in September 2016 to root out bribery and corruption.
It is ironic that a number of offences allegedly committed by Park came to light after that. There are charges of college rules being changed to benefit Choi's daughter, granting positions of power to Choi's friends and blacklisting close to 9,500 artistes who viewed the Park administration negatively.
Park's approval ratings plummeted to five percent – the lowest for a president in Gallup Korea's history – due to allegations of corruption. And an infuriated public took to the streets to demand her resignation. A glass factory worker from Park's hometown says that "people want fundamental change." And a professor at Myongji University Shin Yool describes it as the "biggest crisis" since South Korea's birth 70 years ago.
The problems began with an isolated incident of a CEO of a South Korean cosmetics company being arrested for gambling in Macau in 2015. But as the incident was probed, typical South Korean corruption was unearthed involving a senior judge, a senior secretary to the president and a corporate. Eight months later, the senior secretary was exposed in another corruption scandal. The media exposed one story after another about corruption and stumbled on the Choi saga – Park's Achilles' heel.
All South Korean presidents have in one way or another been besmirched by corruption but political analysts feel it was different this time. Shin observes: "There's been corruption around the centre of power throughout South Korean political history but they have involved family members or people close to the president and not the actual president."
Even though prosecutors had determined that Park was a criminal suspect, they could do nothing while she was president. As a regular citizen however, they summoned her for questioning. Amid accusations, Park remains defiant and denies any wrongdoing although she says she regrets putting her trust in Choi Soon-sil: "Although it will take time, I believe the truth will certainly come out." Choi has been arrested for embezzlement and faces trial.
As former US President Theodore Roosevelt remarked: "It is necessary that laws should be passed to prohibit the use of corporate funds directly or indirectly for political purposes; it is still more necessary that such laws should be thoroughly enforced."
South Korea's removal of its president has shaken the balance of power in Asia. The next president is likely to come from the opposition, which is more inclined to engage with North Korea rather than face any major confrontation. How that plays out remains to be seen.
Above all, Park's debacle shows what she lacked as a leader, and brings to mind former US President Dwight Eisenhower's words: "The supreme quality of leadership is unquestionable integrity."