THE ENERGY DEBATE
LMD Archives (June 2012)
SOURCING RENEWABLE ENERGY
Janaka Perera highlights the urgent need for Sri Lanka to plan ahead with precautionary action in the face of impending energy shortages
When pioneer hydropower engineer D. J. Wimalasurendra proposed the 'miracle' of turning water into electricity in the last century, it was considered a breakthrough task in Sri Lanka, as the country's industry until then had depended solely on imported coal and fuel oil – at a considerable cost.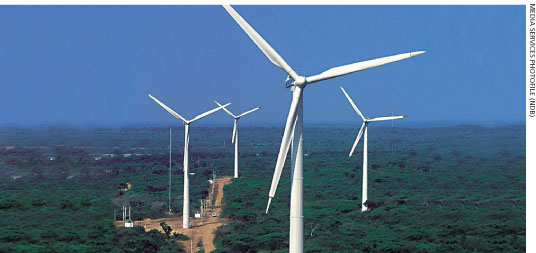 It is an irony of fate that the country has again been compelled to increasingly be dependent on coal and fuel oil, six decades after its first hydroelectricity scheme the Laxapana project was commissioned in 1951.
In the early 1990s, hydropower generated over 90 per cent of Sri Lanka's annual electricity requirements. Changes in weather patterns prove that water is not a reliable source of energy. Today, with 4.6 million Sri Lankan households using electricity, hydropower's contribution has reduced to about 45 per cent since capacity is lower than peak demand.
With the demand for electricity increasing rapidly, it has become necessary to double the generation of power every 10 years, according to energy experts. Global issues relating to floods, droughts and climatic changes leading to the shortage of oil, coal and gas with subsequent price increases would pose a major problem for Sri Lanka unless the country gears to meet these challenges. In this context, if the operations of the Kerawalapitiya and Puttalam power plants come to a halt, the entire power and energy sector will be crippled.
Dilly-dallying on the part of successive governments, corruption and bureaucratic lethargy over obvious solutions have complicated the situation since the late 1990s. It takes between five and 10 years to systematically establish a power plant. The Opposition, therefore, has no right to put the entire blame on the present Government for the prospect of a power crisis. Previous governments too failed to implement appropriate long-term generation-expansion plans during their terms of governance.
Veteran energy expert Dr. Tilak Siyambalapitiya noted a couple of years ago that if the delayed long-term economical power projects such as Norochcholai and Upper Kotmale had been implemented at the right time, this would have made Sri Lanka a country with one of the lowest tariffs in the world.
In recent times, Sri Lankans have not been subjected to regular power cuts. In neighbouring India, the residents of Chennai endure a two-hour power outage, in addition to having industrial holidays two days of the week, during which electricity is curtailed to the industrial zone. This has resulted in citizens having to bear two energy payments – one to the Government for electricity supplies and the other for diesel bills for operating generators.
We too faced a similar crisis 15 years ago, when power cuts were imposed for several hours a day. Unscheduled power cuts in different parts of Sri Lanka however are still a problem, even when there are no thunderstorms. In this high-tech era, this is a major problem since anyone using a computer without a UPS runs the risk of damaging his or her machine.
Sri Lanka is presently facing the challenge of supplying power to consumers at a reasonable price with the escalating cost of fuel. The Executive Director of Sri Lanka Energy Forum Asoka Abeyguna­wardana has stressed the need to study the accurate cost of power generation in order to pass it on to the consumer, so that those who consume the least amount of electricity don't end up subsidising the power-generation costs of those who consume the most.
Around 20 years ago, due to long periods of drought, increasing energy requirements and the rapid rise in oil prices, the authorities realised the need to look for alternative energy sources. According to current statistics, global oil reserves are expected to decline by 2050, gas resources are likely to run out within the next 60 years and coal will dwindle in the next 80 years.
In this context, wind power has found new applications in lighting buildings remotely from centrally-generated power in various parts of the world. Today, wind-power generators operate in several countries – from tiny plants for battery charging at isolated residences, up to multi-megawatt wind farms that provide electricity to national grids.
In June last year, IFC (a member of The World Bank Group) invested US$ 3.8 million in Sri Lanka's Senok Group to help the company to initiate wind-power projects that will boost the generation of renewable energy and increase the country's power sources. This also helped the group to adopt global environmental practices.
Abeygunawardana warns that non-renewable fuel-based power generation is not an energy mix Sri Lanka can sustain in the years to come. Instead, in the long term, he explores options around renewable and clean-energy generation (wind, wave and solar), energy conservation (including the introduction of smart grids and power metering, as well as LED lights) and pumped water storage (to help with non-monsoonal hydroelectric-power generation), among others.