PROPERTY MARKET
LMD ARCHIVES (JANUARY 2014)
CAPITALISING ON REAL ESTATE   
Zulfath Saheed takes a closer look at the forces at work on Colombo's precious realty
The construction industry kicked into high gear with the end of the civil conflict in mid 2009, with many projects relating to residential, office and retail property coming on board especially in Colombo. As these large-scale ventures started to take off, the question on many minds was whether this would lead to the dreaded property bubble, somewhat similar to what was witnessed in the island about five years ago.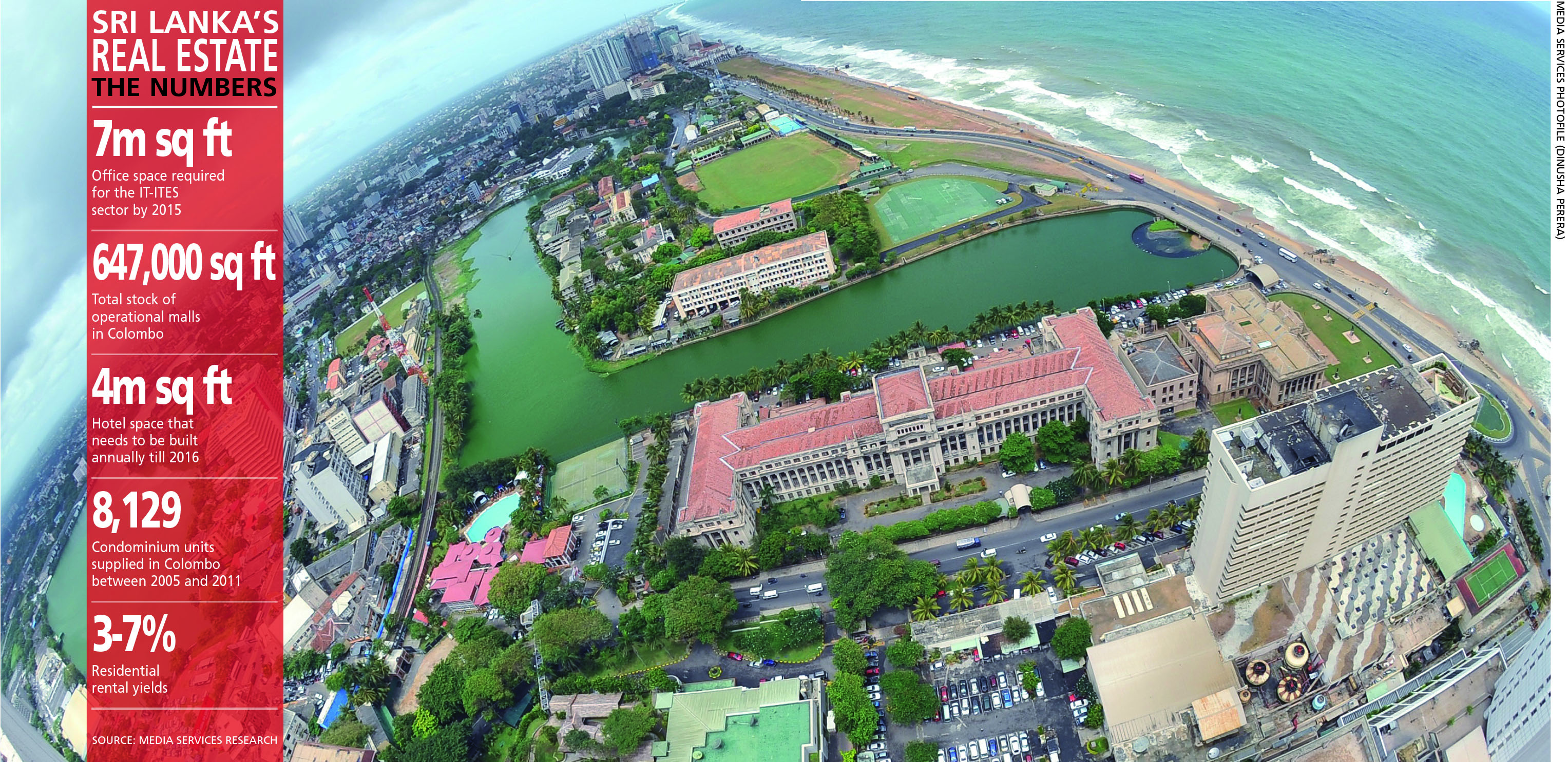 In 2007, media reports indicated that the real estate bubble in Sri Lanka had, in fact, collapsed amid a supply surge that was not met with commensurate demand – and because buyers who had speculated on property were simply not around anymore.
The fear is that such a situation could be replicated in the present scenario, creating a phenomenon that the domestic economy is unlikely to be able to bear.
BACK TO BASICS A property bubble typically involves a rapid increase in the value of real property, until it reaches unjustifiable levels and then proceeds to fall. The global financial crisis is believed to have resulted from the bubble bursting on real estate in the US, and then across the world.
Housing markets are not traditionally considered as being prone to bubbles. But a combination of factors – including low interest rates and the relaxation of credit underwriting standards – can bring borrowers into the market, and thus drive demand up. Meanwhile, an increase in interest rates and credit restrictions results in lower demand, triggering a housing bubble which eventually bursts.
According to the International Monetary Fund (IMF), while housing price busts are less frequent, they last nearly twice as long and lead to output losses that are twice as large as when the stock market encounters similar conditions.
LOCAL SCENARIO As local investors look to make the most of a favourable economic growth environment and improving infrastructure, real estate has experienced an upward trend in both demand and pricing.
A report by real estate consultancy and management firm Jones Lang LaSalle notes that "the recent upswing in the service sector from finance, tourism and the IT-ITES sector in Colombo has triggered a healthy demand for residential space in the Greater Colombo real estate market."
It adds: "The development of premium condominium projects is most prominent in the Central Business District (CBD); and subdivided developments, row houses and villas in the peripheral suburbs have emerged as the preferred choice for middle-income buyers. However, with rising land and construction costs, it is important to be aware of the affordability of upcoming supply."
OFFICE PROPERTY And while Colombo remains the most prominent commercial office destination in the island, the Fort has conventionally been considered the city's CBD. In total, the central and secondary business districts of Colombo have close to 2.5 million square feet of Grade A multi-tenanted, leasable office space.
According to Jones Lang LaSalle, "future demand for commercial office space in Colombo will be closely correlated with the industries that have the prospects of maximum growth. While growth in the textile and apparel industry would result in demand for retail and industrial space, growth in finance, insurance and information and communication technology sectors would lead directly to demand generation for quality office space."
The growth of the hotel and restaurant sector would result in the development of hospitality real estate, it says, adding that transport, storage and communications, rubber and plastic products, furniture, the wholesale and retail trade and others "would lead to demand for retail as well as industrial space."
RESIDENTIAL ASSETS More recent improvements in the services sector – including areas such as finance, tourism and IT-ITES in Colombo – have also prompted demand for residential space.
The CBD is where the development of premium condominium projects is most noticeable. In terms of the middle-income group of prospective homeowners, subdivided developments, row houses and villas in bordering suburbs have become the preferred choice for investment.
Easy availability of housing loans, higher prevailing disposable incomes and investments by non-resident Sri Lankans have contributed to the demand for residential properties in the city, according to Jones Lang LaSalle.
"The demand for premium-segment housing is expected to be sustained over the medium term. The projected shortage of housing units has encouraged developers to start developing or expanding their residential project portfolios in Colombo. Political and economic stability, coupled with an increased thrust towards the establishment of a service-based economy, are envisaged as the drivers of future demand," its report explains.
EXPERIENCE RETAILING Retail institutions in the commercial capital are mainly located in traditional retail hubs such as Colombo North or in the more upmarket areas of Colombo South.
In the meantime, wholesale trade areas in the city's northern suburbs remain busy throughout the year, with customers traditionally made up of both domestic and export-oriented businesses.
Colombo has limited opportunities available for 'experience retailing,' with many of its shopping malls built almost a decade ago. However, the more modern malls in South Asia are not restricted to retailing – they are popular meeting spots for dining, shopping and other recreational activities.
Jones Lang LaSalle remarks: "We foresee at least two to three large shopping malls with an eclectic mix of leisure, entertainment and cultural experiences, housing anchor stores, multiplexes, food courts, gaming zones and atrium spaces, being constructed in Colombo in the next four to five years."
PROPERTY OUTLOOK As for the foremost trends to watch out for in Colombo's property sector over the next decade or so, one is that suburban locations are likely to see many more integrated developments taking place. This phenomenon – more commonly referred to as 'leapfrogging' – involves the development of real estate away from the city, where land prices remain inexpensive despite continuing improvements in infrastructural connectivity.
Refurbishment and redevelopment of prime properties is already underway and likely to continue, as it can be a cost-effective means of providing potential occupiers with quality office space in a short period of time. And as the demand for condominiums grows, more residential towers are expected to dot the city skyline of the future.
And as income levels increase, more individuals are expected to be able to afford minimum housing prices. It is anticipated that prominent developers will also look at the economies of scale at the bottom of the pyramid, prompting them to construct housing units for the lower-middle income and low-income segments.
This process will address excessive urbanisation and reduce risks for developers, thanks to a diversification of their development portfolios.
RECURRING THEME The bottom line, however, is that a slew of high-rise buildings alone will not be sufficient to elevate Colombo's status to that of the more developed metropolises in the region. Developing the city's – and indeed, the country's – infrastructure must also involve advances in terms of stronger institutions, maintaining law and order, and offering superior service in health care and education.
It is when the standard of living and quality of life improve that investors will extend their commitment to projects undertaken in our island-nation, while encouraging new investor groups to channel their funds towards developing real estate in Sri Lanka.