SO SRI LANKA
LION ROCK
The fortress of Sigiriya
Ruwandi Perera is looking for adventure in this historic village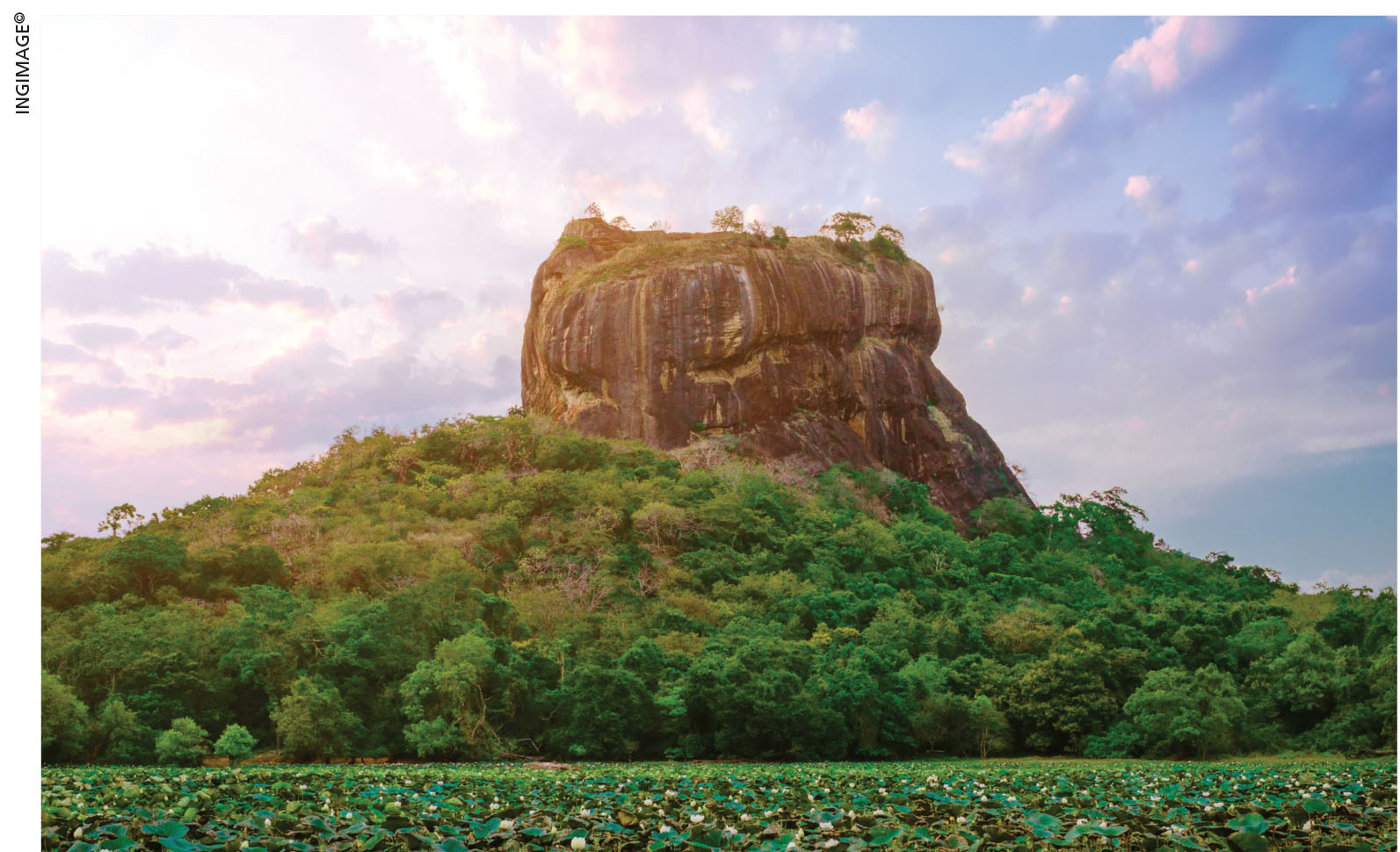 Sigiriya, originally a monastery, later housed a fleeing king and then gained fame as a modern-day tourist hotspot. Tales of its chief historical protagonist are Shakespearean in nature and encompass patricide, a love for the arts as evidenced by the incomparable murals and a penchant for passion.
This magnificent monolithic promontory, also known as 'Lion Rock', is extremely significant in terms of the island's history, art and geology, and is said to have originated more than two billion years ago.
Strewn around the area surrounding Sigiriya are the remnants of ancient volcanoes that had erupted and then eroded over time, and left behind large rocks and boulders.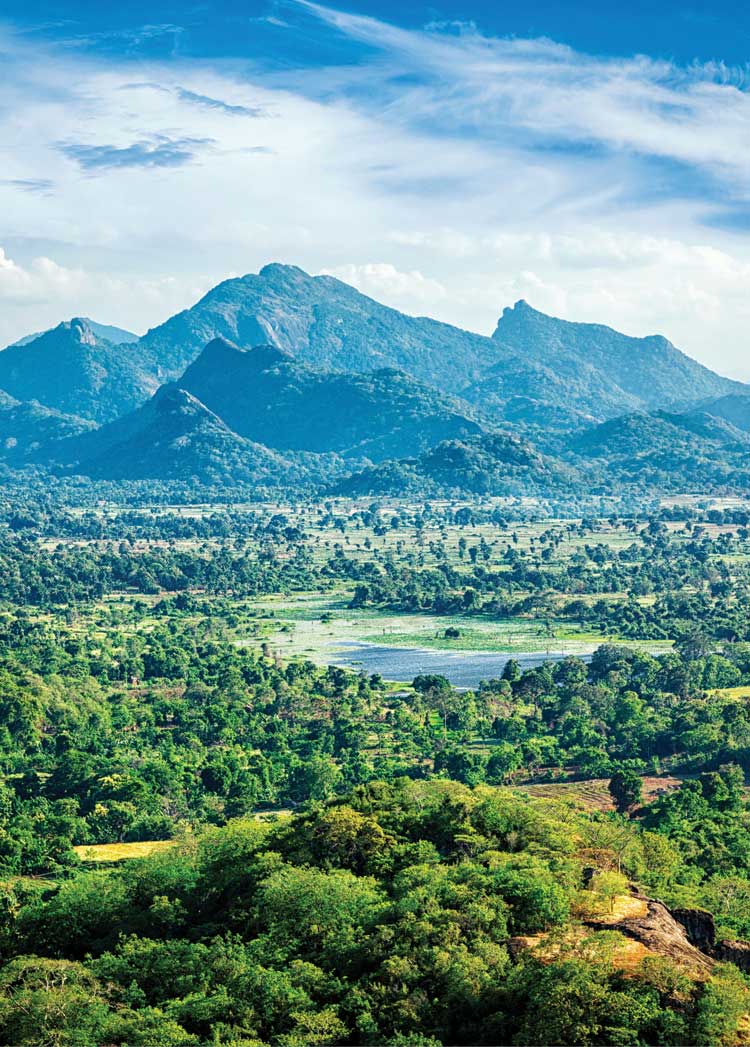 Sigiriya is believed to be the hardened 'magma plug' of a long eroded volcano – and this gives its history and legend an even grander appeal. Considered by some to have been King Kashyapa I's palace of pleasure and others to have been his refuge from enemies, the rock fortress is an easy climb for visitors today.
A trip to Sigiriya is bound to be a jam-packed experience simply because there's so much to explore. So decent accommodation is crucial since you will need a good rest after all the walking, cycling and climbing you will be doing.
Although it is highly advisable not to cram your schedule, it might be difficult to say 'no' to an evening with jumbos at the Minneriya and Kaudulla National Parks or to stay away from exploring the nearby village of Hiriwadunna.
Decide whether you want to plan well ahead or be spontaneous. Irrespective of what you choose to do however, you'll enjoy an epic adventure.
Fact File
MEMOIRS MUSEUM Explore the Archaeological Museum – Sigiriya that's located near the rock. You can find out all about the life and times of King Kashyapa I and this knowledge will help you appreciate the wonder that is Sigiriya. Learn about the palace and its architectural splendour, the gardens and ancient city, which boast advanced sewer and irrigation systems. There are many models of the citadel that will explain the ingenuity of our engineers of yore.
THE 'LION ROCK' Even in its ruined state, the magnificent Sigiriya rock fortress is perhaps Sri Lanka's most iconic symbol – one that's familiar around the globe. Manoeuvre your way up the many stairways, pass the beautiful frescoes, walk along the 'mirror wall' and climb to the top of the rock through the open paws of the lion to where Kashyapa's palace once stood. Take the time to marvel at every nook and cranny of this place – it's totally worth it! The climb is best in the morning before the sun gets too hot and the rock heats up.
ROYAL GARDENS Although you may feel hot and tired after climbing the rock, don't miss the spectacular royal gardens surrounding the fortress. Amongst the oldest landscaped terrains in the world, this sophisticated complex consists of water, terraced and boulder gardens, as well as a miniature water garden with pavilions, courtyards and limestone buildings. If you visit during the monsoon, you'll see the fountains come to life and enjoy a glimpse of what it would have looked like back in its glory days. Kashyapa might have been a patricidal king but his taste for fine things and good architecture is unparalleled.

PIDURANGALA The mighty legends around Sigiriya may overshadow it but many believe that the sunrise and sunset seen from Pidurangala rock are among the island's best. Located in close proximity to Sigiriya, it houses many caves and a temple complex consisting of a stupa, preaching hall, chapter and image houses, monks' residences and several cave inscriptions. A holier place than its legendary neighbour, Pidurangala demands a conservative dress code and proper walking gear including sturdy shoes. Though much of the place lies in ruins, you will find a reclining Buddha statue and stupa, which is believed to be where Kashyapa was cremated.
ROSE MOUNTAIN Known as 'Jathika Namal Uyana' in Sinhala, this rose quartz mountain forest reserve will require a 45 minute drive from Sigiriya but should definitely be on your 'to do' list. Considered to be the largest ironwood forest and pink quartz mountain in Asia, the history of this place goes back to the 8th century AD. While the mountain is not exactly pink, you can clearly see its dusty rose shades and the quartz sparkling in the sun. The forest is home to over 100 types of tropical plants including those that are endemic to the island, as well as several species of birds and mammals including elephants and leopards.