PHARMACEUTICAL SECTOR
HEALTHCARE  CRISIS
Compiled by Yamini Sequeira
SHORTAGE OF DRUGS CRISIS
Kasturi Chellaraja Wilson warns that the lack of medicines will destroy lives
Even before the outbreak of COVID-19, Sri Lanka's public healthcare sector was feeling the pressure of a faltering economy in terms of budget allocations and funds for operations. The public healthcare sector was also stretched thin in financial terms, reveals Kasturi Chellaraja Wilson.
"Healthcare has always had its problems due to political interference and a lack of independent experts in decision-making positions. No sooner a change of government takes place, so do policies. Price controls work when it comes to importing expensive drugs at affordable prices. But there should also be a pricing mechanism that reflects ground realities such as the rupee devaluation and fuel price increases," she asserts.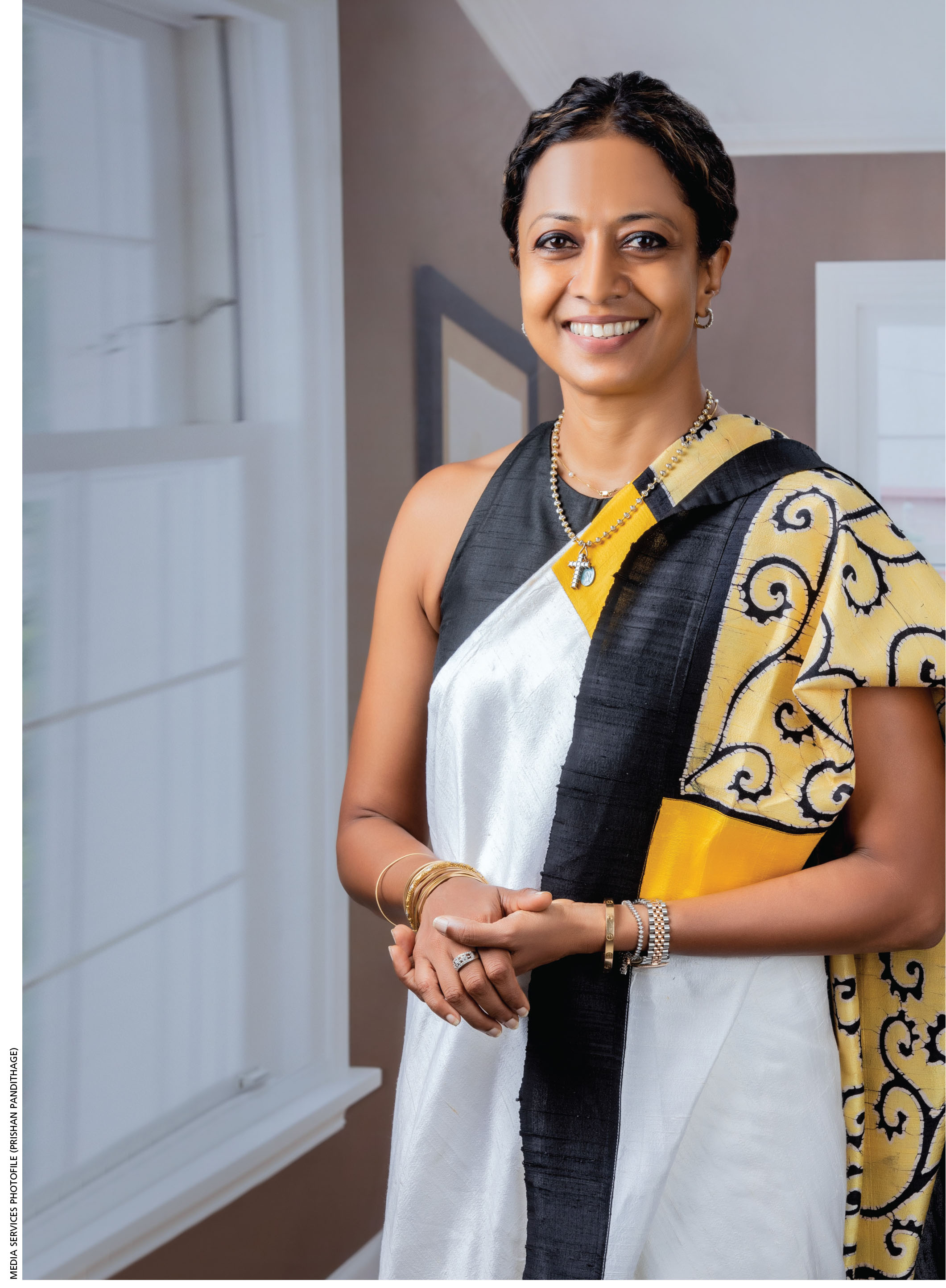 Accessing foreign exchange remains a huge challenge for the pharmaceutical sector. In addition, the sector is severely affected by the devaluation of the rupee and absence of a pricing formula, which have impacted the availability and viability of this business.
DRUGS SHORTAGE Wilson states: "Increases in fuel costs play a huge role in pricing since the pharmaceuticals supply chain is temperature controlled to safeguard the efficacy of drugs. This means that every member in the value chain needs to run generators for temperature control and manage end-to-end distribution, which is not factored into the price adjustment."
"Another threat is that some principals are wary of supplying medicines since previous letters of credit (LCs) remain overdue due to the dollar shortage. Today, the government owes a substantial sum of money – in the range of Rs. 15 billion – to the local pharmaceutical sector. Naturally, supplies are being curtailed with businesses focussing on managing their working capital in a high interest rate environment," she discloses.
Ultimately, it is the duty of the government to formulate a fair pricing mechanism for the domestic pharmaceutical sector to address volatility in exchange rates – and the impact of fuel, inflation and interest rates.
Reports of a shortage of lifesaving medicines pose a serious threat to critically ill patients. Wilson cautions: "Essential drugs for noncommunicable diseases are being imported and local manufacturers too can produce them. The problem lies with drugs to fight cancer as these are high value items, as well as other critical medicines and equipment that are required for urgent surgeries."
"Until additional revenue in dollar terms begins trickling in or a staff level agreement is reached with the IMF, we will have to learn to manage with these constraints. A slowdown in the two largest revenue streams – foreign remittances and tourism – coupled with a fiscal deficit have made our operating environment extremely challenging," she observes.

DIRE WARNING Wilson is hopeful that the private sector and government – in partnership with the WHO and relevant organisations – will assist in procuring critical medicines and equipment that are needed for lifesaving surgeries.
"Failure to do so will result in a national disaster" since this will impact the most vulnerable communities, she warns.
And she elaborates: "Sri Lanka has proper procurement guidelines. In the interest of transparency however, professionals should be in charge rather than political appointees. From a national perspective, our institutions can run independently, reduce wastage and optimise resources."
Commenting on whether there is scope to boost the manufacture of drugs, Wilson declares: "The policy on manufacturing drugs has to be streamlined. When investors commit capital for a high end pharmaceutical plant, and given the complexity of the manufacturing process and approval timelines, it is critical that we have an equitable government buyback programme to support such initiatives in the medium term."
"Since Sri Lanka is a late entrant into the manufacture of pharmaceuticals, we will need quality partnerships to support local businesses in accessing global markets and new sciences. Catering to Sri Lanka alone will not be viable, given the size of our country," she explains.
Against the backdrop of shortages of fuel, gas for cooking, food and medicines, COVID-19 is taking a backseat. "We cannot afford to mobilise resources for COVID-19 management any longer; we simply don't have the luxury of such a war chest," she asserts.
Sri Lanka was able to manage the pandemic quite efficiently because it already had an ecosystem that was mobilised in terms of contact tracing within the public healthcare system. This was supported by dedicated healthcare workers who were willing to risk their lives.
TRUST EXPERTS One pressing problem during the pandemic was the presence of "too many committees," she says, noting that "as a country, we struggle to rely on independent professionals to take decisions."
Wilson adds: "There were a lot of politicians taking medical decisions, and multiple people communicating publicly about the state of the country and various decisions taken at different times. It was confusing even for the operators!"
She believes this is peculiar to Sri Lanka "because people find fault with the person who made the decision. But nobody makes the right decision all the time. You have to be okay with someone making a genuine mistake but we don't give them leeway to make mistakes. This is why we delay making decisions."
She states: "As someone in healthcare, I did see a lot of people trying to influence the choice of vaccine that should be imported, rather than allowing medical professionals to do their jobs. This interference should be eliminated and politicians should not be involved in running institutions. So finally, we see that the country needs a system change."

"Sri Lanka didn't have strong home care infrastructure; but by the late stages of the pandemic, anybody who was mildly infected could be treated at home. The narrative at the beginning – whereby people treated infected neighbours as lepers – had a huge impact on pandemic management. I think social media also played a major role in proliferating doomsday news," she recalls.
In conclusion, she remarks: "The need of the hour is to ensure that we have the right people in the right places and allow institutions to run independently – while backed by proper transparent governance and consistent policy. Further, strong procurement processes are needed and supply chains must be monitored to eliminate waste."
The interviewee is Group Chief Executive Officer of Hemas Holdings