SMART CITIES
HOW SMART IS A SMART CITY?
Yamini Sequeira wonders whether going digital would solve Colombo's urban challenges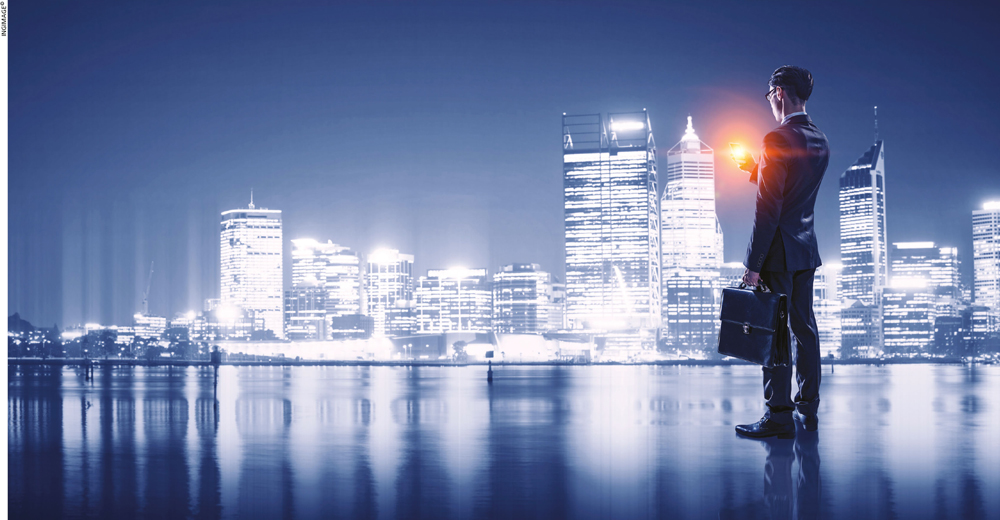 If Colombo is to transform into a smart city someday, the outcomes from the Digital Cities Kuwait forum held in February would be a starting point. The forum discussed the provision of digital services in Kuwait and how that country is embracing digital technology across government departments and integrating these with national infrastructure to create more personalised services for its citizens.
Plans for a digitalised Colombo seem to have been overshadowed by political instability and put on the back burner. However, a study of the digital transformation of cities across the world indicates how it could render governments (including our own) more efficient, effective and responsive to citizens' needs.
Dare we say this happens only when governments pursue technology as a means to rather than an end in itself!
Today's haves and have-nots are often determined by their access to computers and the internet. According to the UN agency International Telecommunication Union, around 3.2 billion people in the world use the internet today. The Brookings Institution claims that of the roughly 4.3 billion people who aren't connected, about half live in India and China.
The institution urges governments to promote competition in the telecom sector to reduce connection charges, lower user fees and make data services more affordable. The Director of Governance Studies at the Brookings Institution Darrell M. West notes: "Poor people are the ones most likely to be left outside the digital sphere."
Digital energy saving technologies can provide substantial savings for governments since energy accounts for a large percentage of operational costs. Therefore, operational improvements coupled with investments in energy saving technologies
can deliver major savings.
These technologies range from sector wide types such as energy monitoring systems, smart grids and advanced analytics, to industry specific types such as liquid desiccant cooling systems for advanced manufacturing processes that help control air humidity, a recent news report explains.
Another digital expert cautions governments to consider relevant guidelines before embarking on the digital journey. Technology, as advanced as it is, has its limits and it is important to critically assess these restrictions before setting ambitious goals. Apply advanced statistical analysis prior to deciding, and evaluate the trade-off between elements such as yield, energy and the environment. Also, changing mindsets, behaviour and management systems in unison are key to getting the best from technology.
Under the Barcelona Digital City plan launched in Spain last year, several venues have been provided for disadvantaged people to sign up for free courses to improve their online literacy skills. The local council asserts that the programme, which runs until 2020, is needed because access to technology has become a "new source of social fracture" for cities in an increasingly computerised world.
Initiatives are springing up around the world to teach online skills for smooth access to jobs and education, and to better integrate people into society. But questions are being raised about how well such schemes can reach those who are most in need.
Kiron Open Higher Education, which is a Berlin based nonprofit, provides free web based courses for refugees with internet access anywhere in the world. In New York, thousands of kiosks offering free WiFi are being rolled out across the city under the LinkNYC scheme to help people of all income levels to go online.
Meanwhile, Miami based One Laptop per Child (OLPC) continues to hand out free laptops to children in developing countries while in 2017, Google promised to teach online skills to 10 million Africans over the next five years.
A partnership between Los Angeles and 12 local universities engages 155 data scientists to work with LA's wealth of open data. One top priority is to improve conditions for the city's 28,000 homeless through amenities like free WiFi at two major encampments (at no cost to taxpayers) as well as harness predictive analytics to pinpoint citizens at risk of homelessness. LA has also invested in chat bots for citizen engagement.
Philadelphia's ongoing efforts are aligning technology with its mayor's policy goals for education, health, the environment, efficiency, place of choice and public safety. Backing this up is the city's massive investment of capital funds in infrastructure improvements as well as the replacement of legacy systems. This includes the deployment of a broadband institution network that will upgrade bandwidth at hundreds of public safety and health facilities around Philadelphia.
Clearly, while cities around the world are engaged in enhancing their digital profile, Sri Lanka has a long way to go. Considering the political morass of the past decade, it may serve the government well to fix urban planning first, eliminate corruption and practise good governance before setting off along the digital path.
Perhaps the Colombo International Financial City (CIFC – a.k.a. Port City) project, described as 'an international financial outpost in the Indian Ocean,' might become a model of sensible urban planning and a smart digital mini city. But 'smart waste collection' before 'smart city' may be the best way forward.