LIFE
Dileep Mudadeniya
In conversation with Ruwandi Perera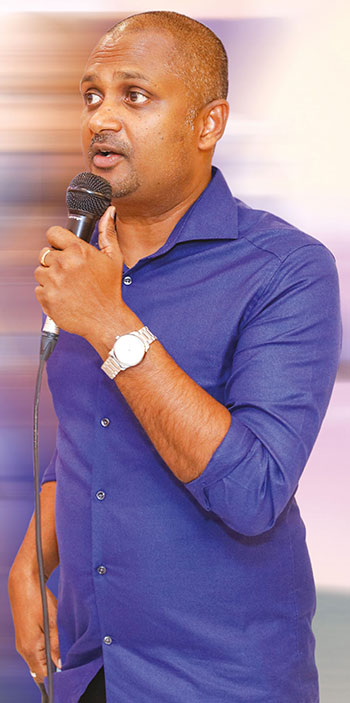 What's a typical day at work like?
I begin with an early breakfast and attend to urgent matters that need sorting out. Then the day rolls out and towards evening, I find time for yoga and other exercises. Being more of a night owl, I wind up late and go to sleep well past midnight after I've attended to any unfinished business. 
What did you want to become when you were a child?
I'm a lawyer by profession and I always wanted to pursue a career in law. There is a similarity between law and hospitality – you deal with people, after all. The difference is that you consult a lawyer when you're in trouble and visit a hotel when you're trouble-free.
So I chose the happier option, which was supported by my marketing background. Tourism came naturally to me since I worked in the industry after leaving school.
Your alma mater is…?
Royal College
Briefly describe your family?
I have a daughter who is 13 and my wife is a lawyer. Yes, we met at the Sri Lanka Law College!
What is the most outrageous or extreme thing you've done?
I worked in the public sector for 12 years. So challenging the system, going against the norm and delivering results that were deemed to be undoable is probably my most challenging experience. 
Could you share your favourite memory with us?
Memories are good to have but you need to live in the present rather than the past. 
What was your most embarrassing moment?
When you work in the public sector, you're often criticised – and I've experienced that. It's a risk you must take if you want to succeed. 
If you have six months off work, what would you do?
I will turn off the machine (so to speak) for a while and focus on rejuvenating myself.
How do you handle difficult situations or people?
With compassion – you need to make sure you don't absorb their stress into your thought process and create a permanent negative impression in your psyche. I also try and think about the solution and not the problem.
What are your favourite places to visit in Sri Lanka?
Sigiriya, the coastal belt from Jaffna to Arugam Bay, unexplored areas near the Knuckles Mountain Range and places off the beaten track. 
And your favourite overseas holiday destinations are…?
France – where my daughter was born – South America and Las Vegas. 
What are your favourite brands?
Louis Vuitton, Montblanc, Rolex, Armani, Hugo Boss and Apple.
Where do you spend the most of your free time?
At home. 
How do you relax?
Relaxation is a state of mind – I have a hunger for gathering knowledge so I engage in research and reading, which I have to do anyway since I'm reading for a PhD.
What does leadership mean to you?
The role of a leader is to create more leaders – this is the core skill that needs to be developed among leaders. Also, leaders must discover the hidden potential of others and help them improve. It is also necessary to understand the nature of change. 
Your hobbies and interests are…?
Travelling, music and coming up with new concepts in the field of entertainment.
What has given you the greatest sense of professional achievement?
Unconventional measures taken after joining the public sector and trying to remain in the system rather than criticising it from the outside. 
Are there things you don't enjoy doing professionally but have to do because work demands it?
If I don't like something, I won't do it. In addition, I believe that you must try to enjoy what you do – it's a two-way street. 
What do you like the most about your job?
The diversity of my tasks and the constant challenge of innovation.
Your all-time favourite movie is…?
Star Wars – I like meaningful stories as well as tales about extraterrestrials.
What are your favourite books?
The Monk Who Sold His Ferrari, by Robin Sharma; and The Power of Now, by Eckhart Tolle.
Do you have a motto in life and if so, what is it?
Yes, and in fact I have two: 'no regrets' and 'let's do it.' 
What inspires you the most?
The constant need to innovate; innovation is required if you are to fulfil the unmet needs of people. 
Who are your role models?
Nelson Mandela, Lord Buddha and Robin Sharma. 
What is your next goal in life?
To introduce the only man-made tourist attraction in the country after the Pinnawala Elephant Orphanage. 
If you could change one thing about your life, what would that be – and why?
There is nothing to change because if you're trying to change it means you are living in the past. 
Could you tell us something that few people know about you?
I have a passion and love for the theatre, and especially like Kinky Boots.