SLT-MOBITEL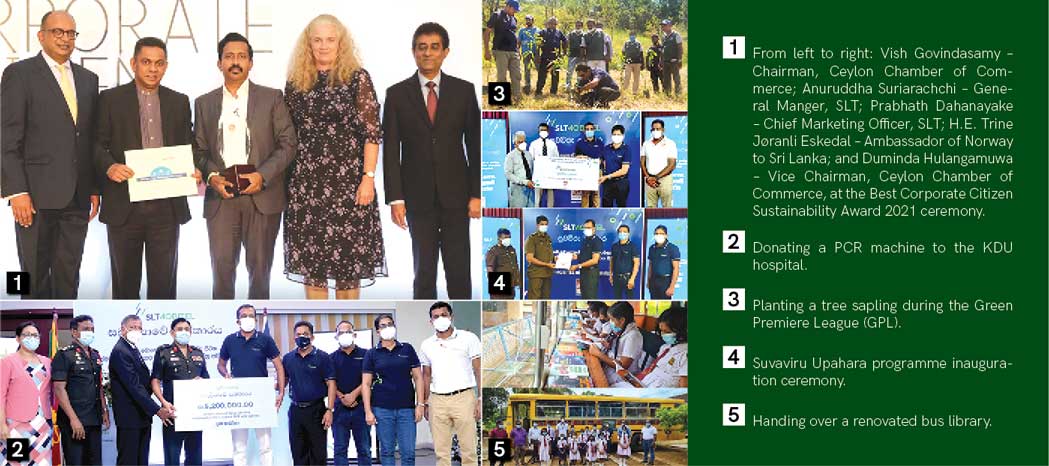 SLT-MOBITEL, the national information and communications technology solutions provider, secured three awards at the recently held annual 'Best Corporate Citizen Sustainability Award 2021.'
Q: What does this achievement mean to SLT-MOBITEL?
A: SLT-MOBITEL is committed to conducting its business in a manner that supports the needs of all stakeholders including employees, customers and all communities, with the firm belief that acting as a responsible and sustainable business is fundamental to the creation and protection of its long-term value.
The company's approach to making a difference now and in the future was recognised with triple wins at the annual Best Corporate Citizen Sustainability Award 2021.
Q: In which ways do receiving accolades for corporate sustainability help boost the organisation's morale?
A: Being awarded at the annual Best Corporate Citizen Sustainability Award 2021 demonstrates SLT-MOBITEL's continued efforts to fulfil its corporate social responsibility in the areas of economy, governance, environment and society.
We were also judged the second runner-up for 'Demonstrated Resilient Practices for COVID-19 Context Award' presented to companies for showcasing emergency preparedness, resilience and stakeholder management in meeting unforeseen challenges as part of its corporate sustainability strategy.
This accolade recognises the company's ability to uphold best practices in corporate governance, embrace sustainability as a lifelong practice, and exemplify leadership, innovation and resilience despite a very challenging year for the nation due to the pandemic.
Being a winner at the Best Corporate Citi­zen Sustainability Award is also a validation of SLT-MOBITEL employees' efforts to adopt new ways of working, showcasing agility and determination, and deploying the right infrastructure in order to achieve national digital goals.
Q: How have sustainability concerns been addressed by the company?
A: SLT-MOBITEL has begun replacing traditional copper cables with modern fibre optic cables to provide high-speed internet access across the country. Then, raising the bar in establishing sustainable business practices and benefits, the company reuses copper cables in its traditional operations, recycling resources that would have been discarded as waste.
Despite the challenges presented by the pandemic, we successfully fulfilled our commitments to customers by serving them in multiple ways, and securing lives and livelihoods. Investments exceeding Rs. 350 million have been utilised to facilitate essential services, support the government in its endeavours, uplift frontline healthcare workers and connect the nation at all times.
Intent on keeping children in school, SLT-MOBITEL facilitates low-cost data solutions to carry on uninterrupted online learning, and provides innovate distance learning opportunities while businesses receive optimal support to continue ope­rations with seamless connectivity to work from home.
The company also initiated the SLT-MOBITEL Green Premier League (GPL) in parallel with the Lanka Premier League 2020 (LPL) when it planted trees at the Rajawaka forest reserve in Kalthota, Balan­goda – the number of trees planted was equiva­lent to the winning score of each team in every match.
This initiative added 4,000 plants to the forest reserve while a sustainable maintenance programme for the trees was organised in collaboration with the Forest Department in accordance with UN Sustainable Developments Goals (SDGs).
Building on its strengths, SLT-MOBITEL has significant plans for 2022 and is ins­pired to make positive changes, redefining its value and creating a vibrant future which will benefit everybody.