NATIONAL DEVELOPMENT BANK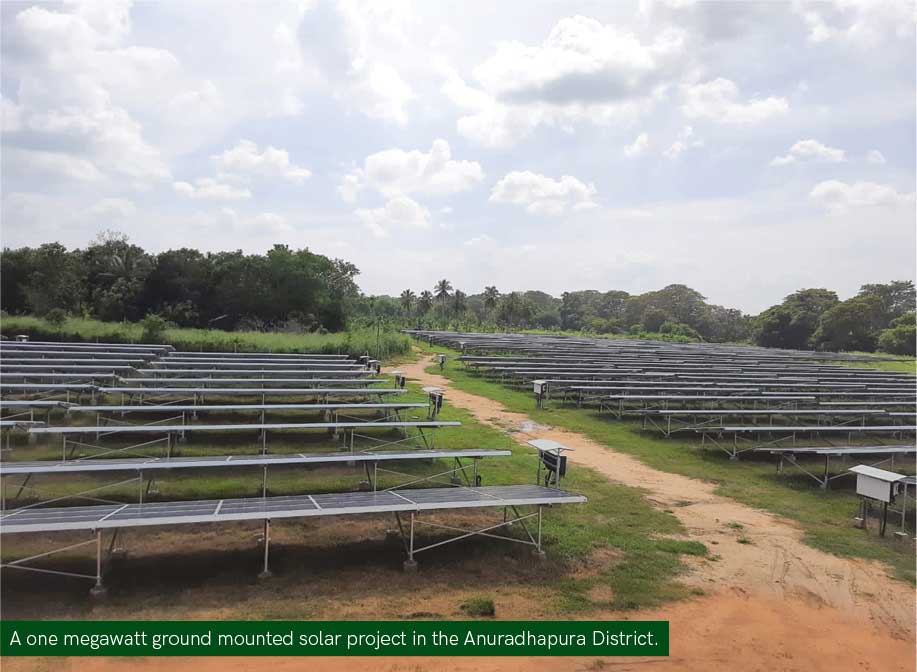 Q: What does the concept of corporate sustainability mean to National Deve­lopment Bank (NDB)?
A: At NDB, we have adopted a holistic view on sustainability. The goal is to contribute to overall economic growth and stability, while minimising any negative impacts on the environment and society at large.
The bank practises the principles of a circular economy through its 8R approach to environmental sustainability. This has enabled NDB to be mindful of the direct and indirect environmental impact of its opera­tions while driving organisation-wide initiatives to adopt eco-friendly practices.
Coupled with the bank's drive to optimise resources in its day-to-day operations, these efforts have helped reduce its carbon footprint as well as that of customers' businesses.
Additionally, NDB looks to go a step further and takes many measures to inculcate socially responsible values in employees. The concept of maximising resource usage with minimal detrimental impacts to the environment is ingrained in the bank's culture.
Q: How does the bank identify environmental impacts and risks – and what measures does it take to address them?
A: NDB has a comprehensive environmental and social management system (ESMS) in place with environmental, social and corporate governance (ESG) embedded in the bank's corporate governance policy.
The board has approved ESMS policies with clearly defined guidelines for identifying environmental and social risks.
Furthermore, there is an 'exclusion list' encompassing sectors and projects that nega­tively impact the ecosystem. NDB refrains from extending credit to and engaging in such activities.
These policies have been aligned with international standards and are also a requisite of our lenders. Through such actions, the bank takes every measure to minimise or remove any direct or indirect detrimental impacts on the environment when conducting its business activities.
Q: Could you provide examples of these initiatives?
A: Focussing on the bank's value chain and striving towards sustainable procurement, NDB has developed a green purchasing and supplier selection policy. It sets out the criteria for screening suppliers and products based on ethical grounds and their codes of conduct, when engaging in commercial activities related to the economy, wider society and the environment.
In addition, there is an ongoing internal process to reduce the negative environmental impacts of the bank's operations through efficiency maximisation, waste minimisation, recycling and the optimisation of resource usage. Process innovation initiatives undertaken by NDB to promote a paperless operation serve as a notable example.
NDB NEOS – a successful digital banking initiative – saw the migration of customers to a digital and paperless platform. NEOS Online Banking, the introduction of e-statements, and the effective and popular NDB NEOS mobile application have contributed significantly to minimising the bank's carbon footprint.
Such extensive digitalisation has also led to greater efficiency, saving the valuable time of customers as well as bank emplo­yees. 
Q: How is corporate governance incorporated in the bank's processes and systems?
A: NDB has a robust corporate governance structure in place, which is driven by the board of directors. This is given prominence with stringent monitoring to ensure adherence by all.
The bank's approach and framework to corporate governance has been designed in line with regulatory requirements, stakeholder expectations, NDB's governance best practices, and the group's organisational structure and operating model. This framework ensures accountability, transparency, integrity, and an appropriate balance between authority and decision-making power across the financial institution.
Given that the business climate we ope­rate in is changing rapidly, banks must adapt quickly to regulatory changes, digitalisation, data security requirements and workplace trends among others.
NDB's governance structure has been designed to retain the flexibility to adapt to these vicissitudes while ensuring that services offered remain secure and stable. We constantly review our practices and frameworks to ensure that we act in the best interests of stakeholders, through integrity, enhanced accountability, robust risk management and effective performance management.
Q: And last but not least, could you outline how environmental sustainabi­lity concerns are taken into account in the banking sector?
A: Banks in Sri Lanka have already taken steps to integrate sustainability into their operations by incorporating ESG strategies in their long-term lending.
Furthermore, the optimisation of resource utilisation is a key concern and as such, a main focus area in any banking operation. Many banks have an ESMS in place, which helps mitigate environmental pollution and negative social impacts.
The Sustainable Banking Initiative by the Sri Lanka Banks' Association (SLBA) proactively encourages all banks and finance institutions to take sustainability concerns into account in their operations. Furthermore, the majority of banks in the country have voluntarily signed the Sustainable Banking Principles, which is a document containing 11 banking principles relating to sustainability.
Melody Wickramanayake
Vice President
Legal
Chairperson
Corporate Sustainability Committee
Sharon De Silva
Senior Manager
Corporate Sustainability
Telephone 2448448  |  Email contact@ndbbank.com  |  Website www.ndbbank.com