SLT
SLT Human Capital Solutions Win Double Honours at Best Employer Brand Awards 2018
26th July 2018: SLT Human Capital Solutions (Pvt) Ltd (HCS) won 'CEO of the Year Award' and 'Best Service Provider in HR' achieving unprecedented dual honours at the recent Best Employer Brand Awards 2018.
Roshan Kaluarachchi, Chief Executive Officer of SLT Human Capital Solutions was crowned 'CEO of the Year Award' and the organisation received the accolade for 'Best Service Provider in HR' at the 13th Annual Best Employer Brand Awards 2018 ceremony held in Sri Lanka.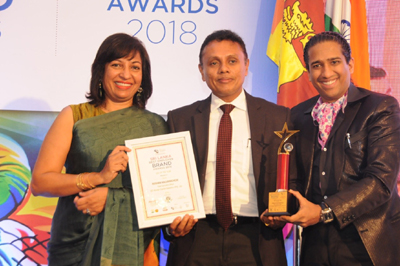 These awards are conferred by the World HRD Congress, an organisation which connects senior leaders in human resources to share best practices throughout the world. The awards celebrate Employers in several geographic regions as a build-up to the Global Employer Brands which are a part of the World HRD Congress.
The winners were selected following a rigorous judging process whereby companies underwent a forensic scrutiny of their business to ensure only the very best made the final shortlist.
Commenting on the nature of the awards, a spokesperson from the World HRD Congress said, "These awards were launched to recognise top organisations and brands in Sri Lanka and to recognise outstanding talent who make a difference in employer branding for competitive advantage."
HCS is a fully owned subsidiary of Sri Lanka Telecom PLC and for over a decade been providing a spectrum of unparalleled expert human resource solutions packaged with a high level of quality and efficiency to its impressive local and international client base.
The double award win follows what has been a momentous year so far for HCS. Showcasing sustained growth, HCS impressively contributed over Rs Two billion in turnover as at 31 December 2017 to SLT Group revenues.
Commending this prestigious win, P.G. Kumarasinghe Sirisena, Chairman, SLT Group said, "I am pleased to note HCS has achieved these honours and the recognition is well deserved as it reinforces the company's strong management, innovation, teamwork and leadership.  We view these awards as a true validation of our core commitment to provide unmatched expertise and state-of-the-art HR solutions, and the continued trust our clients place in us."
Kaluarachchi's achievements are impressive. His visionary leadership and foresight has helped transform HCS as an entity which provides unmatched expertise and consistently innovative HR solutions for its clients while at the same time encouraging individual intellect and teamwork.
Kaluarachchi said, "It is a tremendous honour to receive the CEO of the Year award. I accept it on behalf of the entire HCS team whose dedication, talent and hardwork has driven our explosive growth and made this journey a memorable one."
Offering experienced and professional expertise in telecommunication services, call centre, sales and marketing and customer support, HCS with a staff of 3000 has received global acceptance as a HR organization. With an aim to become a Rs Five billion revenue company in 2022, HCS's strategic intent is to be the Number 01 total HR solutions organization in the country and continue to provide unmatched expertise and state-of-the-art HR solutions.
Commenting on receiving the Best Service Provider in HR, CEO Kaluarachchi noted, "At HCS we have created a culture that encourages innovation and engagement. Our people are at the heart of our business and as we continue to grow our exceptional products and services, depth of experience and outstanding customer service distinguishes us from our competitors."