SRI LANKANS OVERSEAS
PRIDE OF PLACE FOR EDUCATION AND RESEARCH
Dr. Nipuni Palliyaguru envisions a future in which STEM fields are duly recognised
Q: How do you perceive Sri Lanka today, in the context of the progress it is making in the post-war era?
A: I believe that having some level of political stability opens up many opportunities. There is great infrastructure development. However, it isn't obvious whether the quality and standard of living has improved. There is a much more pronounced difference now, between urban and rural quality of life, than ever before.
In principle, we should have more resources to invest in education and research. However, the budget allocation for technology and research is insufficient. Although computer literacy is high and technology has advanced in certain areas, scientific literacy is low. There seems to be a heightened religious renaissance, which could be a good thing; but the lack of a parallel secular movement promotes pseudoscience.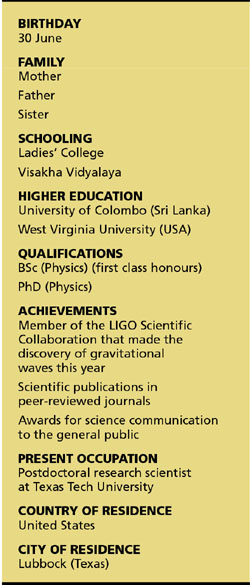 Q: How do compatriots in the United States view Sri Lanka?
A: I come across a wide range of views. The majority have very little knowledge of Sri Lanka. And according to those who do, it is a war-trodden country with ethnic conflicts. Most of the time, I find myself having to change these stereotypical views.
Every once in a while, though, you come across globetrotters who admire Sri Lanka's lovely beaches, flavourful food and compassionate people.
Q: What were your impressions of Sri Lanka, on your last visit here? And how much has it changed from the past?
A: The first impression was that there is extensive development. However, one also tends to notice that the large trees we had alongside the roads are missing. Colombo is a lot warmer than it was a few years ago. The clutter is still the same, and traffic is ever-increasing. The beautiful greenery that was visible as soon as you leave the city has disappeared.
I think we are concentrating on only one aspect of development, and completely ignored everything else.
Q: How do you view the phenomenon of brain drain – and why do you think there's still no reversal of it?
A: It boils down to the lack of opportunities, and high-quality research and education. The West offers these; and of course, when you add the monetary benefits, people tend to leave.
However, there is a trend for people to return. I see a few programmes that are built for networking among people who plan on returning. So things could be changing for the better. But I would like to emphasise that this is taking place in the fields of business and marketing; the reversal of the brain drain in academia and research is still very low.
Q: So how can Sri Lankans living overseas be enticed to contribute or return to their country of birth?
A: There are so many Sri Lankans who have been extremely successful in their respective fields at the international level, but Sri Lanka is unaware of them. Giving them a platform to collaborate and work with Sri Lankans could prove to be mutually beneficial.
There are people who want to give back to the country, but are unable to do so as the platform doesn't exist.
The requisites include more opportunities; funding to conduct research, for Sri Lankans working in the Science, Technology, Engineering and Mathematics (STEM) fields; a better and more transparent recruitment process for employment; and a support system to integrate them back into the process. Public and private sector partnerships to support and fund research could help.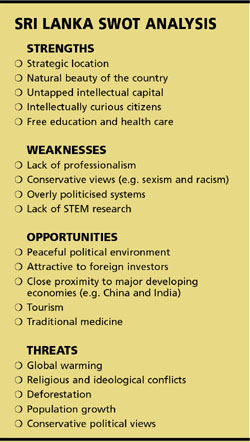 Q: In your opinion, what should Sri Lanka focus on most in the coming decade?
A: I think we need to foster a culture of research and innovation. We know, from the Industrial Revolution, that innovation drives the economy. Recently, India sent a low-cost satellite into space, to orbit around Mars. Regardless of its fiscal capacity, India did this because science and economic development go hand in hand.
We need to concentrate on STEM education, so that scientific literacy is improved. Moreover, we need to integrate science, technology and research into agriculture and other industries, to be competitive in global markets. For example, there are many herbal and medicinal plants in Sri Lanka, but very little research is undertaken to identify, characterise and quantify their effects.
I think we have the human capital, but lack the skills to make it happen. These could be gained though effective training programmes. By generating expertise, we could initiate international collaborations and partnerships, and drive those to our benefit. So I cannot stress enough on the importance of supporting and developing research in every field.
Q: What are your hopes for the country, in the post-conflict era?
A: People are trying to understand their ethnic and religious identities in the multicultural setting of Sri Lanka, in the post-conflict era. Even now, a lot of energy is being wasted on ethnic conflicts. It is important to channel this in a direction that would benefit all Sri Lankans, and make up for the time and energy lost.
I hope to see visionary leaders in every field, and professionalism being promoted in all jobs, regardless of their perceived importance. Education and research should be given primary importance. I hope these improvements can be made, while keeping our country green.
– LMD