SIYAPATHA FINANCE
Siyapatha Finance continues its network expansion with its 43rd branch in Kilinochchi
The fully owned subsidiary of the Sampath Bank Group, Siyapatha Finance recently opened its 43rd  branch in Kilinochchi extending its financial services to its valued customers in the Northern Province and continues its commitment to deliver service excellence.
Adding to its island-wide network, the Kilinochchi branch located at No. 317, Kakakadai Junction, A-9 Road, was ceremoniously declared open recently by the Managing Director of Siyapatha Finance     Mr. Ananda Seneviratne in the presence of the Divisional Secretary of Karachchi Mr. Balasundaram Jeyaharan, Central Bank Regional Manager (Kilinochchi), Mrs. Karthika Nirojan and Senior Superintend of Police Mr. M.K.R.A. Gunarathna.
With the objective of engaging a more extensive audience and providing better customer experience to customers in the area, the latest fully-fledged branch claims modern facilities and is geared to provide the customers with comprehensive service offerings – including savings, fixed deposits, leasing, hire purchase, business loans, gold loans, personal loans, revolving loans, as well as factoring.
Sharing his thoughts at the branch opening, the Managing Director of Siyapatha Finance Mr. Ananda Seneviratne stated: "Kilinochchi is a city that is resilient, in the Northern province — a key contributor in the country's economic system. This latest Siyapatha Finance branch is only one of the many initiatives we will take to ensure that we realize the untapped opportunities and capitalize on the full potential this region has to offer. In keeping with our brand promise to offer trusted financial solutions and provide our customers with the best possible service, the Kilinochchi branch, too, is fully equipped with an experienced and knowledgeable team of professionals who can meet the financial demands of its clients."
Siyapatha Finance PLC is one of the prominent financial service providers with a network of branches throughout the country, which has designed its financial services to ensure that its customers are provided with the best in service delivery standards. Over the past seventeen years, the company has contributed vastly to the development of small and medium entrepreneurial efforts and to fulfilling individual financial needs across the island. Their dedication towards continuous expansion of their financial services is fueled by the drive to help communities achieve their business objectives.
For further information on Siyapatha Finance, call 021 7 605 625 or log on to www.siyapatha.lk.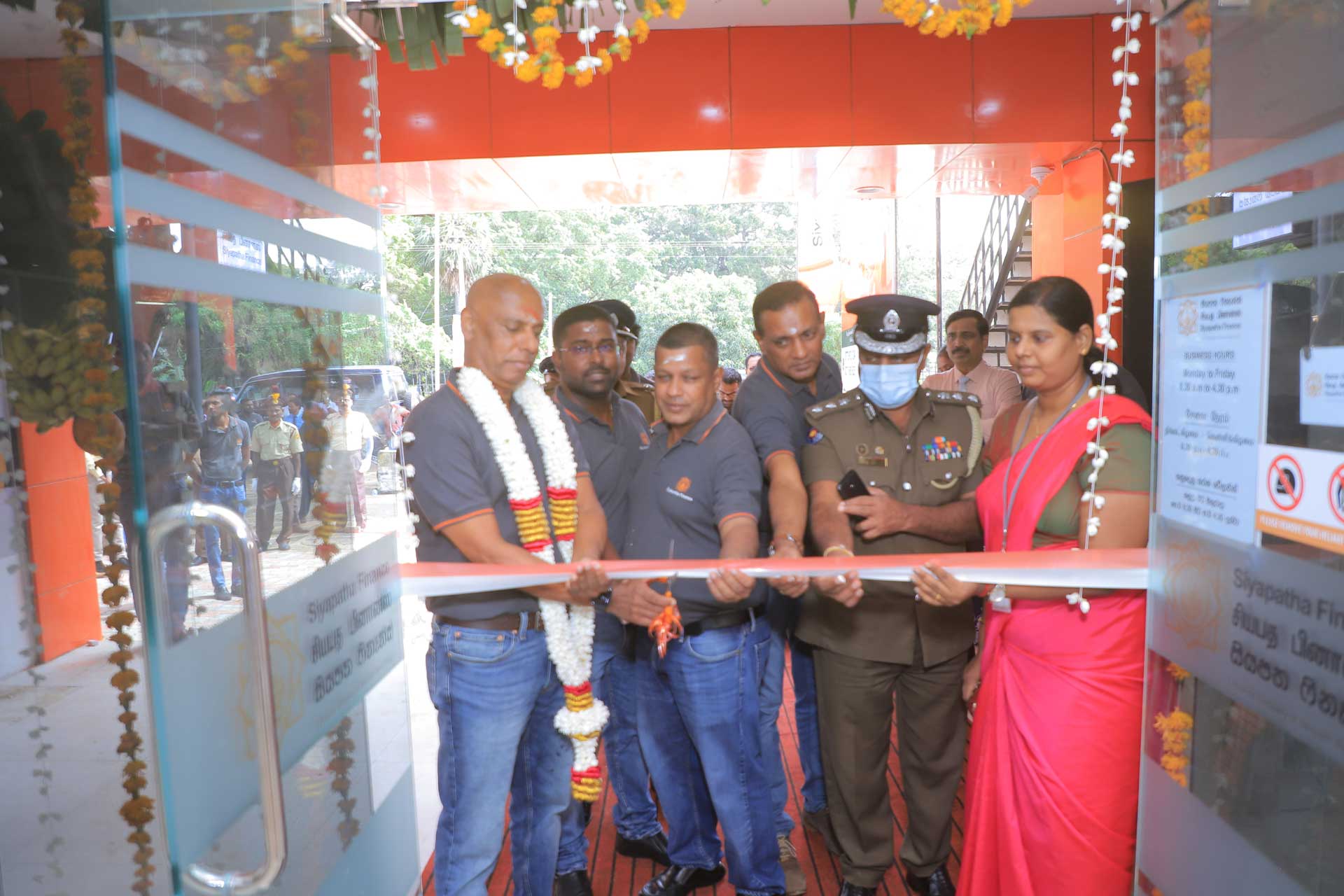 Mr. Ananda Seneviratne Managing Director of Siyapatha Finance PLC, Mr. Mathisha Hewavitharana Chief Marketing officer of Siyapatha Finance PLC, Mr. Rajeev De Silva Chief Operating Officer of Siyapatha Finance PLC, Mr. Prasad Udugampola Chief Human Resources officer of Siyapatha Finance PLC, Mr. M.K.R.A. Gunarathna Senior Superintendent of Police and  Mrs. Karthika Nirojan Central Bank Regional Manager of Kilinochchi Officially opening the Siyapatha Finance – Kilinochchi branch.