BRANDS ANNUAL 2019
E-COMMERCE BRANDS
Signs of maturity
There aren't any consumer technology brands in Sri Lanka's Most Valuable Brands list. In contrast, tech firms occupy the top five places in the most valuable global brands – viz. Amazon, Apple, Google, Microsoft, Samsung and Facebook in that order. These brands have taken over from old-world brands such as Walmart, Coca-Cola, Marlboro, Citibank and Bank of America, which used to top the table only 10 years ago.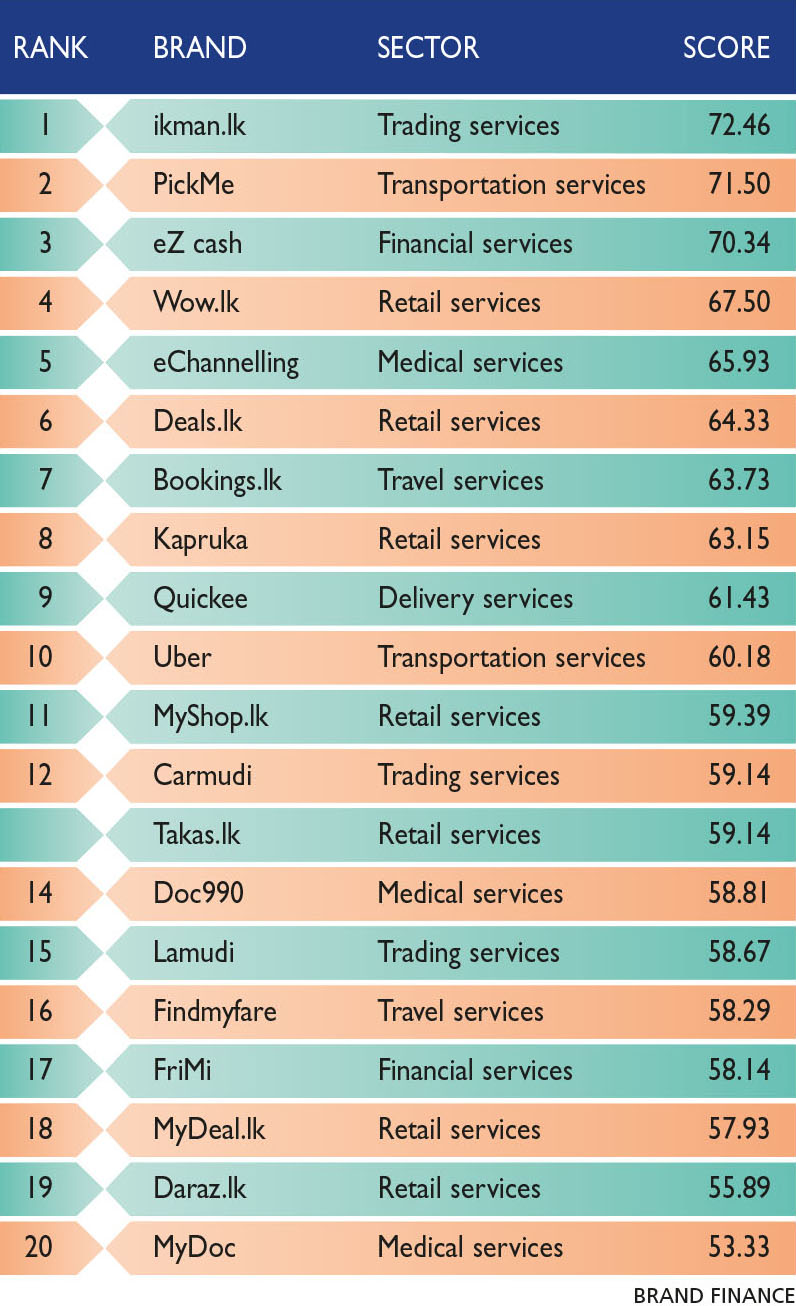 The absence of technology companies on the Colombo Stock Exchange (CSE) hasn't deterred us from carrying out our own consumer marketing survey to identify the spectrum of e-commerce brands that have an impact on the lives of Sri Lankan consumers.
INTERNET USE
Here in Sri Lanka, a third of the population have access to the internet (mostly through smartphones). So it would be interesting to know the tools they use and brands that resonate with them.
At an overall level, a third of the population use one of the many technologies meant for communication through messaging, voice or video platforms – such as Viber, WhatsApp and Skype amongst others.
The next level would be using Google to search for information. In Sri Lanka, Google has a near monopoly in this regard. It is not uncommon for a salesperson to go to Google rather than look through a manual if he or she is unable to respond to an issue related to a product that needs to be answered.
Social media is used by 30 percent of Sri Lankans via Facebook, YouTube and Instagram. And finally at a lower level, a smaller number of urban consumers use technology platforms for commercial purposes.
Our market research reveals that consumers trust and have positive perceptions of Google, Facebook, YouTube and Instagram.
E-commerce brands operate in this environment. Heavily influenced by these media and messaging vehicles, more and more Sri Lankans are opting for the convenience and the price advantage they offer.
E-COMMERCE CHALLENGE
The adoption of e-commerce is in its nascent phase, which suggests that consumers are only beginning to experience online payment methods, transportation, delivery services and purchasing.
Sri Lankan consumers have been wary of adopting new technologies for commercial purposes. Brand Finance's research indicates that this lack of confidence is primarily driven by a reluctance to use credit cards on technology platforms. Most people prefer to use cash.
Secondly, there's a lack of confidence among e-commerce brands, which may be due to previous experiences such as poor service. Those operating in this sector need to consider building this confidence through instant or same day delivery services among other intiatives.
And finally, a distinct value proposition has to be offered without which there is no inducement to transact. Convenience alone will not cut it.
This means that startups have to be properly funded for the long term as consumer confidence grows when lower prices are offered as the main inducement to switch.
Building critical mass through this combination is crucial – for the platform to achieve scale and eventually sustainable growth.
REVIEW OF BRANDS
Whilst there is massive global technology disruption in sectors such as healthcare, transportation, retail, logistics, payment systems and financial services, our survey demonstrates that Sri Lanka is relatively slow in gaining tech traction.
The most widely used e-commerce platforms by local consumers are for financial transactions, trading (buying and selling) and transportation, led by eZ cash, ikman.lk and PickMe respectively.
Last year, we also witnessed signs of tech platforms that were initially built for one purpose broadening their service offering and causing disruption in other sectors. Uber and PickMe, which were essentially in transportation, are now in the food delivery business, building off a single platform.
OPPORTUNITY TO EXPAND
We're also beginning to see the use of data generated from these platforms being deployed in other business areas. This is the key benefit of e-commerce where data analytics provide significant value by predicting customer behaviour.
Influenced by the internet and social media, Sri Lankans with widely differing income levels share similar aspirations. But the affordability gap remains in rural areas.
The challenge then is to focus more aggressively on bringing those in the middle and lower income groups into the e-commerce net. This is where most potential lies as there is money to be made at the bottom of the pyramid.
Brands such as Takas.lk for example, are reporting the highest growth for their online purchases from the most remote province of Uva, which is indeed very encouraging. Meanwhile, PickMe began to expand its services beyond Colombo to Kandy, Kurunegala and Galle.
Banks and finance companies in particular need to be more inclusive through microcredit, and have a more advanced and progressive agenda to meet the needs of the unbanked.
Telecom brands are running programmes to make their services affordable and move into fintech with Dialog's popular eZ cash being a case in point. With an increasing number of utility transactions – such as paying bills, banking and booking tickets – being processed on mobile phones, the potential is only just beginning to show.
One example of inclusion is how PickMe and Uber have brought unbanked trishaw drivers into the formal economy as they're required to open bank accounts so that their payments and transactions can be processed online.
In this context, local e-commerce brands need to focus on developing deeper relationships with a wider section of the population.
– Brand Finance Lanka