SIDDHALEPA
Siddhalepa's International Ayurveda Symposium breaks new ground for medical tourism in Sri Lanka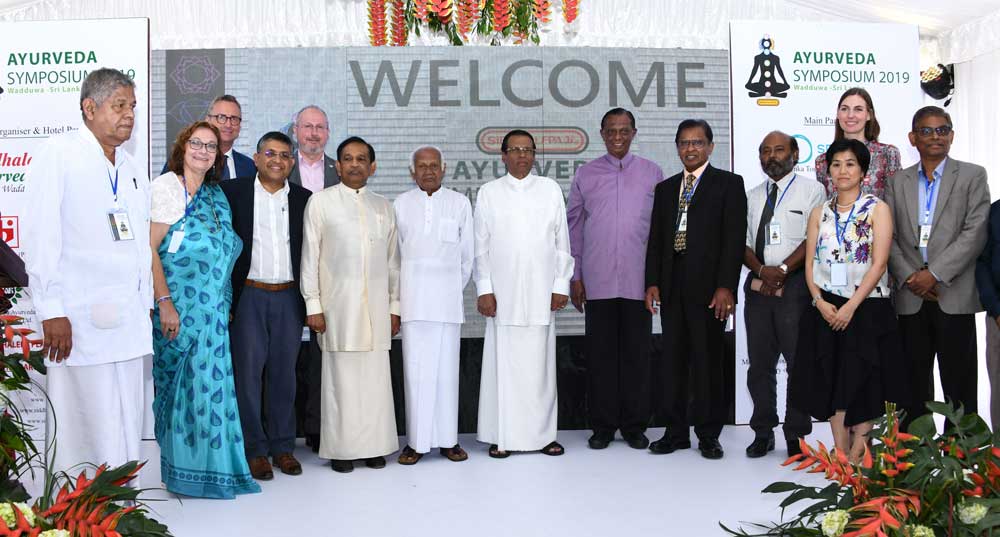 Ayurveda practitioners from Europe and the United States  in Sri Lanka last week, placed the ancient Sri Lankan form of medicine – ayurveda on an international platform, at the Siddhalepa International Ayurveda Symposium  held at the Siddhalepa Ayurveda Resort Wadduwa, last weekend.
In a groundbreaking forum, delegates and ayurveda practitioners from UK, USA, Germany, France, Austria and Japan presented their research and views on the science, power and effectiveness of this alternate form of medicine, its growing global acceptance and popularity   and its holistic approach to a healthy living.
The first of its kind forum, organized by Siddhalepa was graced by President, Maithripala Sirisena, Tourism and Christian Religious Affairs Minister, John Amaratunga, Health and Indigenous Medicine Minister, Rajitha Senaratne who were the guests of honour of the hosts – Siddhalepa Group, led by its Chairman, Deshabandu Dr. Victor Hettigoda, D. Litt.
Among the speakers were internationally acclaimed ayurveda practitioners who spoke on a wide range of topics including:  The history and evolution of indigenous medicine of Sri Lanka, Professor  Raj Somadeva, (Professor of Archaeology, Postgraduate Institute of Archaeology, University of Kelaniya, Sri Lanka), Ayurveda in UK an Europe, its growth, legality and its Future, Dr. Shantha Godagama, UK (Doctor of Ayurvedic Medicines, Acupuncturist and  Marmapuncturist, Advisor to The British Government and The British  Parliament Committee on Ayurveda), Ayurveda in Switzerland and the how should we take Sri Lankan Ayurveda to the World, Dr. Claudia Harder, Switzerland, (Specialist Doctor in Rheumatology), The Research and Development of Ayurveda in Germany, Dr. Marisa Hubner, (Doctor in Clinical Research in Naturopathy at The Research Institute for Social Medicine and Epidemiology and Health Economics, Charite Berlin), How Sri Lankan Ayurveda can contribute to the new needs of the international wellness tourist, Dr. Franz Linser, Austria, (CEO of Linser Hospitality, International Consultancy Firm based in Austria, specializing in Health and Wellness industries) The Initiative and the Contribution by King Ravana to the Indigenous medical System of Sri Lanka, Dr. Suriya Gunasekara, (Former Addle. Secretary to Ministry of Cultural Affairs, Former Secretary to All Ceylon Buddhist Congress), The active role of ayurveda in the presence contemporary medicine, (Allopathy), Dr. Nozomi Narikawa, Japan, (Obstetrician and Gynecologist, Specialist of JSOG, Specialist of JMWH, Specialist of JAAM), First and Second Health Market in Germany,  Challenges and Opportunities for Ayurveda, Mr. Micheal Altewicher, Germany, (Managing Partner – Wellness Hotels & Resorts), The scientific approach to Sri Lankan Ayurveda, Dr. Vajira Seneviratne, (Head and Senior Scientist Ayurveda Research Institute, Department of Ayurveda).
A key outcome of the forum was a pledge to win over the Foreign Health Insurance companies to include a cover for ayurveda treatment. The acceptance of ayurveda as an alternate form of medicine and its inclusion in all medical insurance covers across the health sector would be considered a comprehensive win for the acceptance of Ayurveda medicine and its emergence as an effective alternate source of medicine.
The forum also discussed key issues related to promoting health tourism and making Sri Lanka a premier world destination for Ayurveda tourism.  Among the main focus areas were; understanding and catering to the current and changing demands of health tourists and preparing Sri Lanka's ayurveda tourism industry to cater to these international standards.   The developing and changing trends in ayurveda tourism and why Sri Lanka should focus on promoting ayurveda tourism and its benefits to our nation were also discussed.
Among the other objectives of the forum was to educate the International Community on the Heritage of Sri Lankan "Hela Osu" and "Desheeya Chikithsa", traced back to the days of King Ravana and highlight the advances in Sri Lanka's ayurveda medicines and research.
Presenting Sri Lanka's rich bio-diversity and its medicinal plants to an international audience is a core aspect of this process. The forum also provides the platform to partner with key international institutes for further knowledge sharing and research.
Siddhalepa as the chief organizer and sponsor of the event  leads the way as the main torch bearer for the forward march to make Sri Lanka a premier medical tourist destination in the world.
The Company, a leading ayurveda products manufacturer, best known for its flagship brand Siddhalepa, has worked with conviction and dedication to promote ayurveda tourism in Sri Lanka. To achieve this status the company has built its infrastructure from plantations to source its raw material for ayurveda medicines, to an ayurveda resort, ayurveda hospital and ayurveda centres all of which have been set up and operate to international standards with ISO certifications.
Their ayurveda resort hotel, Siddhalepa Ayurveda Resort Wadduwa won the best hotel and wellness spa brand at the SATA award recently.
International media from Australia, Japan, China, Russia Germany and Thailand were present to cover the two-day event. While the first day concluded with presentations from the international participants, leading up to evening of entertainment, on the second day guests were introduced to the varying aspects Ayurveda. This included  a tour of  Sidhalepa resort's herbal garden, an ayurveda cookery  demonstration, ayurveda tea and elixir tasting, a factory visit and tour of the R and D centre and an authentic Shanthi Karma presentation presenting a 360 degree experience of the science of ancient Ayurveda to the invitees and guests.
SriLankan Airlines, Turkish Airlines and Polish Airlines and the Sri Lanka Tourism Promotions Bureau were co-sponsors of the forum which was organized in collaboration with the Ministries of Tourism and Health and Indigenous Medicine.