COVER STORY
SRI LANKAN OF THE YEAR
SHOWBIZ ICON
Jacqueline Fernandez
Beauty and capability merge to produce a powerhouse in the entertainment industry who has captivated international audiences and is currently the pride of Sri Lanka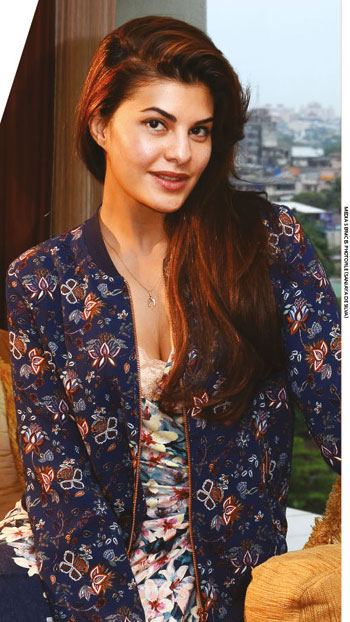 What goes into the making of an exemplary citizen today – in the Sri Lankan context at least? This is certainly a puzzling question given the status quo. After all, we have seen far too many personalities elevated to 'role model' status only to let us down on so many occasions.
Things have gotten so bad that our precious island nation is seemingly infested by a plague.
Whether elected through the people's democratic franchise, selected to represent the nation in the international  sporting circuit or thrust into stardom in the entertainment industry, the number of prominent Sri Lankans who can genuinely lay claim to a 'clean' reputation is woefully small – and the number is dwindling by the day!
It is in this milieu that we turn our attention to someone who is unique; someone with Sri Lankan roots who dares to be an exception to the rule; someone who has brought a refreshing breath of fresh air amid the pollution we're accustomed to dealing with.
Enter Jacqueline Fernandez.
She has brought radiance to a land permeated with the dull and uninspiring. She is today a leading name in Bollywood and beyond; and despite the untold pressures of being in the spotlight constantly, she has for all intents and purposes maintained an unblemished reputation.
Her success comes as a blessing for the country's image as well – an image that's been battered for too long by two senseless insurgencies, a protracted civil war and other misdemeanours that have put Sri Lanka in the news for all the wrong reasons.
Yes, we can now claim a Bollywood superstar who has not only risen to A-list status in a relatively short time but also highlighted Sri Lanka's better side through activities that seek to give back to a nation she calls home.
Let's not forget that Fernandez continues to promote Sri Lanka and some of its leading brands with great success.
Notably, she's played a part in elevating the image of Sri Lankan cuisine through a partnership with local culinary genius Dharshan Munidasa (who appears on the latest cover of LMD's sister magazine Living) and drawn attention to the intricate craftsmanship of local jewellery – Colombo Jewellery Store aka CJS whose MD Akram Cassim is featured in this issue's Life column.
All this points to an enterprising spirit that shows no signs of waning. And professionally, her star is on the rise.
She has already landed roles in multiple Bollywood blockbusters alongside prominent Indian co-stars. She's also set to make an impact on the local silver screen through a much awaited biopic that she refers to as "a Sri Lankan movie; a Sri Lankan production that has a Sri Lankan director."
Jackie's influence in showbiz has been so strong that she's been featured twice on the cover of Living.
In an exclusive interview with Living back in 2013, she described working in one of the most demanding industries in the world as "an exciting opportunity." And during her tête-à-tête with the magazine two years later, she explained her rise as a personality in the public eye by noting that "any actor tackles struggles and drama every day, but being able to survive and deal with them is another dimension."
Fernandez also emphasised that she wants to retain her individuality, adding: "I don't want to lose myself completely and become one among others."
Considering these factors, Jacqueline Fernan­dez is a worthy recipient of LMD's Sri Lankan Of The Year (SLOTY) award for 2017.
As LMD's 23rd SLOTY, she is in the company of Sri Lanka's most eminent citizens over the years, a number of whom have had their names etched in the annals of the nation's history. Fernandez's refreshing persona, charming demeanour, broad appeal and inherent resourcefulness ought to stand her in good stead in the years ahead.
And at the same time, she is casting Sri Lanka in a positive light at a time when darkness looms.
– LMD
---
THE RAZZLE-DAZZLE AND CELEB STATUS
Jacqueline Fernandez is firmly entrenched in the global entertainment industry and bent on leveraging her stardom for the greater good
Ruwandi Perera profiles LMD's 2017 SLOTY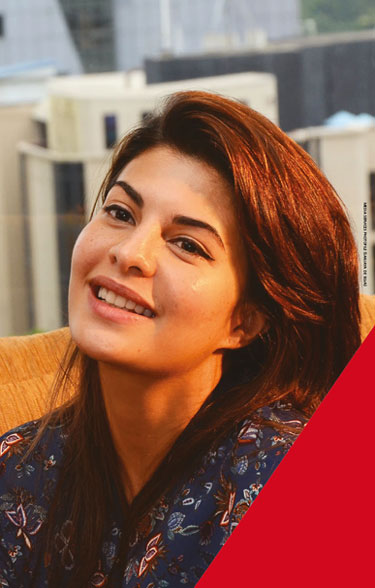 Ever since she was conferred the coveted title 'Miss Sri Lanka for Miss Universe' in 2006 at the Galle Face Hotel in Colombo, Jacqueline Fernandez has been imprinting her dazzling looks, vibrant personality and refreshing character on those who've come to know her – be it on the silver screen, at global events or even in the Sri Lankan wilderness where she works for the conservation of wild elephants. 
MULTI-ETHNIC ROOTS Hailing from a multi-ethnic family comprising her Sri Lankan father, Malaysian-Canadian mother, elder sister and two elder brothers, Fernandez has been in the limelight since her formative years in Bahrain's capital Manama where she hosted a TV show at the age of 14 – a profession she later briefly pursued in Sri Lanka as well. 
GLOBAL SRI LANKAN Having read for a degree in mass communications at the University of Sydney, and with subsequent stints at the Berlitz School of Languages and the Barry John Acting Studio, she is the perfect combination of beauty, brains, charm, talent… and yes, hard work.
Fernandez is a quintessentially 'global Sri Lankan' not only because of her local roots combined with an ability to speak several languages (including Spanish, French, Arabic, Urdu and Hindi); she possesses a natural ability to appeal to any audience across the globe – from being photographed at a young age for the Los Angeles Times (Orange County edition) to starring in the British horror movie Definition of Fear (2015) and winning multiple awards as one of Bollywood's most popular actresses of our time. 
SUPERSTARDOM IN INDIA Positioned among the crème de la crème of Bollywood, she was ranked third in The Times of India's list of 'Most Desirable Women' in 2013 and 2014, and placed 24th in India's edition of the Forbes Celebrity 100 list in 2016, surpassing more experienced celebrities such as Katrina Kaif, Sunny Leone, Kareena Kapoor, Abhishek Bachchan and Saif Ali Khan.
But she's not just a pretty face on the silver screen.
While her looks have been described as beautiful, confident, sexy and appealing by many critics, she's also a humanitarian, activist for People for the Ethical Treatment of Animals (PETA), an entrepreneur, a fitness junkie and a brand ambassador for some of the world's top brands.
What's more, Jackie became the first female brand ambassador for an Indian football club when she signed up with Delhi Dynamos FC to take the sport to the next level and engage a female audience.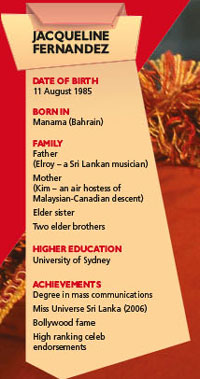 BEAUTY RITUALS Adding to her passion for nature, animals, organic ingredients and a health conscious lifestyle, Fernandez's beauty rituals are famous for being homegrown. A desire to stay fit is attested by her ability to do everything from horse riding to planks, stretching, dancing and yoga, all with consummate ease and professionalism. And it would seem that her emphasis on being in fine fettle is only superseded by a motivation to maintain a beautiful body with healthy skin and hair.
FASHION FORWARD Having been a fashion model during her early days in Bahrain as well as in her home country, Fernandez was crowned Miss Sri Lanka for Miss Universe and represented the island at the 2006 Miss Universe pageant in Los Angeles. Appearing for many screenings including a music video for Oh Sathi by Bathiya and Santhush, she was featured in the British weekly Eastern Eye's 'World's Sexiest Asian Women' list in 2008 and 2011.
Her ability to be confident in her own skin, and brighten up any runway with sophisticated and unparalleled looks, paved the way for an acting career that began when she travelled to India on a modelling assignment.
ACTING PROWESS Fernandez's acting debut in 2009 saw her star in Sujoy Ghosh's fantasy film Aladin alongside Bollywood legend Amitabh Bachchan. She then appeared in the sci-fi romantic comedy Jaane Kahan Se Aayi Hai before landing a role in Mukesh Bhatt's thriller Murder 2 in 2011.
It was her first commercial success and the point from which Jackie's career took off; and it was where she caught the eye of some of Bollywood's famed film directors, actors and critics.
Fernandez then starred in the ensemble comedy Housefull 2 in 2012, which thrust her into the big league. This was followed by the action thriller Race 2 in 2013 and Sajid Nadiadwala's directorial debut Kick in 2014. A year later, Fernandez acted in Vikramjit Singh's Roy, after which she starred in Karan Malhotra's action drama Brothers.
Her global reputation rose in 2015 when she played the role of Sarah Fording in the British horror thriller Definition of Fear. In addition to appearances in Housefull 3 (2016), Dishoom (2016), A Gentleman (2017) and Judwaa 2 (2017), she is starring in her first Sri Lankan film as the mistress of murderous priest Reverend Mathew Peiris in Chandran Rutnam's upcoming movie According to Mathew.
Her other upcoming movies include Indian action comedy Drive and Race 3 where she plays a lead role alongside Salman Khan.
Along with numerous special appearances in Bollywood productions including Prabhu Deva's romantic comedy Ramaiya Vastavaiya (2013) and comedy satire film Bangistan (2015), Fernandez was a judge for the ninth season of the acclaimed dance show Jhalak Dikhhla Jaa. In fact, she has danced alongside Bollywood celebrities like Shah Rukh Khan, Rani Mukerji, Madhuri Dixit and Priyanka Chopra in concerts and live performances across the world.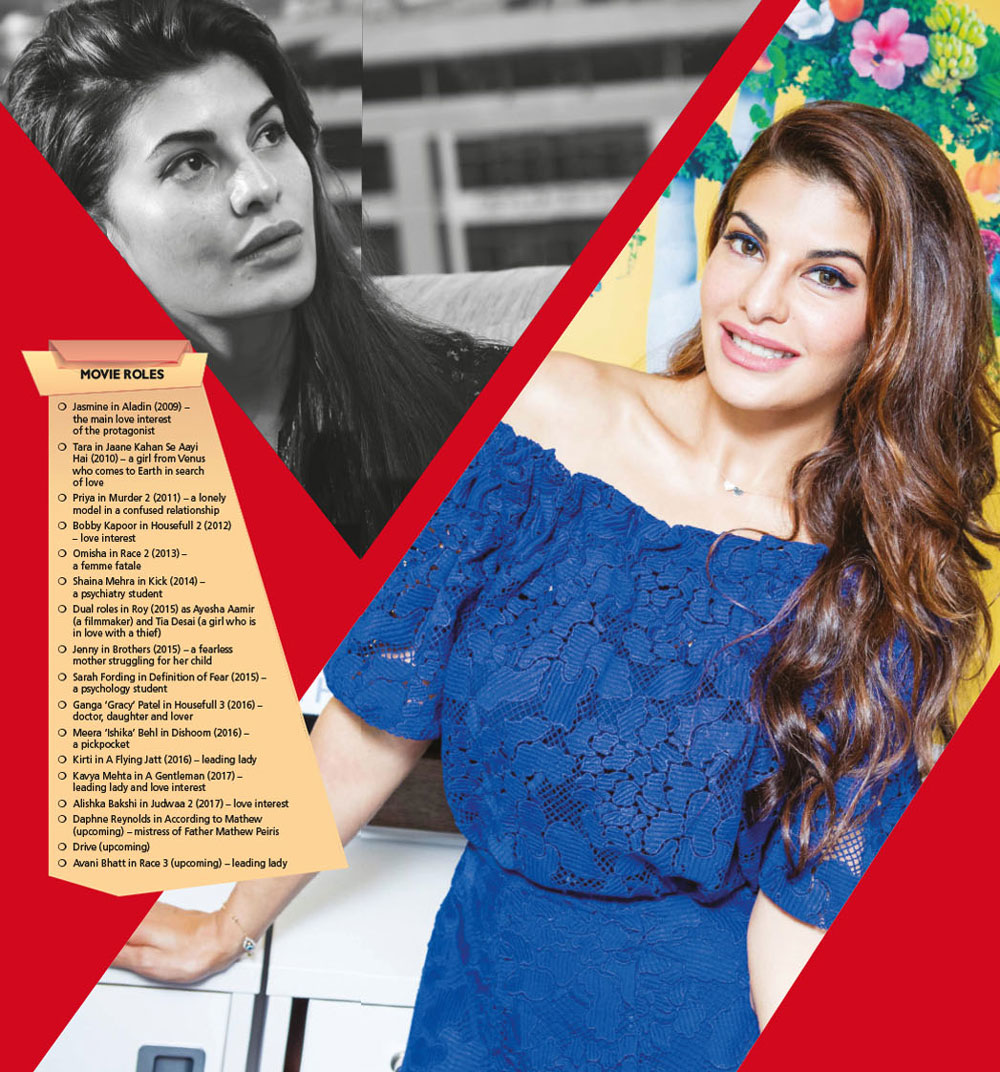 SOCIAL ACTIVISM Long before gaining Bollywood stardom, Fernandez was a humanitarian at heart and in practice. Her early work included launching a foundation to support tsunami affected women and children, and  advocating for the eradication of child sex tourism in Sri Lanka.
An active member of PETA, she worked tirelessly in Mumbai to end horse-drawn carriage rides and then in the Philippines to move an ill housed elephant at the Manila Zoo to a better sanctuary. In 2014, PETA India named her 'Woman of the Year' for her active role in advocating the protection of animals.
Her brand ambassadorship of Colombo Jewellery Stores (CJS) has seen Jacqueline Fernandez participate in an elephant walk in the elephant corridor near the villages of Pussellayaya and Weheragalagama here in Sri Lanka to raise awareness on elephant conservation.
She is known to have auctioned her Bollywood movie outfits online for charitable causes and even breakfasted in London's Mayfair to help the Pratham Education Foundation in New Delhi raise funds for children's primary education. And she helped victims of the 2015 South Indian floods through her 'Jacqueline Builds' campaign, which collected funds and assisted many of those who were displaced.
Her commitment to charities, humanitarian causes and activities against animal cruelty paved the way for a perfect partnership with The Body Shop India in 2014. As its brand ambassador, she extended her support to its massive initiative this year to generate 500,000 petitions in India under the campaign banner 'Forever Against Animal Testing' (FAAT).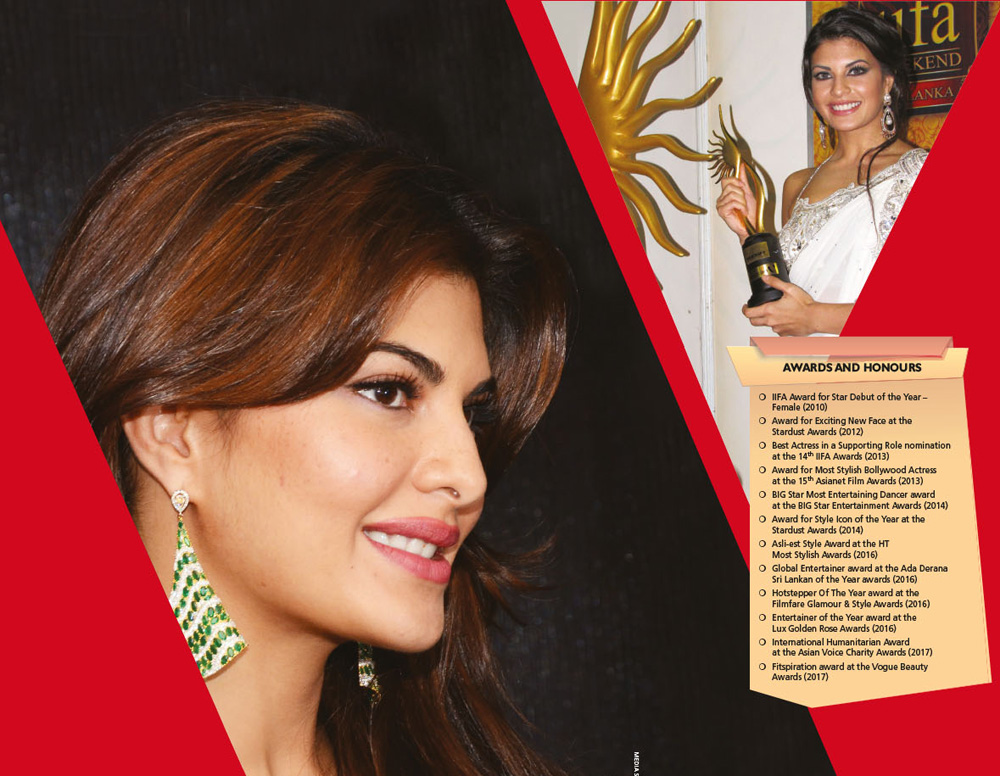 THE BUSINESSWOMAN The Bollywood superstar paired up with celebrity chef Dharshan Munidasa to open Kaema Sutra, an upmarket restaurant in Colombo's plush Arcade – Independence Square. Promoting contemporary Sri Lankan cuisine with a gastronomic twist in her home country, she is said to influence its menus with her health conscious recommendations.
As part of her health and fitness regime, she is an ardent consumer of Raw Pressery cold pressed juices by Rakyan Beverages – and what's more, Fernandez invested in the company in April this year in the hope of promoting its juice products to reach a wider base.
Her selective yet considerable investments in business have enhanced Fernandez's reputation as a businesswoman who has a penchant to be involved in causes she holds close to her heart. 
THE ROLE MODEL For hundreds of thousands of fans, Jacqueline Fernandez is more than a talented actress, an ardent activist and a beautiful individual; she is a role model and an inspiration for what someone can achieve, with the right combination of talent, hard work and determination.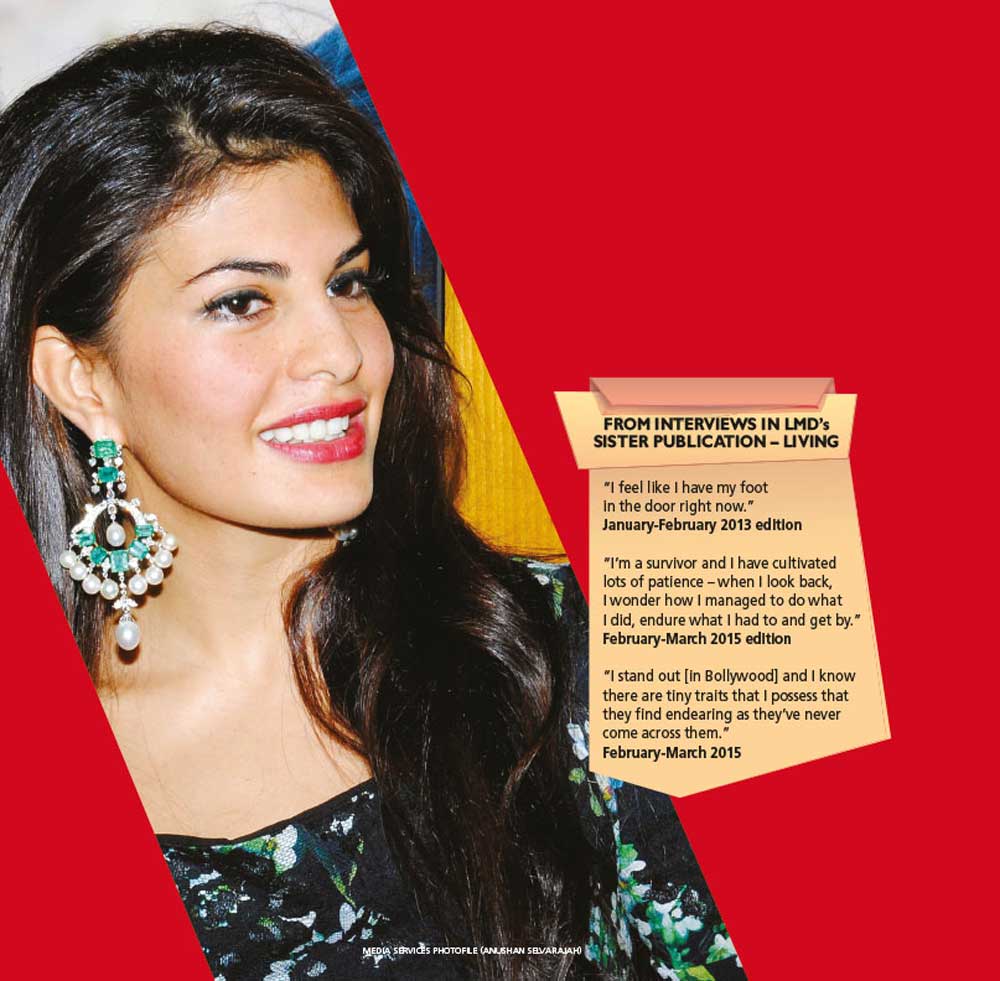 She has put Sri Lanka on the global map on many occasions and is a true ambassador for her country – be it through cinema, global brands, local cuisine, worthy business interests or charitable causes.
In a world where the rich and famous often fail to sustain a clean record, Jacqueline Fernandez's name has remained untarnished. She has all the makings of being a role model for young Sri Lankans and others who have come to know her.