SHIPPING INDUSTRY

SETTING SAIL IN STORMY SEAS
Romesh David is hopeful about prospects for Sri Lanka's shipping industry
Compiled by Yamini Sequeira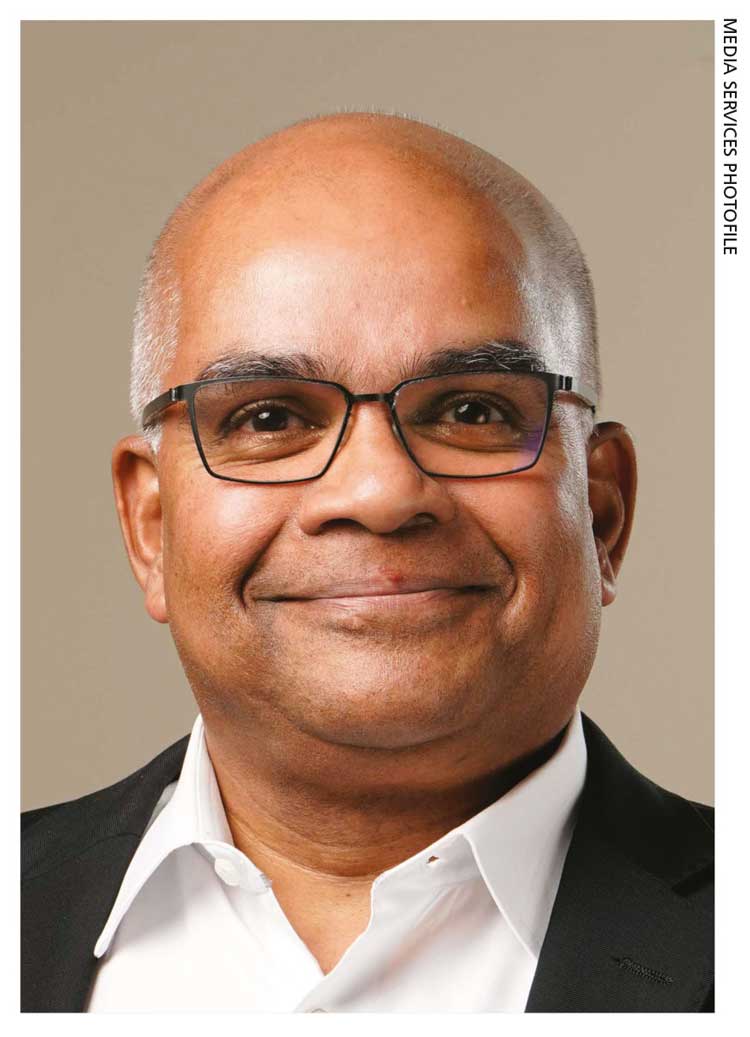 Q: What is the present demand like in the shipping industry compared to the pre-pandemic era?
A: Despite the many challenges faced by the supply chain and shipping networks, demand is higher than it was in the pre-pandemic period.
Regular closure of some major Chinese ports that are still struggling due to COVID-19 continues to put a strain on shipping networks and capacities. The longer waiting times at ports in Western Europe and the West Coast of the US further stresses supply chains by impacting regular schedules.
Yet, demand has remained robust and this is evidenced by the extraordinary financial results of major global shipping lines and logistics services providers, many of whom have enjoyed their best ever financial performance.
A noteworthy fact is that over the past decade, major shipping lines have seen consolidation to the extent that they've reduced in number from 14 or 15 players down to eight or nine.
Q: What are the key logistical challenges at the Port of Colombo?
A: Some of the challenges that were present a year ago – such as imbalances in terms of availability of containers and space – still exist. The main impact on Sri Lanka has been that it has to compete with high freight rates paid for exports out of the Far East and Asia, into Europe and the United States.
Consequently, Sri Lankan exporters have to fight for space on these ships at higher rates, which in turn has negatively impacted some of the lower value exports. The chronic shortage of foreign currency in Sri Lanka – and the resultant drop in imports – has added to these challenges.
As far as Sri Lanka's container terminals in the Port of Colombo are concerned, 85 percent of what we handle is transhipment containers coming from the subcontinent to countries mainly in Europe and North America, and vice versa.
With respect to domestic cargo – Sri Lanka's imports and exports, which account for around 15 percent of total container volume handled, have been plagued by forex issues over the last year or so.
This has exacerbated the problem with reduced imports hampering the availability of containers for exports while the cost of import freight too has increased substantially as a result of the Sri Lankan Rupee depreciating against the US Dollar.
Q: And how is Sri Lanka performing in terms of its port facilities?
A: The Port of Colombo is among the top 22 ports in the world by throughput because of the volume of transhipment business that we handle. In 2021, Sri Lanka handled a little over 7.3 million containers, which places it in the top quartile of container ports around the world.
One of the major causes for the strain on the supply chain is the increase in volume of containers in the system with longer transit times because of erratic schedules. As a result, our terminals are filled compared to pre-pandemic levels due to longer dwell times of transhipment containers.
The Colombo port has grown by six percent year on year; and overall, we're operating at greater capacity utilisation than we were 18 months ago.
Q: What are the implications of the development of new terminals?
A: The transhipment container terminal landscape is a volume led business and Sri Lanka's ports need to offer higher capacity in order to create demand – this is because shipping lines will build and augment or move their networks around available space that is productive and efficient.
Therefore, the development of the East Container Terminal (ECT) and West Container Terminal (WCT) are welcome, and long overdue.
Looking back at the evolution of the container shipping business in Sri Lanka since the 1980s, volume and throughput grew exponentially whenever capacity was added. The Port of Colombo has needed additional capacity since 2017, which will be fulfilled with these two terminals within the next two years.
Such projects will be highly beneficial to the industry as these operators will also attract new business to the port and Sri Lanka. The terminals are a positive development even from a national perspective.
Because an Indian company has invested in and will be operating the WCT, it will quell any apprehensions that India may have had about depending on a third country for transhipment of cargo to and from the subcontinent. It will offer comfort to Indian policy makers as well as exporters.
Q: Is the 'shipping hub' aspiration any closer to achieving its objective for Sri Lanka's ports?
A: Sri Lanka is already a transhipment hub for the region but the service that we need to develop is in terms of value addition as a hub for cargo as well.
Major hubs such as Dubai and Singapore take the cargo from containers and redistribute it through air and sea routes to multi country destinations. This is the value addition that Sri Lanka needs to aim for.
A lack of clear and consistent policy has hampered this segment. A stable policy will give effect to this aspiration and encourage investments – because this is a worldwide business; and a critical part of the global supply chain.
However, the prevailing red tape needs to be eliminated if we want to be globally competitive and easily accessible.
The interviewee is the Chief Executive Officer of South Asia Gateway Terminals