SEXUAL HARASSMENT IN PUBLIC TRANSPORT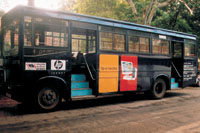 A recent study commissioned by the United Nations Population Fund (UNFPA) reveals that nearly 90 percent of women travelling in public transport in Sri Lanka are subjected to sexual harassment. The study covered a sample of 2,500 from across the country, via individual interviews and a questionnaire survey.
While sexual harassment is a criminal offence according to section 345 of the Penal Code (Amendment) Act, No. 22 of 1995, results of the UNFPA study indicate that 12.1 percent of women are subjected to sexual harassment daily, 16.4 percent weekly and 25.8 percent monthly.
Although 52 percent of survey respondents were aware of the laws relating to sexual harassment, only four percent of those who were harassed had sought support from the police.
It has also been revealed that 37 percent, 29 percent and 44 percent of females experience adverse effects on their work, studies and personal lives, respectively, as a result of sexual harassment in public transport.